 This is the most exciting Oscar race in a while.
Not only did last year's Best Picture snafu add a destabilizing element to the proceedings, but there were a ton of great movies, performances, and technical accomplishments last year, which means that there is a much better chance for something unexpected to happen during the broadcast (airing on Sunday, March 4 on ABC).
But, of course, as in any competition, there are those we think deserve to win and those that will inevitably conquer anyway. There's always so much that goes into the votes, from the current political climate to the marketing campaign associated with the nominees (and, really, how cool are those "Get Out" billboards?), that a degree of unpredictability creeps in -- especially in the uneven landscape we find ourselves in this year. But hey, it's fun anyway, right?
Best Actor Who Will Win: It looks like Gary Oldman, who has shockingly never won an Academy Award, will finally get his little gold man -- and deservedly so.
Oldman's turn in "Darkest Hour" renders Winston Churchill as a larger-than-life historical figure and a deeply flawed human being (with or without the dazzling make-up, he fully inhabits the role). Plus, that scene where Churchill finds himself amongst London's working class in a subway car plays like gangbusters.
Who Should Win: It's hard to moan about Daniel Day-Lewis needing another Academy Award (he's already won three), but his performance in "Phantom Thread" really is remarkable (even for him). Reynolds Woodcock is, like the actor himself, demanding and accused of chasing an unfathomable level of perfection in his work. But he's also wounded, damaged, and perverse -- and it's this shading that puts the performance over the top. If this really is his last movie, he went out on a high note.
Best Actress Who Will Win:Frances McDormand. This seems pretty clear (and has been for a while).
Her passionate performance in "Three Billboards Outside Ebbing, Missouri" as a woman whose daughter was raped and murdered -- the crime still unsolved -- is fiery and determined. She does questionable things, uses eyebrow-raising language, and compromises herself morally. Yet, you still root for her. It's another amazing performance in a career exclusively defined by them.
Who Should Win: Sure, McDormand's performance is surely admirable, but was there a performance more out-and-out lovable than Sally Hawkins in "The Shape of Water?"
What could have felt gimmicky and unnecessary (she's a mute!), in Hawkins' talented hands (literally) becomes something soulful and profound. Her love affair with the creature isn't just the outward manifestation of her desire to connect, but symbolic of our own insecurities and suppressed sexuality. It's a fearless performance and one that is all too often overlooked for the more extravagant aspects of the production.
Best Supporting Actor Who Will Win: Another perennial runner-up, Sam Rockwell should finally triumph on Oscar night this year. Rockwell's racist cop, Dixon, in "Three Billboards Outside Ebbing, Missouri" is one of the most controversial figures in a movie that has come under siege recently for its depiction of race relations (and general relationship with the topic of race).
It's still going to win a ton of awards and Rockwell has been a favorite of fellow actors (again, it cannot be overstated how much their approval can swing a vote). Plus, he's terrific in the role!
Who Should Win:Willem Dafoe in "The Florida Project," hands down.
Sure, the movie was polarizing and failed to secure much Academy love, but it's also beautiful and allegorical -- a sun-drenched odyssey that mixes dreamy escapism with hardscrabble reality. And it's Dafoe who centers the entire movie as the kindly manager of a fleabag motel on the outskirts of Walt Disney World. He's funny, heartbreaking, and deeply real, and it would be awesome for the actor, who has a resume littered with colorful weirdos, to finally get an Oscar for being someone so recognizably human.
Best Supporting Actress Who Will Win:Allison Janney as Tonya Harding's no-nonsense mother in "I, Tonya."
This performance is miraculous for a number of reasons -- for grounding an otherwise heightened movie, while also still being admittedly over-the-top, for being as savage as she was sympathetic, and perhaps more importantly, for holding her own while sharing scenes with a puckish parrot. Quite frankly, "I, Tonya," an electric, totally entertaining romp, should have been nominated for more. Happily, it'll take home a prize for Best Supporting Actress.
Who Should Win: Janney. Did you see that parrot? You try keeping a straight face!
Best Director Who Will Win: This is a category that is almost as contentious as the Best Picture prize. What's sort of shocking is how many of the titans didn't score directing nominations.
Despite "Darkest Hour" taking home nominations in a number of categories (including Best Picture), it didn't secure a directing nomination. The same goes for "Call Me By Your Name," "The Post" (sorry, Spielberg) and, perhaps most tellingly, "Three Billboards Outside Ebbing, Missouri." And as impressive an experience as "Dunkirk" is, Christopher Nolan will likely have to settle for being nominated (his first). Since we think that "Billboards" will take home the Best Picture prize, that will have the Academy looking elsewhere for their Best Director. They've probably found one in Guillermo del Toro, the Mexican auteur behind "The Shape of Water."
If it's one thing that everyone can agree on (even if they don't love the film), it's how impeccably crafted it is -- every swooping crane shot, well-placed visual effect, and identifiable element of the production design (that Jell-O!) Del Toro did a great job and it'll be nice for him to join his BFFs Alfonso Cuaron and Alejandro Gonzalez Inarritu in having a Best Director statue on his mantle (surrounded, no doubt, by statues of classic big screen monsters).
Who Should Win: We're all for Del Toro winning Best Director. Not only is "The Shape of Water" virtually flawless, but this is a long time coming; he's been cranking out challenging, elegant, blood-splattered masterpieces for years. (Just to cut off your next question, "Pan's Labyrinth" failed to win the Best Foreign Language feature Oscar, if you can believe that.)
But we wouldn't mind if Greta Gerwig ("Lady Bird") or Jordan Peele ("Get Out") took home the prize either. Their movies were such esoteric, personal accomplishments that wound up pleasing the masses; that kind of authorial vision is hard to come by and should be applauded at every turn.
Best Animated Feature Who Will Win: While there could be an independent movie upset (the astounding, oil-painted "Loving Vincent" is probably the likeliest candidate), it seems like Pixar will walk away with another win thanks to their exceptional "Coco."
Not only is "Coco" top-tier Pixar, robustly designed and animated, full of beautiful character work and wildly imagined environments, but it also will make you cry your eyes out. And honestly, for a movie to make an impact amongst the oodles of screeners that Academy voters receive, it's got to pack an emotional wallop. And "Coco" accomplishes that. Unless there's some far-reaching, unacknowledged contingency of "Boss Baby" supporters, Lee Unkrich's film will take home the gold.
Who Should Win: "Coco," and for another reason, too: it's secretly one of the more political candidates. This is a movie that celebrates Mexico and its cultural and ancestral traditions, released during a time when our Commander-in-Chief routinely admonishes Mexico, while threatening to build a post-apocalyptic wall. Our politicians are attempting to reinforce the otherness of Mexico, while "Coco" beautifully proposed that cultural specificity is what makes us all the same.
Best Adapted Screenplay Who Will Win:James Ivory, who at the age of 89 is one of the oldest Oscar nominees ever, will finally pick up an Oscar for his tender, aching adaptation of glimmering gay romance "Call Me By Your Name." Everything about the movie is beautiful and sensual, and that all begins with the words on the page; sometimes he enhanced scenarios from the book, other times he changed them, and some things, like the jaw-dropping speech Michael Stuhlbarg gives at the end of the film, he invented wholeheartedly. If the best adaptations capture a work's spirit, then Ivory certainly did that.
Who Should Win: An Ivory win wouldn't sting in the least, but it'd be amazing if Dee Rees and Virgin Williams wound take home the prize for "Mudbound." An adaptation of Hillary Jordan's best selling 2008 novel, the tale of postwar stress in the poor American south crackles with vibrancy and electricity. It's one of the rare movies where the term "novelistic" aptly describes it, and most of that has to do with the script, which features realistic dialogue, overlapping narration, and long passages in which the audience just soaks up what is happening instead of being spoon-fed every detail.
Best Original Screenplay Who Will Win: This is one of the hardest categories to clearly judge because there are just so many tremendous nominees.
Between the confessional sensitivity of "The Big Sick" and "Lady Bird," to the conceptual audacity of "The Shape of Water" and "Get Out," it's a category chockablock with unforgettable moments, well-drawn characters, and exciting scenarios. And yet, the winner will undoubtedly be Martin McDonagh's "Three Billboards Outside Ebbing, Missouri." McDonagh, who failed to score a Best Director nomination for the film, is a beloved playwright who has had more original works performed on the West End than William Shakespeare. Despite the controversy that has sprung up around "Three Billboards" in recent weeks, it's still a knockout -- a confrontational look at sex and race in a deeply divided America, with almost biblical overtones. It's going to be hard to pass up.
Who Should Win: For our money, it should go to Jordan Peele and "Get Out." Peele, in his very first outing as a writer/director, crafted a screenplay that was scary, funny, and thoughtful. It was a razor-sharp examination of the current racial and political climate but draped it on a spooky, modern-day "Twilight Zone" framework. It would be one thing if it were merely insightful but to also be this entertaining? Please.
Best Picture Who Will Win: Honestly, this is one of the few years in recent memory without a clear-cut frontrunner. Sure, you can discount potential winners "Call Me By Your Name" and "The Post" for not having enough ancillary nominations to support taking home the top prize. And, at this point, it feels like "Dunkirk" and "Darkest Hour" -- two movies with World War II subject matter that overlaps -- are just canceling each other out. But besides that, it's anybody's guess.
If the wind blows in a certain direction, "Get Out" could capture the Oscar like it captured the zeitgeist. The subtlety and grace of "Lady Bird," unadorned but brilliant, could get through; ditto the fashionable but subdued "Phantom Thread." But our best guess? "Three Billboards Outside Ebbing, Missouri," with its incredibly of-the-moment sentiment and murderer's row of outstanding performances (keep in mind how many actors vote for the Best Picture award), will take home the Best Picture Oscar.
Who Should Win: Unquestionably, Guillermo del Toro's affecting, genuinely strange "The Shape of Water," should take home the top prize. Not only is it unlike any of the nominees, it's unlike any other movie we can think of (yes, it wears its heart and its homage on its sleeve).
It's a movie set in the early 1960's that speaks to today, with its sweetly rendered inclusiveness and nods to the current political quagmire. Unlike past movies-about-movies winners, this one doesn't drown in cloying platitudes; it's got grit and heart.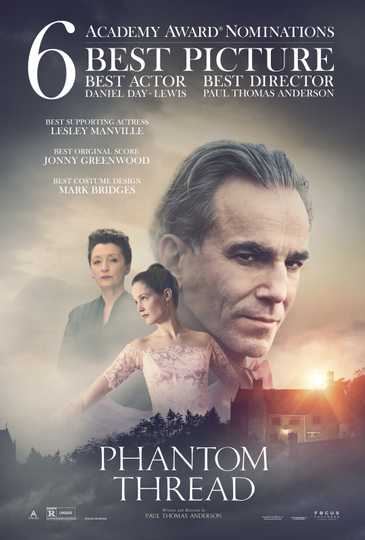 Phantom Thread
Renowned British dressmaker Reynolds Woodcock comes across Alma, a young, strong-willed woman, who soon becomes a fixture in his life as his muse and lover. Read More