May 4th, 2018
by Gina Carbone
New 'Robin Hood' Movie Faces Harsh Fan Roast After First Trailer
A new revisionist take on the "Robin Hood" story is coming to theaters this November. If you're wondering "why?" you have plenty of company online, especially after the first teaser trailer.
"Robin Hood" stars Taron Egerton as Robin Hood, Jamie Foxx as Little John, Jamie Dornan as Will Scarlett, Eve Hewson as Maid Marian, and Ben Mendelsohn as the Sheriff of Nottingham.
Here's the first trailer:Fans were left confused for many reasons. What time period is this? What exactly are they doing? Why are they doing it? Who is this for?
It's rarely fair to judge a movie just based on the first teaser. That said ... some of the reactions were simply classic:
nothing says Robin Hood like a machine-stitched hoodie pic.twitter.com/8ksuOsmJ7X

— Gavia Baker-Whitelaw (@Hello_Tailor) May 3, 2018
See, this is the kind of unnecessary hyper-modernisation of the Robin Hood story I'm talking about - @TaronEgerton wearing a jacket that looks like something you'd buy from @Superdry. pic.twitter.com/mI1d8wYIGc

— Obi-Wan Gregobi (@GGardiner89) May 3, 2018
(pitch meeting)

Writer: It's ROBIN HOOD...
Exec: ....go on.
Writer: ...and that's it. Same old shit.
Exec: Brilliant. Here's a $100M budget.

— Scott Wampler™ (@ScottWamplerBMD) May 3, 2018
There's only room for one Robin Hood in my heart. pic.twitter.com/1JXUm2HEEG

— Kendra Alvey (@Kendragarden) May 3, 2018
Since Robin Hood is in the public domain, different movie versions of him track as a good evolution of hero archetypes over the years: the dashing swashbuckler, the bland everyman, the brooding antihero, and Assasssin's Creed avatar pic.twitter.com/P6vV8NRMl5

— Alan Zilberman (@alanzilberman) May 3, 2018
Robin Hood (2018)

It's a faux-medieval fantasy film that's showing the proletariat peasantry revolting against the evil fascist monarch

J U S T pic.twitter.com/g2O45kYDf3

— ☩ George ???????????????????????????? (@MedievalGinger) May 3, 2018
I just watched the trailer for the new #RobinHood film.

Put it in the bin????

It just looks like a Robin Hood version of last year's King Arthur: Legend of the Sword.

We don't need another film like that.

— terrellegrahamreviews.com (@TerrelleGraham) May 3, 2018
They ruined King Arthur, they've ruined Robin Hood - what other classic British narratives can they mess with?

— Mike Stuchbery ???????? (@MikeStuchbery_) May 3, 2018
why is robin hood wearing a 21st century jacket

fuck me this film is going to be hilariously bad, im very excited pic.twitter.com/vREOOY7DPg

— adam (@daydream_bowie) May 3, 2018
Lol pic.twitter.com/ZtB8Q8aXoW

— OhNoSheTwitnt (@OhNoSheTwitnt) May 3, 2018
i hope the new robin hood movie has an aged mentor who says some dumb shit like "tell me boy, do you think an arrow... can change the world?"

— mr grace mugabe (@mattvbrady) May 4, 2018
Another Robin Hood movie coming, yet still no deal for my ROBIN HOOD vs PREDATOR.

— Kieron Gillen (@kierongillen) May 4, 2018
Instead of Robin Hood, they should make a 4 hour epic of Hollywood executives sitting silently in a board room, trying to think of an idea.

— John Lurie (@lurie_john) May 3, 2018
"Hey guys, let's NEVER get Robin Hood right."

- Hollywood

— Jake Vig (@Jake_Vig) May 3, 2018
If you're legit excited about the 452nd ROBIN HOOD movie I must insist that you turn yourself into the police immediately. Request solitary confinement.

— Scott Wampler™ (@ScottWamplerBMD) May 3, 2018

There are some defenders, though, who love the stars and will see them in anything. Others know that sometimes going into a movie with low expectations produces pleasant surprises.
Here's the official synopsis from Lionsgate:
"Robin of Loxley (Taron Egerton) a war-hardened Crusader and his Moorish commander (Jamie Foxx) mount an audacious revolt against the corrupt English crown in a thrilling action-adventure packed with gritty battlefield exploits, mind-blowing fight choreography, and a timeless romance."
"Robin Hood" has a chance to prove its early critics wrong when it opens in theaters on November 21.
Want more stuff like this? Like us on Facebook.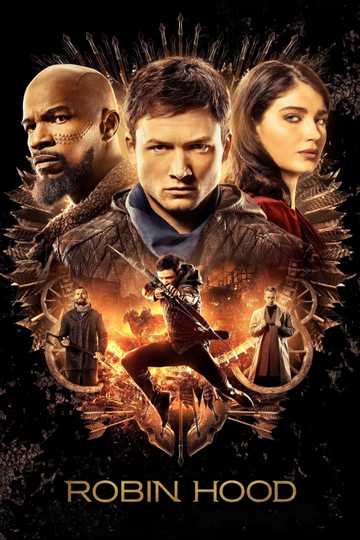 Robin Hood
A war-hardened Crusader and his Moorish commander mount an audacious revolt against the corrupt English crown. Read More