 Pixar did it again? Shocker!
Based on the first reactions to "Incredibles 2," fans are going to be very satisfied with "The Incredibles" sequel. Disney-Pixar knows you waited 14 years to see your favorite supers again, so the stakes were pretty high.
Full reviews aren't in quite yet, but here are some of the posted reactions after last night's premiere screening:
It should surprise no one that #Incredibles2 is a flat out masterpiece — thrilling, moving and impeccably designed. Worth every second of the 14 year wait. pic.twitter.com/ll0yPjdBi2

— Drew Taylor (@DrewTailored) June 6, 2018
I spent 14 years arguing that the world didn't need an #Incredibles2 . After tonight, I would welcome an INCREDIBLES 3 with open arms.

— Scott Mendelson (@ScottMendelson) June 6, 2018
INCREDIBLES 2 is easily Pixar's best sequel since TOY STORY 3.

Pixar did a fantastic job taking the qualities of the Parr family from the first film and building upon that in this film.

Heads up, Jack Jack steals this whole movie. #Incredibles2

— Skyler Shuler (@Skylerhxc) June 6, 2018
#Incredibles2 is such a friggin delight! Family dynamic is brilliant yet again but WOW is Jack Jack a scene stealer. And that score! More A+ work from Michael Giacchino that I'm gonna need to own.

— Perri Nemiroff (@PNemiroff) June 6, 2018
So happy to report @BradBirdA113 delivered a fantastic sequel to 'The Incredibles'. Absolutely loved #Incredibles2. And @m_giacchino score is, as always, awesome. Can't wait to see it again. pic.twitter.com/bPrU6HHicM

— Steven Weintraub (@colliderfrosty) June 6, 2018
Time for some good news! Pixar's #Incredibles2 is fantastic! Sweet, hilarious, and terrific pacing w/ a breezy story packed w/ action & heart. Adored it and the short #Bao before it. My favorite summer movie so far this season pic.twitter.com/WrCSN4J948

— ErikDavis (@ErikDavis) June 6, 2018
#incredibles2⁠ ⁠is a serviceable sequel, a fun adventure but not on the same level of the original. Jack Jack & Edna steal the show, (please tell me they are making a short film with Edna babysitting Jack Jack). Fantastic production design, another great score by @m_giacchino.

— Peter Sciretta (@slashfilm) June 6, 2018
Finally the embargo has lifted! Folks, #incredibles2 is comfortably one of my films of the year! Exhilarating, moving, meticulously crafted and wickedly funny. A shining example of how patient film-making (14 years!) will almost always trump clumsy, churned out sequels. pic.twitter.com/GIjCOZUtOC

— Tom Glasson (@tomglasson) June 6, 2018
Apparently I can talk about the #incredibles2 now.

It's great! Really! And that's not just the Pixar fanboy inside of me taking over. The plot seamlessly stems itself in real world issues and crafts a plot that's SO MUCH FUN! Give Jack Jack and Edna a team up film ASAP.

— Jack Dignan (@JackDignanFilms) June 6, 2018
THE INCREDIBLES 2 is funnier than the original (if not as emotionally stirring) and has more creative action (though none of it equals the airplane sequence) without sacrificing the crucial family dynamic. Top Giacchino score and Jack-Jack is a scene-stealer. #Incredibles2pic.twitter.com/A3a3y5oPxK

— Harris Dang (@FilmMomatic) June 6, 2018
Just walked out of #Incredibles2. It improves on practically everything from the original. Its visual style is stunning to look at, the characters are fantastic, and the adventure is a blast.

There's a little bit of predictability in the story, but I was so down for this ride. pic.twitter.com/O1KJyqVg2i

— Chris E. Hayner (@ChrisHayner) June 6, 2018
Got out of #Incredibles2 OMG! Somehow better than the original. Jack Jack is unreal funny!! Great to see the whole family & Frozone together again! When I talk to the director and cast tomorrow I'm going to ask them when Incredibles 3 is coming out!!!! Y'all are gonna ❤️ this! pic.twitter.com/9FJKfEcj23

— Jacki Jing (@JackiJing) June 6, 2018
Incredibles 2 is excellent. Super funny, super smart, & the action is bigger and better than before. It shares some narrative DNA with the first film but it works nonetheless. Another Pixar winner. pic.twitter.com/RnB1DIIPsv

— Germain Lussier (@GermainLussier) June 6, 2018
#Incredibles2 is a giddy, slick bundle of fun. The action set pieces are tasty, impressive, never over-egged. Plenty for kids and adults to get their teeth into and a few belly laughs too. The design, audio and visual, really make it pop. A worthy sequel to a tough act to follow. pic.twitter.com/8qmxGkmQzj

— Simon Thompson (@ShowbizSimon) June 6, 2018
Writer-director Brad Bird's "Incredibles 2" opens in theaters June 15. Don't forget, you also get to see the sweet Pixar short "Bao" before the movie. (Don't worry, it's not 20 minutes like that "Frozen" short.)
Want more stuff like this? Like us on Facebook.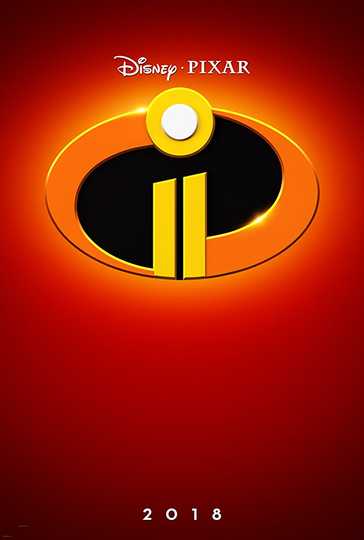 Incredibles 2
Elastigirl springs into action to save the day, while Mr. Incredible faces his greatest challenge yet – taking care of the problems of his three children. Read More