New 'Wonder Woman 1984' Photo Features Pedro Pascal and His 'Power Hair'
Several photos from the upcoming '80s-set "Wonder Woman" sequel have already hit the world wide web, and the latest image puts a mysterious new character in the spotlight.
Just who he is or how he factors into the plot of "Wonder Woman 1984" is currently unknown, but he's played by Pedro Pascal, the scene-stealing star of TV shows like "Game of Thrones" and "Narcos," and films including "Kingsman: The Golden Circle" and "The Equalizer II." And according to director Patty Jenkins, who shared the snap on Twitter, Pascal is similarly intoxicating in this key role -- whatever that may be.
"Can't…Stop… Watching… @PedroPascal1 !!!" Jenkins captioned the photo of the actor (presumably captured on a playback monitor during production, based on the TV screen outline in the frame). Pascal is nearly unrecognizable, sporting a very '80s three-piece suit and matching tie and pocket square; some seriously shellacked hair finishes the look.
Pascal himself joked about that goofy combo, sharing the same photo on Instagram with the comment, "Power suit. Power hair." Power hair indeed.
We can't wait to see what Wonder Woman (Gal Gadot), who has some similarly luxurious locks, has to say about this look. We're going to give Diana Prince the edge here when it comes to comparing their fashion choices.
In addition to Pascal, Kristen Wiig is also joining the ensemble, playing Barbara Minerva, a.k.a. the villain Cheetah. They round out the pack that includes Gadot and fellow returnee Chris Pine (whose presence we're very eager to have explained).
All will hopefully be revealed when "Wonder Woman 1984" hits theaters on November 1, 2019.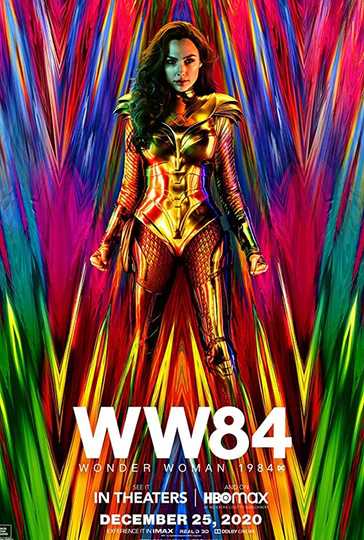 "A new era of wonder begins."
2 hr 31 min
Dec 25th, 2020
A botched store robbery places Wonder Woman in a global battle against a powerful and mysterious ancient force that puts her powers in jeopardy. Read the Plot