What are we going to do after "Avengers 4"? Sure, there's "Spider-Man: Far From Home," but the hype fans feel for this movie -- we need to keep this feeling going somehow.
There's nothing major going on with "Avengers 4" at the moment, other than the planned "additional photography"/reshoots. But fans have been busy speculating, and offering suggestions.
A few months ago, Marvel Studios boss Kevin Feige said the title of "Avengers 4" would be revealed after the first "Captain Marvel" teaser, later this year.
MCU Cosmic decided to go a bit further, speculating on when we can expect both the "Captain Marvel" and "Avengers 4" trailers.
The site figured that September is a reasonable date for a "Captain Marvel" teaser release, since it's six months away from the March 2019 "Captain Marvel" premiere. A September teaser would also give Marvel some buffer time before releasing any footage from "Avengers 4."
Here's more on that, from MCU Cosmic:
"Which brings us to November. The first teaser trailer for Avengers: Infinity War was released on November 29th, 2017. With Avengers 4 releasing the same time of the year that Infinity War did, it's very likely that we'll see the first teaser for the second movie around the same time this year…give or take a week either way."
First "Avengers 4" footage in November? Yes? No? We'll see.
One fan already has the end of that film in mind, suggesting this bittersweet scene as a coda to Captain America (Chris Evans) and Peggy Carter's (Hayley Atwell) romantic dance story:
Beautiful.
We don't know what will happen to Cap, but since Chris Evans has made it pretty clear he's done with the MCU after "Avengers 4," it's hard to imagine what else they'd do with the character. And the "Avengers 4" synopsis does mention "sacrifices."
Speaking of sacrifices, the Russo Brothers -- who directed "Avengers: Infinity War" and "Avengers 4" -- posted a fan's video from their Twitter account, and it confused a lot of people into thinking it was a title reveal:
But most of the replies are from fans demanding Loki be brought back to life. We'll see if that happens, along with everything else, when "Avengers 4" is released next May. Or April.
Want more stuff like this? Like us on Facebook.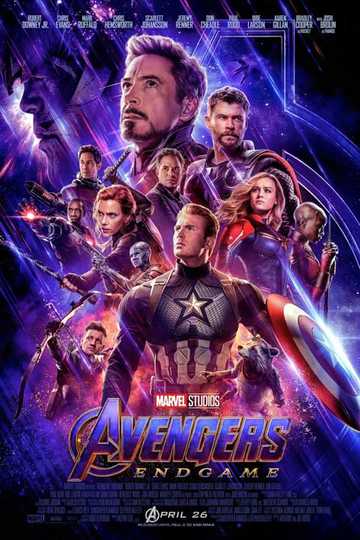 Avengers: Endgame
After the devastating events of Avengers: Infinity War, the universe is in ruins due to the efforts of the Mad Titan, Thanos. With the help of remaining allies, the Avengers must assemble once more in... Read More