Box Office: 'House With a Clock in Its Walls' Gives Eli Roth His Best Opening
"The House With a Clock in Its Walls" really did know what makes moviegoers tick. It picked up $26.85 million in its opening weekend, which is more than double what the next two films on the box office chart made.
The first weekend of Fall 2018 wasn't the most exciting time at the domestic box office, but "House" director Eli Roth should be happy. This is his first PG-rated movie, so it's not too shocking that it had a better opening than his usual R-rated horror/thrillers.
According to Deadline, "House" was easily Eli Roth's best opening, topping the $19.55 million of "Hostel" in 2006. "House" was also his best-reviewed feature with a 68 percent "fresh" rating on Rotten Tomatoes. The Jack Black and Cate Blanchett film had a lower RT audience rating, though, and "only" got a B+ CinemaScore from polled moviegoers.
"Life Itself," which has been kicked to death by critics, also got a B+ CinemaScore. Michael Moore's "Fahrenheit 11/9" earned an A CinemaScore, but a much lower RT audience score. Michael Moore is the kind of documentarian who inspires HEATED feelings, but this latest film has stayed under the radar in comparison to his past films, like "Fahrenheit 9/11."
Of the four fairly major new releases this week, only two made the top 10 -- "House" at No. 1, and "Fahrenheit 11/9" at No. 8 with $3,101,000. "Life Itself" settled for No. 11 with $2,106,200, and "Assassination Nation" was No. 15 with $1,028,600.
Granted, both "Fahrenheit" and "Assassination" opened on fewer than 2,000 screens. Briarcliff Entertainment
"Life Itself" had 2,609 theaters, and "House" got itself 3,592 theaters. It's easier to get people to watch a movie if they can actually find a seat near them. But "Life Itself" and "Assassination Nation" had per-screen averages of $807 and $733, respectively. That's pretty sad, especially when compared to some other new releases (see intel below chart).
"The Predator," now in Week 2, is still playing in more than 4,000 theaters, but it took fourth place, behind "A Simple Favor" -- showing those legs studio experts suspected it would have -- and "The Nun."
("The Nun" is really killing it overseas; it just passed $100M over here but added almost $200M from the foreign box office. Fear of nuns is universal!)
Here are the weekend estimates for September 21-23:
1. "The House With a Clock in Its Walls" - $26,850,000
2. "A Simple Favor" - $10,400,000
3. "The Nun" - $10,250,000
4. "The Predator" - $8,700,00
5. "Crazy Rich Asians" - $6,515,000
6. "White Boy Rick" - $5,000,000
7. "Peppermint" - $3,720,000
8. "Fahrenheit 11/9" - $3,101,000
9. "The Meg" - $2,350,000
10. "Searching" - $2,175,000
You have to go way down to No. 25 and No. 26 for two other new limited release films -- "Colette" and "The Sisters Brothers," respectively. They both premiered on only four theaters, with more to come, so this is just a taste of their very high per-screen average -- like $39,000 high, vs. $7,400 for "House" at No. 1., and $807 for "Life Itself." "Colette" and "Sisters Brothers" may rank low on the chart, but this is actually good for them.
Are you ready to head to "Night School"? Hang out with "Smallfoot"? They're coming next week, and then early October brings "Venom" and "A Star Is Born."
[Via: Deadline, Box Office Mojo]
Want more stuff like this? Like us on Facebook.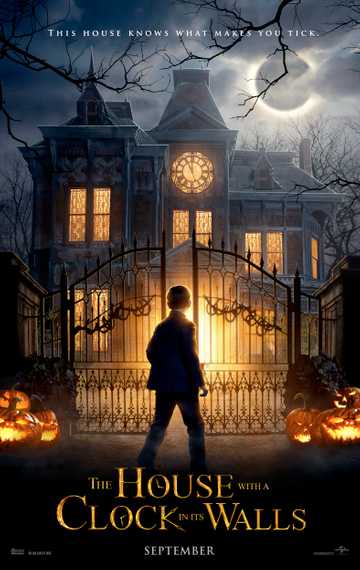 "This house knows what makes you tick."
1 hr 45 min
Sep 21st, 2018
When ten-year-old Lewis is suddenly orphaned, he is sent to live with his Uncle Jonathan in a creaky (and creepy) old mansion with a mysterious ticking noise that... Read the Plot