March 25th, 2019
by Stephanie Topacio Long
'Avengers: Endgame': Fandango Confirms Super Long Runtime
Prepare to settle in for a long one, Marvel fans. The "Avengers: Endgame" runtime as been revealed, and wow, it's a mighty number.
The news came Monday after AMC posted a landing page for the superhero flick showing its runtime, Comicbook.com reports. Then, Fandango confirmed the news via Twitter, per Vulture. The online ticket seller's account wrote, "3 hours, 2 minutes."
The runtime translates to 182 minutes, and whether you measure in minutes, hours, or both, there's no arguing that makes for a long movie. No other film in the MCU is longer than "Avengers: Endgame" -- or even all that close to it. The longest prior to now was "Avengers: Infinity War," which clocks in at 149 minutes, or 2 hours and 29 minutes.
Bigger isn't always better; however, given that the film is the final one in the franchise's Phase Three, we're happy to have more time to say goodbye. And based on these tweets, we're not the only ones:
No food.
No drinks.
Only emotions and tears. #AvengersEndgamehttps://t.co/fk030wy2VT

— Oh, It's Just Nikko ??? (@nikko_the_auror) March 25, 2019
They did it! Avengers: Endgame is 3 hours 2 minutes long. I LOVE IT.

— meh (@fkasdotbailey) March 25, 2019
#AvengersEndgame clocks in with a runtime of 3 hours and 2 minutes.

Whatever it takes.

— Corey (@stylesclash10) March 25, 2019
avengers endgame is 3 hours and 2 mins, y'all could've round that off and put it at 4 hours. I would have no choice but to stan.

— abi. (@abiriketaa) March 25, 2019
THE OFFICAL RUN TIME FOR AVENGERS ENDGAME IS 3 HOURS AND 2 MINUTES LONG im so ready for tHIS

— brooke saw captain marvel!! (@mvrvelcomics) March 25, 2019
Well Marvel Fans don't forget to purchase your adult diapers before your show. #AvengersEndgame is confirmed to be approximately 3 hours and 2 minutes long. #wereintheendgamenowpic.twitter.com/XevSIdKiuC

— Mister GQ Bloggs (@BloggsGq) March 25, 2019
3 hours and 2 minutes? Amazing! #AvengersEndgame

— emanoelleprofessora (@EmmaTeacher2019) March 25, 2019
Oh yeah and Avengers Endgame is supposed to be 3 hours long so that's gonna be sick pic.twitter.com/d8luvxAlhv

— Stealthy (@StealthyTV) March 25, 2019
"Avengers: Endgame" hits theaters April 26.
[via: Comicbook.com; Vulture]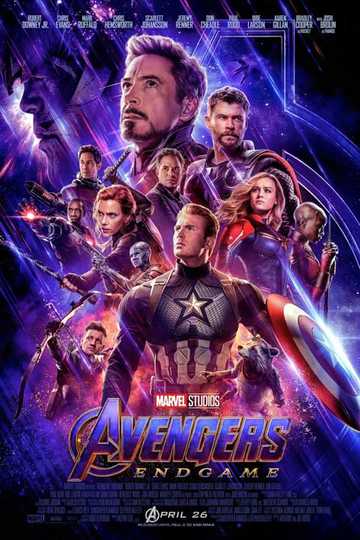 Avengers: Endgame
After the devastating events of Avengers: Infinity War, the universe is in ruins due to the efforts of the Mad Titan, Thanos. With the help of remaining allies, the Avengers must assemble once more in... Read More