The upcoming STXfilms rom-com "Marry Me" has two big-name leads.
Jennifer Lopez is officially on board, and Owen Wilson is set to join her, Variety reports. Wilson is in final talks to become Lopez's leading man. The two will be directed by Kat Coiro.
"Marry Me" is based on Bobby Crosby's graphic novel of the same name. It follows a famous pop star (Lopez) as she marries a random fan (Wilson) after finding out that her fiance cheated on her. John Rogers and Tami Sagher wrote the script, and Harper Dill did a rewrite.
Lopez's role was "quite literally made for her," according to STXfilms Chairman Adam Fogelson. He also shared excitement about Wilson's casting, calling him "the perfect person to play opposite [Lopez]." The actress herself tweeted that she's "excited for this one" once news broke Monday.
Both Lopez and Wilson have starred in a number of popular comedies over the course of their careers. Some of hers include "Second Act" and "The Wedding Planner." Meanwhile, some of Wilson's hits include "Father Figures" and "Wedding Crashers."
"Marry Me" is Lopez's third project with STXfilms, following "Second Act" and the upcoming "Hustlers." She's also reuniting with producers Elaine Goldsmith-Thomas and Benny Medina. They are producing "Marry Me" with Lopez and Rogers. The film's executive producers are Willie Mercer, Alex Brown, and J.B. Roberts, and Kate Vorhoff and Catherine Hagerdorn are set to oversee for STX.
"Marry Me" is expected to begin production in the fall.
[via: Variety]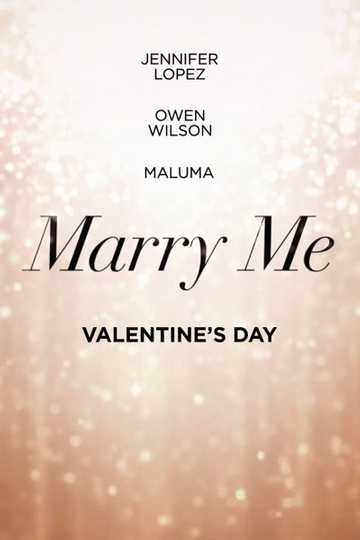 Marry Me
Explores the possibilities of what might happen when a superstar marries an average Joe as a joke and discovers that perhaps there are no accidents.Read More