'Judy' Teaser Trailer Transforms Renée Zellweger Into Judy Garland
Renée Zellweger is going "Somewhere Over the Rainbow."
The Oscar winner sings the classic song in the first teaser trailer for "Judy," the biopic chronicling the life of icon Judy Garland. Zellweger plays Garland in the winter of 1968, when the 47-year-old arrives in London to performa  series of sold-out concerts at the Talk of the Town nightclub.
The film examines her stormy relationships with her family, managers, musicians, and fans.
Zellweger reportedly took music lessons and studied Garland's choreography from the Talk of the Town shows. She also underwent extensive hair and makeup sessions while filming.
"Judy" also stars Finn Wittrock as Mickey Deans (Garland's fifth husband), Michael Gambon as manager Bernard Delfton, Rufus Sewell as Sid Luft (her third husband), and Gemma-Leah Devereux as a young Liza Minnelli.
"I had always wanted to make a film that explores great performance and its cost," said director Rupert Goold in a statement. "For over 40 years Judy Garland had laughed and loved and entertained no matter what life threw at her, and her public adored her for it. But she paid a price in a childhood lost to Hollywood, an emotional exhaustion and a yearning for a 'normal' life beyond the rainbow."
"Judy" opens in theaters September 27.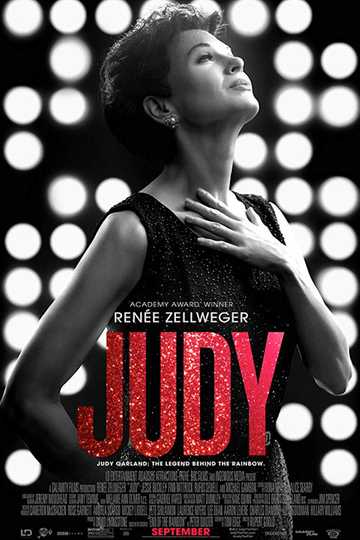 "Judy Garland: The Legend Behind the Rainbow."
1 hr 58 min
Aug 30th, 2019
Winter 1968 and showbiz legend Judy Garland arrives in Swinging London to perform a five-week sold-out run at The Talk of the Town. It is 30 years since she shot... Read the Plot