11 Things You Never Knew About 'Maverick' on its 25th Anniversary
"Maverick" may not be the most critically acclaimed Western released in the '90s, but you'll be hard-pressed to find a more enjoyable trip back to the Wild West and the days of rascals, card sharks and lawmen. Celebrate the 25th anniversary of this it Western by learning some fun facts about the making of "Maverick."
1. "Maverick" is an adaptation of the 1957-1962 TV series of the same name, which starred James Garner as Bret Maverick.
2. Garner played a very different role in this remake as Marshal Zane Cooper. The name is an homage to influential Western writer Zane Grey and actor Gary Cooper.
3. The film includes cameo appearances from many popular country music singers, including Reba McEntire, Waylon Jennings, Hal Ketchum, Carlene Carter and Vince Gill.
4.Paul Newman was originally offered the role of Bret Maverick, but ultimately turned it down when the producers failed to meet his salary requirements.
5. The steamboat is named "Lauren Belle" in tribute to director Richard Donner's wife, producer Lauren Shuler Donner. She also has a cameo in the film as "Mrs. D," one of the maids in the bath house.
6. The ship used for the Lauren Belle was a fully functional stern-wheel tugboat borrowed from the Oregon Maritime Museum.
7. Julia Roberts, Meg Ryan and Michelle Pfeiffer were all considered for the part of Annabelle.
8. Annabelle's clumsiness wasn't actually written in the original screenplay. Donner was inspired to add that element to the character after Jodie Foster fell out of a stagecoach when co-star Mel Gibson failed to help her down.
9. "Maverick" includes numerous callbacks to the "Lethal Weapon" series, including Danny Glover's cameo appearance and the scene where Mel Gibson's character discovers his shirt has shrunk in the wash.
10. The film includes a deleted sequence where Maverick attempts to demonstrate his supposedly magical card-playing abilities to a hermit played by Linda Hunt. Donner opted to cut this material because he felt it didn't mesh with the rest of the film.
11. Another deleted scene features musician Alice Cooper in a cameo role as the town drunk. Rock on!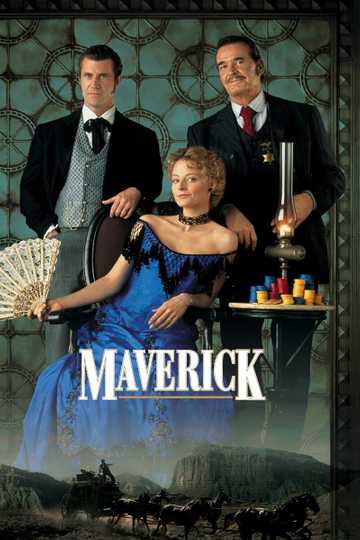 "In their hands, a deck of cards was the only thing more dangerous than a gun."