Jordan Peele's 'Us' Will Terrify Maze Seekers at Universal's Halloween Horror Nights
Watch out for your evil doppelganger in Universal Studios' Halloween Horror Nights!
The attraction is adding a new maze inspired by Jordan Peele's nightmarish thriller "Us."
The "Us" maze will have callbacks to key components of the movie, from the unnerving labyrinth of underground tunnels to the disorienting and the ominous uprising of "The Tethered"— doppelgängers of every living man, woman and child in the country.
Visitors will soon understand the tagline: "We are our own worst enemy."
Maze-goers will follow in the footsteps of the young girl they first meet as Adelaide Wilson as she innocently ventures through a mirror funhouse at the Santa Cruz boardwalk and has a fateful and traumatic encounter with her tethered doppelgänger, an event that will forever alter both of their lives. Visitors will then be thrust into the chaos of "The Tethered" uprising as they emerge from their tunnels to murder their privileged doubles in a nationwide coordinated act of rebellion.
"It's very exciting to know that fans of 'Us' will get to experience firsthand the terror of being stalked and tormented by 'The Tethered,'" said Peele.
"It's been a lifelong ambition of mine to create a monster that would scare people on Halloween, so having 'The Tethered' join such esteemed company is a dream come true."
This year's Halloween Horror Nights will also feature mazes inspired by "Ghostbusters," "Killer Klowns From Outer Space," and "Creepshow."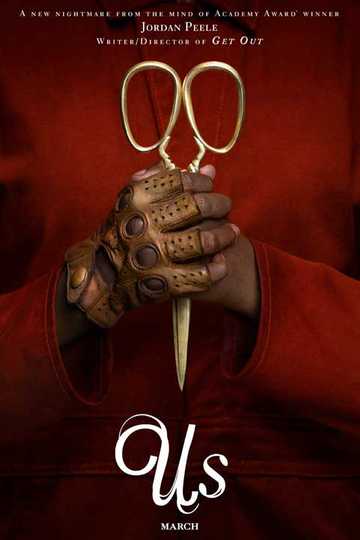 "Watch yourself"
1 hr 56 min
Mar 22nd, 2019
Husband and wife Gabe and Adelaide Wilson take their kids to their beach house expecting to unplug and unwind with friends. But as night descends, their serenity... Read the Plot