18 Things You (Probably) Never Knew About 'Inglourious Basterds'
"Once Upon a Time in Hollywood" has perhaps understandably stoked a lot of discussion about its portrayal and reimagining of not just certain events (like the tragic murder of Sharon Tate) but many of the myths upon which Tinseltown is based. But ten years ago, writer-director Quentin Tarantino created his first film in which fiction and real-life history were skillfully blended into "Inglorious Basterds," an operatic alternative timeline where a small group of American soldiers and a vengeance-seeking French projectionist unknowingly team up to kill Adolf Hitler and stop World War II overnight. In honor of its anniversary (and its eight Academy Award nominations, the most yet for any of his films) Moviefone takes a look back at the lore and the legends that inspired Tarantino to create this unforgettable war movie.
1. Quentin Tarantino's movies often seem to gestate for a long time before he puts them on the page - and eventually, on screen. He first began thinking about "Inglourious Basterds" while making "Kill Bill Vol. 1" and "2" but didn't revisit it until after "Death Proof" because he was coming up with what he deemed a satisfying ending.
2. Perhaps even moreso than in his other films, Tarantino's character names were inspired by actors and filmmakers that he loves. Aldo Raine's (Brad Pitt) name is a composite of real-life WWII veteran Aldo Ray and "Rolling Thunder" character Charles Rane, while the name he gives at the end of the movie, Enzo Gorlomi, is the birth name of original "Inglorious Bastards" director Enzo G. Castellari. General Ed Fenech (Mike Myers) was named after giallo actress Edwige Fenech. Omar Ulmer (Omar Doom) got his surname from Edgar G. Ulmer, a German expressionist filmmaker. The name of Wilhelm Wicki (Gedeon Burkhard) was inspired by directors Georg Wilhelm Pabst ("The White Hell of Pitz Palu") and Bernhard Wicki ("The Longest Day"). Sergant Hugo Stiglitz' (Til Schweiger) name came from the eponymous Mexican b-movie actor. Sergeant Donny Donowitz (Eli Roth) uses the alias Antonio Margheriti, the Italian director of "Cannibal Apocalypse." And Shoshanna Dreyfus' (Melanie Laurent) last name come from his friend and former collaborator Julie Dreyfus ("Kill Bill Vol. 1") who plays a small role in the film as translator Francesca Mondino.
3. Their stories are completely different, but Tarantino sought Enzo Castellari's blessing after deciding to name his film after "The Inglorious Bastards," eventually purchasing the film's remake rights.  Not only did he cast the director as a General yelling "fire!" just like he did in his own film (this time pointing out the fire in the theater) but he also cast "Bastards" star Bo Svenson as an American Colonel. Although Castellari was cut from the film, he repaid Tarantino by naming his 2010 film "Caribbean Basterds."
4. Though her name was invented by Tarantino, Bridget von Hammersmark (Diane Kruger) was inspired by several real-life actress-turned-agents, in particular Marlene Dietrich, who didn't serve overseas but made recordings for the Office of Strategic Services' Morale Operations Branch.
5. Tarantino revealed that Schweiger had categorically refused to don a Nazi uniform for a role before this film, and only agreed to do so for "Basterds" because he got to wear it while killing them.
6. Quentin Tarantino personally offered Rod Taylor the role of Sir Winston Churchill, in what would be the actor's final role. Tarantino is a huge fan of Taylor's film "Dark of the Sun," and in the scene in which Hickox (Michael Fassbender) is talking to Stiglitz while he sharpens his knife, the theme to that film is playing.
7. Meanwhile, Samm Levine, who plays Pfc. Hirschberg, actually had two roles in the film, including a painter in the background of Adolf Hitler's introductory scene.
8. To play Shoshanna, Melanie Laurent worked as a projectionist for several weeks at Tarantino's New Beverly Cinema in Los Angeles. Meanwhile, the character's theater was loosely based on the Vista Theatre in Silverlake where Tony Scott filmed exteriors for the "Street Fighter" marathon in "True Romance."
9. While tackling the main film, Tarantino hired Eli Roth to direct "Nation's Pride." Enlisting his brother Gabriel with a second camera, the Roths were able to get 130 camera set-ups in just two days. The entire film they shot runs about five and a half minutes, but it's meant to be a collection of various scenes from a longer film rather than a coherent narrative unto itself.
10. Tarantino makes a voice cameo in "Nation's Pride" as an American soldier who says "we must destroy that tower!" He also appears in dummy form as the first German to be scalped in the film.
11. Filmmaker Tom Tykwer translated the parts of the script that were to be in German. However, Tarantino did not learn his dialogue in the various foreign languages in which the lines were performed and directed those scenes intuitively.
12. Tarantino was meticulous in creating period-accurate posters for "Nation's Pride," including a German censor approval stamp and design elements common to that era.
13. He also drew upon real historical events in order to provide interesting motivations and details about his characters. When Goebbels (Sylvester Groth) tells Francesca (Julie Dreyfus) never to mention Lilian Harvey's name, it's because the real actress fled Nazi Germany in 1939 after helping a Jewish choreographer, Jens Keith, escape to Switzerland.
14. Meanwhile, the second marquee at Shoshanna's theater advertises "Le Corbeau," a film produced during the Nazi occupation of France that famously featured hidden anti-Nazi messages that censors failed to detect.
15. Tarantino somewhat infamously confessed to being the one to personally strangle Diane Kruger during von Hammersmark's death scene, in order to achieve the "authentic" look he wanted from her on camera.
16. According to the "Quentin Tarantino Cinematic Universe," Lieutenant Aldo Raine is the grandfather of Floyd, the pothead on the couch in "True Romance" played by Brad Pitt. Meanwhile, Donny Donowitz (Roth) is the father of "True Romance" character Lee Donowitz, the producer who made "Coming Home in a Bodybag."
17. Christoph Waltz won an Academy Award for playing Colonel Hans Landa, in what was his first American film after working for 30 years in Germany. He remains the only actor thus far to win an award for acting in a Tarantino film. What's more, he would perform the feat twice, when he won again for "Django Unchained."
18. To this day, Tarantino refuses to explain why he intentionally misspelled the name of the movie in its title, suggesting that to do so would undermine it as an artistic flourish.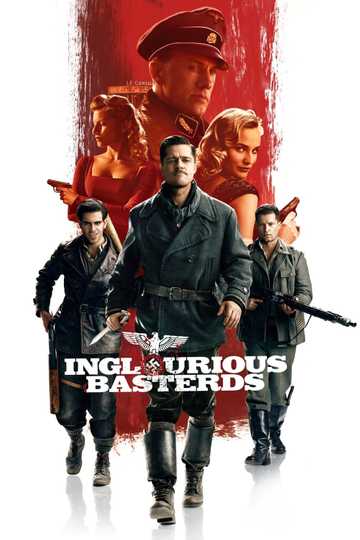 "Once upon a time in Nazi occupied France..."
2 hr 33 min
Aug 21st, 2009
In Nazi-occupied France during World War II, a group of Jewish-American soldiers known as "The Basterds" are chosen specifically to spread fear throughout the Third... Read the Plot