Viola Davis in Talks to headline Amanda Waller-focused 'Peacemaker' Spinoff Series
She'll be dealing with the fallout of the James Gunn series.
After scheming her way through both 2016's 'Suicide Squad' and last year's 'The Suicide Squad', not to mention two quick cameos in 'Peacemaker', Viola Davis' Amanda Waller looks to become the focus of her own TV series.
HBO Max, which saw big success with the James Gunn-created 'Peacemaker' is looking to continue that story; and not just with the already-commissioned second season of the show.
According to Variety, Davis is in talks to return as Waller and to be an executive producer on the new series. Gunn, who is currently in the final stages of filming 'Guardians of the Galaxy Vol. 3, won't write or direct on the show, choosing instead to focus on the future of 'Peacemaker' itself and other projects he's developing.
Instead, Christal Henry, who has worked on shows including 'Watchmen' (also for HBO Max), 'The First' and 'APB', will be the creative head, lead writer and executive producer of the Waller series, should it make it to production. Gunn will be involved, however, as an executive producer alongside regular producing partner Peter Safran.
Waller, for those who have somehow avoided both the 'Suicide Squad' movies and 'Peacemaker', is the ambitious, conniving civil servant and director of A.R.G.U.S. who established Task Force X, AKA the Suicide Squad, wanting to assemble a team of expendable metahumans who would be used to execute covert operations against even more dangerous threats.
Gunn's 'The Suicide Squad' introduced John Cena's Christopher Smith, better known as Peacemaker, a bullish, dim-bulb hero whose stated mission is peace at any cost – even if it means killing everyone in sight. 'Peacemaker' developed the character in much more rounded fashion, exploring his traumatic, troubled past and seeing him confront a new enemy in the shape of alien butterfly creatures intent on taking Earth for themselves.
'Peacemaker', though it only featured Waller briefly, introduced some big changes into the storyline for the character as – spoiler alert – the finale saw her daughter, Leota Adebayo (played by Danielle Brooks) blow the whistle Waller's actions and her attempts to frame Peacemaker to put him back behind bars.
That would seem to effectively close down Task Force X and other opportunities for Waller, who has always worked best in the shadows. The new series would presumably feature her attempts to deal with the fallout, and to get a new scheme and/or team into play. Brooks was entertaining and human as Adebayo, so hopefully she might also crop up in the new show.
This would by no means be Davis' first TV series. She won an Emmy for playing brilliant criminal defense professor Annalise Keating on 'How to Get Away with Murder' and is currently to be found playing Michelle Obama on Showtime series 'The First Lady', which looks at the lives of various presidents' wives, including Betty Ford and Eleanor Roosevelt.
And Davis will also be back in theaters with 'The Woman King', Gina Prince-Bythewood's historical action drama which sees Davis as Nanisca, ruler of the kingdom of Dahomey, one of the most powerful states of Africa in the 18th and 19th centuries. That movie will be out on September 16th.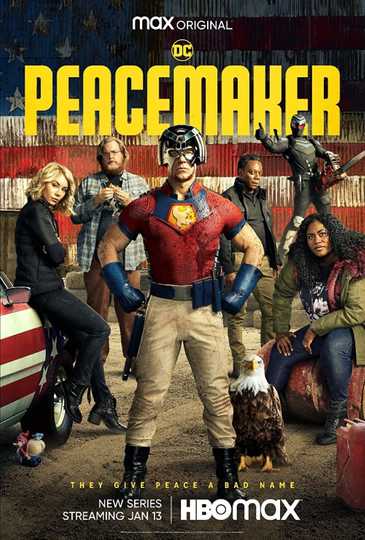 "They Give Peace A Bad Name"
5 hr 43 min
Jan 13th, 2022
Picking up where The Suicide Squad left off, Peacemaker returns home after recovering from his encounter with Bloodsport - only to discover that his freedom comes... Read the Plot