12 Things You Never Knew About 'Hellboy' On its 15th Anniversary
It's now been 15 years since "Hellboy" blasted its way into theaters and introduced moviegoers to a very different breed of superhero. While you wait for the character to return to the big screen in the upcoming "Hellboy" reboot, here are some fun facts you might not know about the original movie.
1. Early on in the film's development, producers at Columbia suggested making various audience-friendly changes to the material, including having Hellboy be a normal human who transforms into a demon when he gets angry, a la the Hulk.
2. Director Guillermo del Toro provided several voices in the movie, including the infant Hellboy, Ivan the Corpse and Kroenen.
3. Following the success of "Blade II," Del Toro was given a choice between directing "Blade: Trinity" or "Hellboy." We'd say he chose wisely.
4. "The Fast and the Furious" star Vin Diesel was considered for the parts of both Hellboy and Abe Sapien.
5. While largely based on several "Hellboy" comic storylines, the movie also makes some significant deviations from the source material. For example, Hellboy and Liz aren't romantically involved in the comics.
6. Makeup artist Matt Rose was able to reuse the life mask created for Ron Perlman for the 1987 "Beauty and the Beast" TV series, speeding up the creation of the Hellboy prosthetics.
7. It took about four hours each day to apply Perlman's makeup and prosthetics.  Abe Sapien actor Doug Jones had it even worse, as his process took seven hours.
8. Abe Sapien's voice was dubbed by "Frasier" star David Hyde Pierce. Pierce refused to be credited because he felt Jones was the one responsible for bringing the character to life and Jones replaced Pierce in the sequel.
9.Jeffrey Tambor was a last-minute addition to the cast, as his predecessor didn't show up for production.
10. One of the tombstones in the Russian cemetery is labeled with Hellboy creator Mike Mignola's name and reads "Born in fire, died in fire" when translated into English.
11. The Spear of Longinus in the movie is an exact replica of the artifact believed to be the actual spear that pierced Christ's side during the crucifixion.
12. The movie had to be renamed "Super Sapiens" in Malaysia because of a nationwide ban on movies containing the words "devil" or "hell."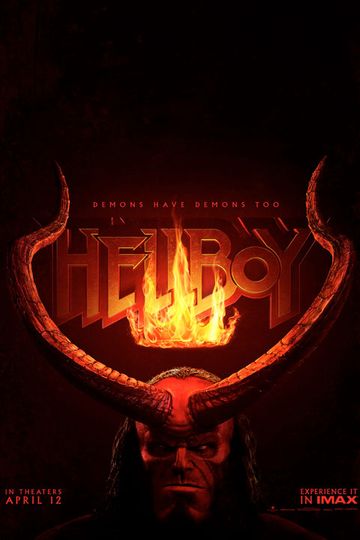 "Demons Have Demons Too"
Hellboy comes to England, where he must defeat Nimue, Merlin's consort and the Blood Queen. But their battle will bring about the end of the world, a fate he desperately... Read the Plot