17 Movies That Came Out In January That Weren't Totally Terrible Believe it or not, not all movies released in January are stinkers. Some (especially more Ethan Hawke movies than we ever realized) are actually pretty darn terrific.
'City of God' (January 17, 2003) This brilliant Brazilian crime drama about two friends who take very different paths in life, was nominated for four Oscars, including Best Cinematography, Best Director, Best Film Editing and Best Adapted Screenplay. 

'Before Sunrise' (January 27, 1995) The first film in Richard Linklater's beloved trilogy premiered at Sundance on January 19 and then the rest of the public got in on the Jesse & Celine goodness shortly after.
'Paddington 2' (2019) This delightful sequel — in which Hugh Grant gives arguably a career-best performance as the vain villain — opened the year before in the UK, where it was nominated for two BAFTAs. Funny, charming and heartwarming (with amazing set design), it deserves all the awards.
'Paddington' (2015) While slightly less enjoyable than its sequel (apologies to Nicole Kidman's taxidermist villain), this wonderfully British tale about an orphaned bear is still as comforting and cozy as a cup of tea and a marmalade sandwich.
'Juice' (January, 17 1992) After shooting several films for Spike Lee, cinematographer Ernest Dickerson made his directorial debut with this crime thriller starring Omar Epps and (in his film debut) Tupac Shakur. While it got some notice at the time (Roger Ebert gave it 3 out of 4 stars), it's since rightly earned cult status.
'Tremors,' (January 19, 1990) This hilarious horror B-movie, in which our intrepid heroes battle goldarn underground monsters, wasn't really appreciated until it became a regular on cable. Hands up who's seen it more than a dozen times.
'From Dusk Til Dawn,' (January 19, 1996) Just a little collab between Robert Rodriguez and Quentin Tarantino about two bank-robbing brothers who choose the wrong vampire-infested bar to hang out in. Helped (finally) make "ER" heartthrob George Clooney into a movie star. A fun crime-horror mashup that doesn't get old. (Okay, admittedly, the QT character has not aged so well.)
'Cloverfield,' (January 18, 2008) It's monster vs. millennials (and a whole metropolis) in this surprise hit from producer J.J. Abrams. Followed by the arguably better "10 Cloverfield Lane" and the laughably bad "Cloverfield Paradox."
'Scanners,' (January 14, 1981) Although the trailers clearly promised heads exploding, audiences just weren't ready for David Cronenberg's literally mind-blowing brand of horror. Other January genre movies only wish they were this good.
'Split,' (January 20, 2017) While it (ahem) split the critics, audiences made this follow-up to "Unbreakable" a huge hit thanks to star James McAvoy's brilliant gallery of personalities.
'A Walk to Remember' (January 25, 2002) In its opening weekend, this teen romance grossed less than "Snow Dogs." But it struck a major chord with audiences, who cried through it several times. And bought the soundtrack. Who cares that EW called it "A Walk to Forget" and that it was dubbed "one of the worst chick flicks ever made"?
'Smokin' Aces,' (January 26, 2007) Every assassin in the Northern Hemisphere converges on Vegas to bump off Jeremy Piven and it's up to FBI agent Ryan Reynolds to save the day. It's uneven and too frantic, sure, but it features a gonzo pre-"Trek" performance by Chris Pine as a machete-wielding killer and the great romantic team-up of Alicia Keys (pictured) and Common. The cast list — and the carnage — is just crazy.
'Final Destination 2,' (January 31, 2003) The second installment in this horror franchise features one of the most convincing initial accidents: Tell us you don't go well out of your way to avoid all logging trucks on the freeway after seeing this!
'Great Expectations' (1998) Sure, it's ranks below "Before Sunrise" or "Reality Bites" in the '90s Ethan Hawke pantheon. But did you realize this Charles Dickens adaptation was directed by future Oscar winner Alfonso Cuaron?
'The Grey,' (January 27, 2012) Nothing like a feral Liam Neeson battling wolves in the bitter cold to banish those January blues!
'The Mothman Prophecies,' (January 25, 2002) It's a bit of slow burn, but there are some truly terrifying moments in this film based on supposed real-life sightings (and subsequent accidents) involving the "Mothman" in West Virginia.
'Daybreakers,' (January 8, 2010) Hawke (again!) is a reluctant vampire in a future where everyone is a bloodsucker -- except for a ragtag group of humans on the run. What if there were a way to make a vampire human again? Does it involve carrying a crossbow? Yes, yes it does. The movie (especially the production design) is actually much better than its terrible title.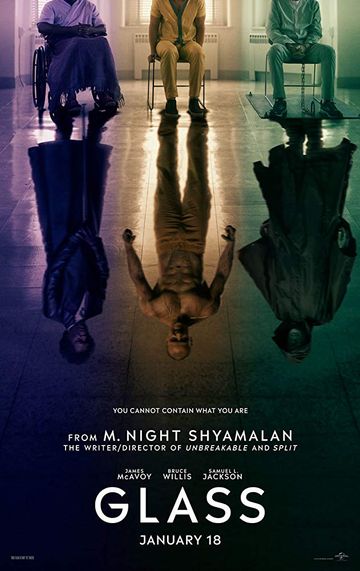 "You Cannot Contain What You Are"
In a series of escalating encounters, former security guard David Dunn uses his supernatural abilities to track Kevin Wendell Crumb, a disturbed man who has twenty-four... Read the Plot