March 7th, 2019
by Jesse Schedeen
7 Comics to Read Before Watching "Captain Marvel" Another Marvel icon is making their big screen debut as "Captain Marvel" blasts into theaters. If you're the type of superhero fan who likes to do their research, here are seven graphic novels you should read to help prepare you for the latest MCU epic.
'Captain Marvel: Earth's Mightiest Hero Vol. 1' If you want a good entry point into the modern Captain Marvel era, this book is what you're looking for. "Earth's Mightiest Hero Vol. 1" collects the first 12 issues of the 2012 "Captain Marvel" series. This is the point where Carol Danvers first donned her new costume and took up the mantle of Captain Marvel, and it's influenced everything that's come since.
'The Death of Captain Marvel' In the comics, a Kree hero named Mar-Vell was the original hero to call himself Captain Marvel and serve as mentor to Carol Danvers. It's still unclear what, if any role Mar-Vell will play in the MCU, but ti's still a good idea to educate yourself on his background. And there's no better way of doing that than reading the final Mar-Vell story. It's rare to see a hero die permanently in the Marvel Universe, but this sad story is one of the rare exceptions.
'SHIELD by Lee and Kirby Complete Collection' The "Captain Marvel" movie flashes back to the '90s and shows us a younger Nick Fury back in the days when he was still a field agent. If you want a taste of what Fury's life was like when he was still a globetrotting super-spy rather than a shadowy director, this book has what you're looking for. Stan Lee and Jack Kirby established a huge chunk of the Marvel Universe in the 1960's, including updating Fury from WWII-era commando to rugged secret agent.
'The Life of Captain Marvel' The recent "Life of Captain Marvel" miniseries is another good starting point for the character, in large part because it reexamines Carol Danvers' origin story from a new perspective. Even as Carol takes a break from the Avengers to deal with a new family tragedy, she also makes a startling discovery about her heritage and role in the Marvel Universe.
'Ms. Marvel' Ms. Marvel is one of the codenames Carol Danvers used before calling herself Captain Marvel. However, this book is about a different character entirely. It chronicles the origin of a New Jersey teen named Kamala Khan, one who worships her superhero idol and is given the chance to follow in her footsteps. "Ms. Marvel" probably won't be directly relevant to the new movie, but it is one of Marvel's best books in recent memory. And we're hoping it won't be long before Kamala joins the MCU.
'The Ultimates: Omniversal Vol. 1 - Start With the Impossible' "The Ultimates" introduces a super-team with a cosmic twist, as Carol Danvers spearheads a new team that also includes Black Panther, Blue Marvel, Miss America Chavez and Photon. Their goal is to defend the planet from cosmic threats using the power of big ideas. This book is a great chance to see Carol in a leadership role and to grow more familiar with Monica Rambeau, a character who plays a key role in the "Captain Marvel" movie.
'Secret Invasion' "Captain Marvel" revolves heavily around the Skrulls, a group of shape-shifting aliens obsessed with infiltrating human civilization. This series offers a glimpse of what could happen if the Skrulls ever succeed in taking control of the planet. It's speculated that the MCU could be building toward an ambitious adaptation of "Secret Invasion" after "Avengers: Endgame," so you might as well familiarize yourself with this story now.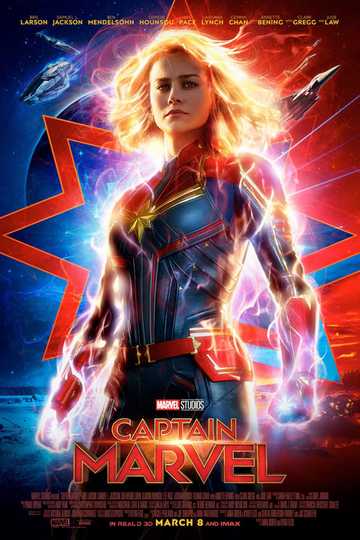 Captain Marvel
The story follows Carol Danvers as she becomes one of the universe's most powerful heroes when Earth is caught in the middle of a galactic war between two alien races. Set in the 1990s, Captain Marvel... Read More