Florence Pugh and Writer and Director Zach Braff Talk 'A Good Person'
Moviefone speaks with Florence Pugh and Zach Braff about 'A Good Person.' "Working with Morgan Freeman was a bizarre and surreal experience," Pugh said.
Opening in theaters on March 24th is the new drama 'A Good Person,' which was written and directed by 'Garden State's Zach Braff.
What is 'A Good Person' about?
'A Good Person' follows Allison (Florence Pugh), a young woman whose life is changed forever after a fatal car accident kills her future in-laws, causing her relationship to end and sending her on a downward spiral of drug abuse.
With the help of her supportive but enabling mother Diane (Molly Shannon), Allison enrolls in a treatment program where she meets retired police officer and recovering alcoholic Daniel (Morgan Freeman), who is also her ex-fiancé's dad and the father of the passengers who died in her accident. While they don't see eye to eye at first, eventually they form a friendship and overcome their grief and addiction together.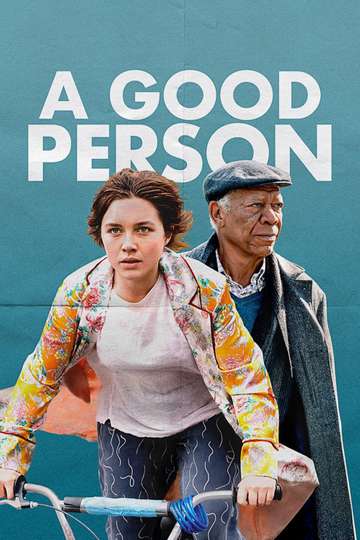 Who is in the Cast of 'A Good Person?'
'A Good Person' stars Oscar nominee Florence Pugh ('Little Women,' 'Black Widow') as Allison, Oscar winner Morgan Freeman ('Million Dollar Baby,' 'The Shawshank Redemption') as Daniel, Molly Shannon ('Me and Earl and the Dying Girl') as Diane, Chinaza Uche ('The Devil Below') as Nathan, Celeste O'Connor ('Ghostbusters: Afterlife') as Ryan, and Zoe Lister-Jones ('State of Play') as Simone.
Moviefone recently had the pleasure of speaking with Florence Pugh, as well as writer and director Zach Braff to discuss their work on 'A Good Person,' writing the screenplay, creating Pugh's character, being directed by Braff, researching addiction, the importance of music in the movie, and working with the great Morgan Freeman.
You can read the full interview below or click on the video player above to watch our interviews with Pugh, Braff, and Molly Shannon.
Moviefone: To begin with, Zach, can you talk about the research you did into addiction and recovery, and what you did to make sure those scenes were as accurate as possible?
Zach Braff: Well, I did a lot. I live in Hollywood where there's plenty of people who are in recovery and in programs, so I have plenty of friends and loved ones that I could rely on. Sometimes it was calls, sometimes it was texting. I've been to meetings with friends to support them. Then when I finally had a draft of the script, I got in touch with someone who runs a recovery center who answered a lot of my questions, and then he put us in touch with a woman who not only had recovered from an opioid addiction, but was now helping other young women. She not only was our onset person, but she really sat with Florence and advised her on the feelings of withdrawal, the feelings of trying to go cold turkey and really coached Florence on what would the accurate feelings be, and that was just invaluable.
MF: Florence, can you talk about your approach to playing Allison and the guilt that she carries around with her?
Florence Pugh: Well, it's a tough role to step into, especially as I understood her and got to know her as Zach was writing her. So I felt like I really did understand the mental state that she was in. I knew that I needed to give a specific performance. I think for me, one of the ways that I always try and figure out someone, especially if they're going through such intense and dark times, is I always try and put myself in their situation. I think that's easy with Allison and all the other characters in this script because they are so relatable. It could have been any of us. It's not like she was texting or on Instagram, or anything like that. She was on Maps, which is something that everybody does. She suffered an injury and was put on opiates, which could happen to anyone and does happen to many people. It affects many people. So I think for me, getting in the head space of someone that is clearly at many versions of rock bottom was, "All right, well, I have to put myself in that position." Through that, that's also why I wrote a song for that, and I was just trying to write as if I were her and what I'd be feeling. What I'd be wanting to do to myself and all of the things that you really have to go through to try and get this character right.
MF: Zach, music has always played an important role in your films. Can you talk about that and creating Allison's musical sequences in this movie with Florence?
ZB: Well, I love music. I grew up on musicals. My dad used to bring me into New York to see musicals. I love them. I went to musical theater camp as a kid. I'm a musical theater geek. So I think that I've always, even from a young age, been aware of the power of placing the right song in the right spot. I have running playlists on my phone that are like, "This would be cool in a movie somewhere, sometime, someplace." Of course, there's input from friends, my editor and a music supervisor, and we amassed this massive list of songs and we just kept trying them. You just never know until you find the right spot. Then I'll see the hairs on my arm stand up, and I'll say, "Okay, I think this might be a contender." With this film, we had the unique experience of having Florence write songs for the character. There's two different songs that are on the soundtrack that Florence wrote herself, and that's just a really unique thing to have someone write a song in the character of the protagonist. That's unique to anything I've done before.
MF: Florence, can you talk about the unusual friendship that Allison and Daniel form together, how that helps them both with overcoming their addiction and loss, and what it was like working on those scenes with Morgan Freeman?
FP: I think it's a friendship that is unexpected but needed, and it's full of care and love and understanding. Because it's unexpected, it's really enjoyable to watch as an audience member. And really they are the only people that understand what they are going through. They understand truly the level of pain that they're both in. I think because obviously Daniel is in AA and understands addiction, he is the only person that is keeping her from really sinking to a whole new low. Working with Morgan Freeman was a bizarre and surreal experience. This is someone that we all we know so well. We know that voice. He is God! It was just fantastic to be able to play with him and act with him, and throw anything that he's throwing at me back. It was quite magnificent.
MF: Zach, can you talk about Florence and Morgan's chemistry together on screen? Did you know on the first day of shooting that their chemistry together would work for these characters and their story?
ZB: You obviously never know, but I knew they're both fantastic and they're both at the top of their game, and I just love the image. I pictured that Jersey diner booth, and I saw the image. In fact, I had a concept artist paint Florence sitting opposite Morgan, and I just thought, "I want to see that movie. I'm so interested in seeing one of the greatest actors of all time with the most exciting ingenue of our time. I want to see what that dance looks like," and they really delivered.
MF: Finally, Florence, what was it like for you as an actress to work with Zach as a director and collaborate with him to create this character and this movie?
FP: Well, it really was collaborative. We wanted to make this movie. He wanted to write this for me. He wanted to direct it, and I think I was able to understand this world whilst he was writing it. I wasn't allowed to read the script until it was completed and finished. I think he was obviously just very nervous about giving it to me, and he knows that I'm really pernickety about dialogue and I really love it when it flows. So I think he just wanted to make sure that it was completely perfect. Well, not completely perfect, but at a state that he wasn't maybe so sensitive. So, I was fully aware of what he was trying to do, and what we were going to make. I understood the world, and I understood the characters. So by the time that I stepped into Allison, I really knew her inside and out. It wasn't hard to understand. I just needed to breathe some life into her and then of course, try and tackle how to play her version of addiction.
Other Movies Similar to 'A Good Person:'
'A Good Person' is produced by Metro-Goldwyn-Mayer, Killer Films, RocketScience, Elevated Films, and Elevation Pictures, and is scheduled for release on March 24th.