'Westworld' Actress Angela Sarafyan Talks New Movie 'King Knight'
Moviefone speaks exclusively with actress Angela Sarafyan about her new film 'King Knight,' which also stars Matthew Gray Gubler, as well as her experience working on 'Westworld.'
Opening in select theaters, on digital, and On Demand February 17th  is the new dark-comedy 'King Knight,' which was written and directed by Richard Bates Jr. (Tone-Deaf).
The movie stars Matthew Gray Gubler ('(500) Days of Summer') as Thorn, the leader of a coven of witches, along with his wife, Willow (Angela Sarafyan). But, when Willow discovers that Thorn was popular in high school, and not the antisocial teenager he claimed to be, the coven votes him out. Now, in order to earn back the trust back of his wife and his coven, Thorn must attend his high school reunion and face his greatest fear … his mother (Barbara Crampton).
Actress Angela Sarafyan has been working in Hollywood for over 20 years and has appeared on such popular TV shows as 'Buffy the Vampire Slayer,' 'The Shield,' and '24.' She has also appeared in movies like 'Paranoia' with Harrison Ford and Gary Oldman, 'The Promise' with Oscar Isaac and Christian Bale, and 'The Twilight Saga: Breaking Dawn – Part 2.' But Sarafyan is probably best known for her work as Clementine Pennyfather on HBO's hit series 'Westworld.'
Moviefone recently had the pleasure of speaking with Angela Sarafyan about her work on 'King Knight.' The actress discussed her new film, her character, and working with Matthew Gray Gubler, as well as her experience working on 'Westworld.'
Moviefone: To begin with, what was it about the screenplay that really grabbed you and made you want to be a part of this project?
Angela Sarafyan: When I read the script, I thought it had humor that I hadn't really read on a page before. I love the ideas in the story. So being an outcast in ways, trying to be true to yourself and to have a lot of humor about it, and to have great lessons with humor. So, that tone really was attractive and then I saw Ricky's other films and spoke to him and thought this would be a really wonderful adventure to go on. I love Matthew. Matthew and I have worked together in the past. So, I thought this is so good.
MF: What can you tell us about your character Willow, and how you prepared and approached playing this role?
AS: I had one rehearsal with Ricky and Matthew and we were trying to find who Willow and Thorn were together. So, with a few readings of it, I could sense, oh, this is where her voice is. This is how she works. She's like the wind. She's like that soft, warm wind in the spring. Everything happens with ease and love and there's something funny about that. So, we were finding that that relationship really was about supporting each other and supporting their coven until a lie comes out. Then it's a betrayal of the greatest level. So, it's really actually poignant because betrayal of yourself is a betrayal of others. So, you kind of see that through the film.
This was a really quick turnaround. I was actually in the midst of shooting season three of 'Westworld' and in a fitting and got an email with this script. My brother happened to be there. He read the script and then I read it. It was only a matter of four or five days before I was on set. So, I started to build the character as we were filming almost. I trusted Ricky a lot and Matthew, and they really knew what was working. So, it just happened very simply and easily. I don't usually do that. I like to have some time to prep a role.
MF: Can you talk about the relationship between Thorn and Willow, and working on that with Matthew Gray Gubler?
AS: I think they have true love. I think they're like the same kind of soul. They found each other, and they really were supposed to be outcasts in Willow's mind, but that wasn't the case. I think also Willow grows at the end of this because it's not about being one thing. You can be the jock and be prom king and still connect with the outcast. I, myself was a loner in school. I was hanging out in the library and didn't have boyfriends and never kissed a guy, none of that happened for me in high school. So, I relate so much to Willow in that sense.
But with Matthew, it was just very easy. Like we have great chemistry I think. Maybe I shouldn't say that, but I think we did. I think it was just so easy. Everything happened, just flowed and I think it was like finding the humor in the scenes by playing it straight.
MF: Can you talk about the betrayal that both Willow and the coven feel when they discover Thorn's secret?
AS: Well, it's based on an illusion of who I think he is. So, when you meet someone, you have these ideas about who they are and who they're going to be, or who they once were. She's built an entire relationship based on, "we're the same." And it turns out he was the complete opposite. So, that in itself is betrayal. I take it very seriously because I want to know who I'm going to be in a relationship with and lying is not a good thing. But at the end of the film, you realize that we don't have to judge where we come from, it's who we are today with each other, and that's all that matters.
MF: Can you talk about working with director Richard Bates Jr. and what it was like watching him execute his vision for this project?
AS: He's such a wonderful director. He's got great energy. He's positive. He doesn't stress out about anything. He's really encouraging, and he gets the best out of his actors. He knows how to direct with very few words to get you where he wants you. I loved working with him. He's a clear visionary. He knows what he wants, and he writes it and films it. So, I loved working with him. I think there was a scene where he was like, "All right, everybody, this is a drama. This is Sophie's choice or something like that." And I was like, I'm already there, bro. You got to play the truth of the scene.
MF: Finally, what has the experience of being a part of a series like 'Westworld' been like for you both personally and professionally?
AS: I think it was seven years ago when we started, when we filmed the pilot. I have changed from the person I was to the person I am today. I think Clementine as well has, if you watch all the seasons. The way the character developed also inspired me and corresponded with where I was in my life. I love working with everyone on that set. We've become a family. Jonah (Nolan) and Lisa (Joy) and our crew, everyone does their best work. I feel grateful, very grateful that I could be a part of that story, a part of that crew and that we continue to make them.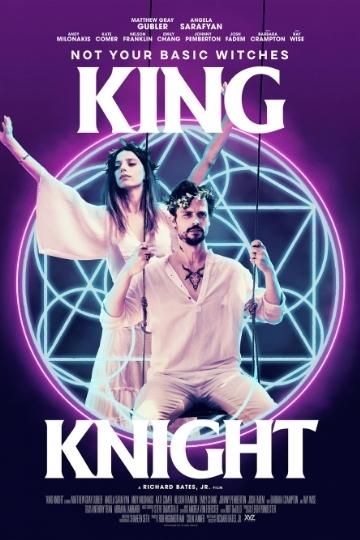 "Every shoe is a dancing shoe if you want it to be..."
1 hr 18 min
Feb 17th, 2022