Another 'Bad Moms' Sequel, 'Bad Moms' Moms,' Is in the Works
STX Films is staying in the "Bad Moms" business, expanding the franchise with a third film that focuses on the grandmother characters introduced in 2017's "A Bad Moms Christmas."
The company announced the news at CinemaCon in Las Vegas on Tuesday, revealing that the film, "Bad Moms' Moms," would feature Christine Baranski, Susan Sarandon, and Cheryl Hines, who will reprise their roles from the last film. The series was launched with the first "Bad Moms" in 2016, starring Mila Kunis, Kristen Bell, Kathryn Hahn, as the titular offbeat parents.
It's unclear if Kunis, Bell, and Hahn will also be reprising their roles, but Variety reports that STX Films chief Adam Fogelson told the CinemaCon crowd that the film was "A whole new adventure that is attracting all sorts of great talent." According to TheWrap, Jon Lucas and Scott Moore, the writer-directors of the first two films, will be back for "Bad Moms' Moms."
The "Bad Moms" films have been a huge moneymaker for STX, with the first flick raking in $183 million on a $22 million budget. "A Bad Moms Christmas" made about $130 million, on a budget of less than $30 million.
STX had previously announced plans to make a father-focused spinoff called "Bad Dads," but appears to have since abandoned that plan -- and that's probably for the best. After all, when you have talent like Baranski, Sarandon, and Hines waiting in the wings, why mess with success?
No word yet on a production schedule or potential release date.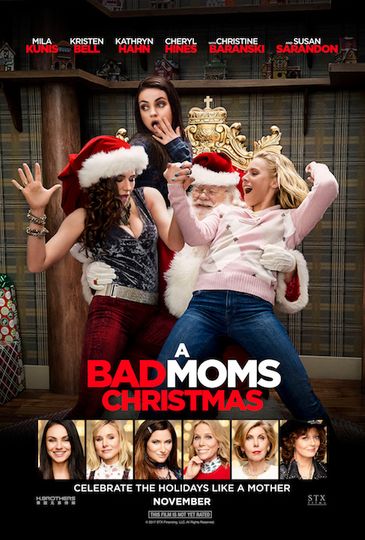 Amy, Kiki and Carla – three under-appreciated and over-burdened women – rebel against the challenges and expectations of the Super Bowl for mothers: Christmas.... Read the Plot