The Trailer for Billy Porter's 'Anything's Possible' has Arrived
A Gen-z story of coming-of-age, love, and life.
Billy Porter makes an impact no matter what he does – whether it's gracing the screen or walking red carpets on awards shows. He's also been outspoken on LGBTQ issues and brings his A-game when it comes to his looks.
Now, he's becoming a filmmaker, which sounds like a sensible next step for his career.
Once known as 'What If?', 'Anything's Possible' follows Kelsa (Eva Reign), a confident high school girl who is trans, as she navigates through senior year. When her classmate Khal (Abubakr Ali) gets a crush on her, he musters up the courage to ask her out, despite the drama he knows it could cause. What transpires is a romance that showcases the joy, tenderness, and pain of young love.
The cast also includes Renée Elise Goldsberry, Courtnee Carter, Kelly Lamor Wilson, Grant Reynolds, Caroline Travers, and Lav Raman. Ximena García Lecuona wrote this one and Porter, who has previously been best known for the likes of 'Pose', 'American Horror Story: Apocalypse' and Prime Videos' recent version of 'Cinderella', makes his directorial debut with the new movie.
From the looks of the trailer, Porter and his crew have cooked up a colorful, sweet story that nevertheless doesn't shy away from how tough it can be transitioning, especially in a high school scenario. Teen dramas are commonplace, but this appears to be handling the themes in a sensitive, thoughtful way.
'Anything's Possible' will be on Prime Video on July 22nd.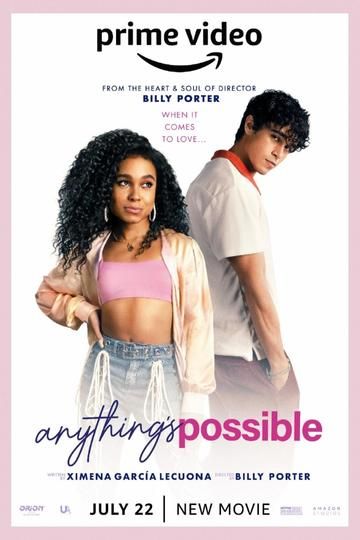 "Love isn't ordinary."
1 hr 36 min
Jul 22nd, 2022
And Porter is already making plans to tackle his second film as a director, having already signed on to make queer comedy 'To Be Real', which Gabrielle Union's company is producing.
The script comes from Ryan Shiraki, a writer and director who most recently has been busy helming episodes of TV series such as 'On My Block' and 'Katy Keene'.
The story is in the vein of 'Superbad' and 'Booksmart' following, with the official logline reading, "three queer friends who escape their hometown for Pride Weekend in New York City where they discover that life over the rainbow is an insane, raunchy, often divisive, but ultimately FIERCE non-stop party." An edgy, laugh out loud comedy about three queer high school seniors who go on the ultimate quest to attend their first New York Pride parade. Read the Plot
In related Porter news, he'll be back in front of the camera for new drama 'Our Son', which will co-star 'Beauty and the Beast's Luke Evans. Director Bill Oliver has co-written the new movie with Peter Nickowitz, and 'Our Son' will follow a divorcing couple fighting for custody of their 8-year-old son.
And, assuming the movie ever actually ever comes together, he's still supposed to voice killer alien plant Audrey II in the new adaptation of 'Little Shop of Horrors'. But from the looks of this trailer, Porter's schedule could become more crowded with directing work as well as acting gigs.