Brad Pitt Fights Assassins in Trailer for 'Bullet Train'
Action expert David Leitch also marshals Aaron Taylor-Johnson, Zazie Beetz, Sandra Bullock and more for the movie.
You might have seen the sneaky teaser for new Brad Pitt-starring action thriller 'Bullet Train', which purported to be a commercial for Japanese train service Nippon Speed Line. The full trailer has now arrived, which is much more a traditional promo for the movie.
Yes, while the teaser gave itself away earlier thanks to Pitt's voice-over and his bruised appearance late on, the new trailer offers no such trickery. We're introduced to his character, an assassin who seems to be tired of the killer life.
In contact with Sandra Bullock's Maria Beetle, who appears to be his handler, Pitt's Ladybug is complaining that every time he goes to work, someone dies. Dispatched on what would seem to be a routine, relatively harmless mission to pick up an important briefcase on a Bullet Train in Japan, he hopes for a quieter time of things.
Unbeknownst to him, the deadly duo Tangerine and Lemon are also after the very same suitcase, and they are not the only dangerous passengers onboard.
Satoshi, "the Prince," with the looks of an innocent school child and the mind of a viciously cunning psychopath, is also in the mix and has history with some of the others. Risk fuels him as does a good philosophical debate… like, is killing really wrong? Chasing the Prince is another assassin with a score to settle for the time the Prince casually pushed a young boy off of a roof, leaving him comatose.
When the five assassins discover they are all on the same train, they realize their missions are not as unrelated as they first appear.
Cue fists flying, swords swinging and Pitt nailing Aaron Tylor-Johnson with a bottle of fizzy water.
Taylor-Johnson plays Tangerine and Brian Tyree Henry is Lemon. Then there's Joey King, who seems to be a gender-swapped Prince, and Logan Lerman, Zazie Beetz, Hiroyuki Sanada, Michael Shannon, Masi Oka, Bad Bunny and Andrew Koji are all in the ensemble. Oh, and not forgetting Bullock (who replaced Lady Gaga).
With David Leitch, the stuntman-turned-filmmaker who kickstarted his directing career with 'John Wick' and has since made movies including 'Atomic Blonde' and 'Deadpool 2' in charge here, the movie looks stylish and slyly funny, especially that moment in the quiet car. Plus, the trailer is scored to a Japanese cover of "Staying Alive," which offers a big nod to the tone that the director's setting here.
And, because this is Leitch we're talking about, you can naturally expect a lot of inventive action within the cramped confines of the train, as his 87 Eleven stunt team goes to work finding new ways to create chaos.
Pitt's never one to shy away from throwing himself into action (he'll be in even spoofier form – and once again working with Sandra Bullock – in 'The Lost City', due on March 25), but this looks like another level for him.
'Bullet Train' will pull into theaters on July 15. The big question is, who will survive and what will be left of them? Which is not something you usually hear on an Amtrak train.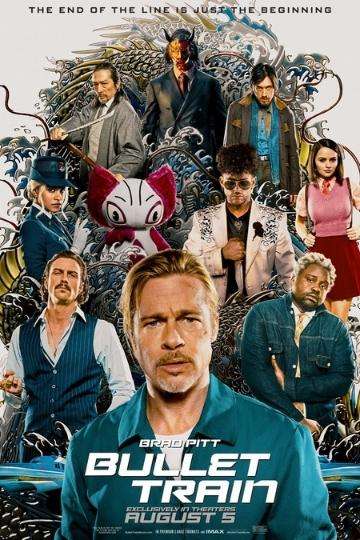 "The end of the line is just the beginning."