Female Filmmakers in Focus: 'Best Sellers' Director Lina Roessler Talks About Her Feature Directorial Debut
This week director Lina Roessler talks about her film 'Best Sellers' starring Michael Caine and Aubrey Plaza. She also recommends the films of Nathalie Álvarez Mesén and Prano Bailey-Bond.
Best Sellers - directed by Lina Roessler
Born in Toronto, Canada, Lina Roessler studied English and creative writing at Concordia University. She also received a degree in acting from American Academy of Dramatic Arts in New York, as wella an MFA in film production from York University. After appearing in Canadian and Canadian-based productions like 'Lost Girl' and 'Supernatural,' Roessler started working behind the camera. Her shorts have played in festivals around the world, and she honed her filmmaking craft at talent labs sponsored by the TIFF and Berlinale festivals. 'Best Sellers' is her feature film directorial debut.
As Lucy Stanbridge (a dynamic Aubrey Plaza) attempts to keep the publishing house she inherited from her father afloat she discovers that Harris Shaw (a wonderfully cranky Michael Caine), the reclusive best-selling author who put them on the map in the 1970s, contractually owes her a new book. The two form a hasty alliance as she takes him on a book tour after publishing his first novel in decades. After Harris becomes a viral sensation it looks like things for Lucy are about to turn around, until an old secret is revealed. An incisive look at the publishing world, featuring charming, heartfelt performances from its two leads, 'Best Sellers' is a cozy autumnal treat.
'Best Sellers' is now in theaters and on demand.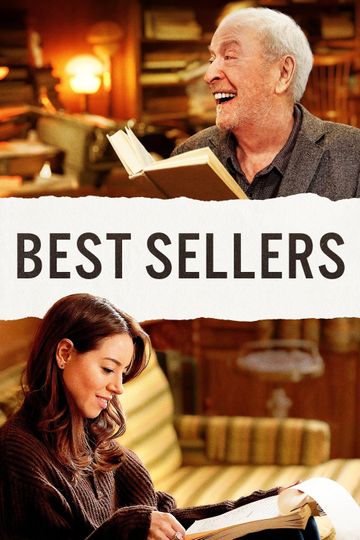 1 hr 40 min
Sep 17th, 2021
Lina Roessler spoke to Moviefone about her directorial debut.
Moviefone: How did you first get involved in this project?
Lina Roessler: It's kind of a fun story. I'm an actor and a writer, and I did a few shorts. I was invited to this TIFF talent lab. And there, you had to do a little self-portrait, which is probably everybody's worst nightmare - it was mine. You do a little video, kind of describing yourself, tell a story about yourself. So I did that, and Cassian Elwes, the producer, was one of the mentors. He saw that little short and loved it. After the lab, he sent me the script for 'Best Sellers' and asked me to read it. At that time, now when I tell the story it sounds kind of silly, but I didn't really conceive of this idea that he would actually be looking at me to potentially direct it. I thought it was maybe, you know, we would discuss the script, talk about it. In the end, I really connected with the script. I loved the characters and I loved the story. I could see where I might want to enhance some things. So we had a great discussion about it, and it really kind of took off from there. It was his daughter Arielle Elwes who found the script originally and, and this it's this fun Cinderella story of me going down to New York and meeting them and us dedicated to do this together. We started working. I started working with Anthony Grieco, the writer, and the sort of dominoes started to fall, and now I'm talking to you.
MF: That's exciting. You never know what's going to come from a film festival. I think, though they've really, most people don't think about how much gets developed at festivals, not just released.
Roessler: Exactly, you never know. When things like that do happen, it's always like a fun little miracle, and you look back, and you think, wow, how did that happen? How did that happen? You know?
MF: How did Aubrey Plaza then become involved?
Roessler: Well, obviously, everyone knows how talented she is and her work. And, but it was Cassian who saw her hosting the Independent Spirit Awards, which he got to see in person live. His socks were knocked off. He thought, oh, wow, this could be a really interesting choice. We sent her the script, and we spoke over Zoom. I can't remember who came first, Michael or Aubrey at the time, but together we thought, imagine this combo, it's totally unexpected. Aubrey was more well known for her comedic kind of sensibilities, and Michael is of course a jack of all trades. A knight of all trades, I should say. So together I think the combo was really interesting, especially for this film where I wanted them to tap into all those sides, to do a really authentic kind of performance about two real people in this kind of silly situation.
MF: They had really great chemistry together in their scenes. What was it like as an actor-director to direct someone like Michael Caine?
Roessler: I think what makes him so great is that he is such a genuine, authentic, humble, generous human being. So that translates into his work as an actor. To be so open. To be ready and available to give and receive. That's what you're doing when you're acting. The first day, I was terrified, to be honest. It was my first feature, and I'm also an actor, so it was strange. But it was a joy, and it was a blessing, and it was amazing to watch him work. To watch him mold things a little bit, to try things in a different way. It was awesome to just sit and watch him every single day do little things like an eye twitch. I got to see how he was controlling things, and sometimes when he went out of control sometimes, I don't know, it was really an education for me. He's got such command over his instrument, his voice, how he uses that, how he marked certain things with intention, how he delivered something, how just an eye movement or something like that will translate into so many different kinds of emotions. It was really fun. I learned a lot.
MF: Can you talk about working with the orange cat in the film?
Roessler: The cat was the best cat. That cat deserves awards. We love that cat. Finding the cat was… we don't have time for this today [laughs]. Maybe another day, if we ever meet for coffee, I'll tell you all the stories about the cat and how we found the cat and why it was hard to find the right cats and some cats were busy working other engagements. This one in particular is just a superstar. That's true of the cat, but also to the trainer on set. She knows what she's doing and what the cat's doing. That opening shot with the cat took a lot of rehearsal, a lot of tests for camera movement and just to get things the right way to get the cat trained. But the cat was a joy. Michael and the cat really did have a very nice bond, just in real life. Things like that translate on screen. If anyone needs a cat, I highly recommend this cat.
MF: Could you talk about the visual inspirations for the film?
Roessler: When Cassian sent me that script, before we went down to New York, he asked me to make a look book of images. From day one, I had a very specific idea of what Lucy's place looked like, what it reflects in her character, even its color scheme, versus his bookshelves. I think it says a lot. I wanted the colors to reflect earthy tones from Michael. That goes with the lenses and the lighting and also with my cinematographer, Claudine Sauvé, we decided how we were going to shape the look, and how we're going to present these two worlds. So Lucy's was cold and square and very kind of proper. When they go on this trip together, she starts getting more loose and losing it a little bit, getting more into his world with these warmer, messier colors and feelings.
MF: Can you talk about the film's screwball tone?
Roessler: It was a challenge for me because the script itself was on this line between a really funny screwball comedy on the one half, but then on the other side, there was this emotionally true story that was going on between these two characters. So that was a challenge all along to setting up both worlds, so we can all laugh but keep some of the story's more serious issues. Aubrey is so great at this kind of comedy, but she's got this other emotive, deeper side. The challenge was to make sure to not steer the ship too far off course on one end or the other, so that when we finally get to the end of the film, it doesn't feel like it's coming out of nowhere. Hopefully, we pulled it off.
MF: I loved when she finds the YouTube video of him giving an interview in the 1970s. Was that a deep fake?
Roessler: No, not to do a spoiler, but that's really Michael Caine doing an interview back then. It was a true interview that he gave as himself. Those are his words. But at the same time, they're Harris's words, how he would speak about his wife in the film.
MF: I had noticed at the end of the film it was dedicated to your dad.
Roessler: My dad actually met Michael Caine once in a department store 1000 years ago. They kind of looked the same. My father passed away right before we started shooting, and the film has a sort of father-daughter relationship very much at its core. My dad gave me his love of books, so all those things were quite personal for a lot of us working on the film. My father passing away right before made it really hard, obviously, to start, but also it was interesting to work in that way, to just jump into this film after that time. But also, Cassian and his daughter Ariel, who found the script, this was their first film that they worked on together as producers. So again, it's this father-daughter relationship stuff. It was really interesting to have all those connections, feeding into the story. When we screened the film in the Czech Republic a few weeks ago, a couple of people came up to me after in tears, sharing how it reminded them of their father. So I think there's something in there that resonates with people.
MF: Could you recommend another film directed by a woman that readers should seek out?
Roessler: I'll do a shout-out to some of my friends, a lot of whom I've met through these labs. There's a director named Nathalie Álvarez Mesén. She just had a film called 'Clara Sola' that played at Cannes. I did another lab at Berlinale with Prano Bailey-Bond, she has a film called 'Censor' that's getting a lot of love. I think it's fun to seek out films like that, and I also think it's great to support your colleagues.
---
Clara Sola - directed by Nathalie Álvarez Mesén
Costa Rican-Swedish writer-director Nathalie Álvarez Mesén holds a B.F.A. degree in Mime Acting from the Stockholm University of the Arts in Sweden and an M.F.A. in Film Directing/Screenwriting from Columbia University's Graduate Film Program in NYC. The short film she co-wrote 'Entre tú y Milagros' with director Mariana Saffon debuted at the 2020 Venice Film Festival. Her stirring feature film debut 'Clara Sola' debuted at the Director's Fortnight section of the 2021 Cannes Film Festival. Set in a remote Costa Rican village, Wendy Chinchilla Araya stars Clara, a 40-year-old woman who has a sexual and mystical awakening as she defies the expectations of her oppressively religious community. Picked up out of Cannes by Oscilloscope Laboratories, 'Clara Sola' is still playing festivals ahead of a planned theatrical distribution in late-2021 or early-2022. ---
Censor - directed by Prano Bailey-Bond
Welsh writer-director
Prano Bailey-Bond
studied at London College of Printing before turning to directing short films and music videos. Her debut feature, the horror film '
Censor
,' premiered as part of the Midnight section of the 2021 Sundance Film Festival.
Niamh Algar
stars as Enid, a British film censor who finds a disturbing connection between a recent horror film and the horror film and the mysterious disappearance of her sister. 'Censor' was released to widespread critical acclaim by Magnolia Pictures earlier this summer.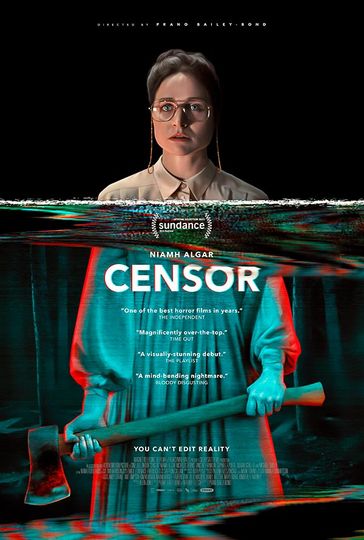 "You can't edit reality."
1 hr 24 min
Jun 11th, 2021