Female Filmmakers in Focus: 'Mixtape' Director Valerie Weiss Talks About Her New Netflix Movie
Welcome to Female Filmmakers in Focus, featuring recommendations for films directed by women to seek out each week. This week, Valerie Weiss talks about her new movie 'Mixtape' and recommends Lone Scherfig's 'Italian For Beginners.'
'Mixtape' - directed by Valerie Weiss
Born in Philadelphia, Pennsylvania, Valerie Weiss took a long and winding road to filmmaking. She majored in molecular biology at Princeton University, where she also earned a certificate in theater and dance. She then earned a master's degree in medical sciences from Harvard Medical School, and she earned a Ph.D. in biological chemistry and molecular pharmacology from Harvard University. While at Harvard, she founded the Dudley House Film Program where she was the filmmaker-in-residence and festival director. Later, she attended the Catalyst Workshop at the American Film Institute, which aims to help scientists bring their work into the movies. While further attending AFI's Directing Workshop for Women, she made a short film called Transgressions. She met her husband when the two were cast members of a production of 'Cyrano de Bergerac' while at Princeton University. Together they have founded the production company PhD Productions. Since she began making films in 2003, Weiss has directed a few dozen shorts, television episodes, and feature films.
Stacey Menear's script for 'Mixtape' won the American Zoetrope screenwriting contest, and it appeared on the Black List in 2009. After a few false starts, the project landed at Netflix, where Alice Wu ('The Half of It') polished the script and Weiss came on board to direct. Set in 1999, a few weeks before New Year's Eve aka Y2K, tween Beverly Moody (Gemma Brooke Allen) lives with her grandmother Gail (Julie Bowen), often begging her for stories about her parents who died when she was a baby. Bev is heading into her teen years and since both Gail and her daughter were teen moms, she's not having the best time parenting at the moment. When Bev finds a mixtape her parents made in the 80s, she sets out to find each song and listen in order. While on this journey, she makes friends with her new neighbor Ellen (Audrey Hsieh), the coolest girl in school Nicky (Olga Petsa), and a slacker record store owner named Anti (Nick Thune). Featuring a killer soundtrack with deepcut 80s tunes, nostalgic 90s tracks, and a few original tunes, 'Mixtape' serves as a lovely reminder of the power of music to connect us both to the past, but also to the present.
'Mixtape' is now streaming on Netflix. Valerie Weiss talked to Moviefone about her new film.
Moviefone: How did you first get involved with this project?
Valerie Weiss: I think it was probably about two years ago when I first got the script from producers Gil Netter and Jennie Lee. I read the script and just instantly fell in love with it. I always look for, and what I like to describe my work as daringly light. Something that has gravitas to it and is about something real, but it's done in the most delightful, light, fun, funny way. I always say it's the spoonful of sugar that helps the medicine go down. I mean, I stole that from Mary Poppins, but that's exactly the kind of work I like to do. This is a movie about grief and loneliness, and trying to find human connections when you're living sort of in a little bit of a soup of sadness or loss. Really anything that helps people learn how to forge those connections, when they can't figure out how to do it on their own, is something that really attracts me.
MF: Could you talk a bit about casting the three main girls?
Weiss: It was such a fun experience. We had a great casting director, Barbara McCarthy, and Alice Merlin is her casting associate. We saw so many girls for these roles. For me, it's so important to have excellent acting in anything I do. I feel like acting is something anybody on Earth can judge, and if that's not working, if we don't believe the performance, it's very hard to get lost in a movie or television show and have the actual buy-in so that you can really be as emotionally affected as I want my audiences to be. So we did a really big search for girls who were captivating and authentic. We were so lucky to find these three young women. For Audrey Hsieh who plays Ellen, we saw her audition, and it was unanimous among our group immediately. We felt like it would be impossible to top her. I think this is the first thing Olga Petsa, who plays Nicky, has ever done. She had auditioned for us six months before we had to shut down during the pandemic. We saw her, and I don't know if she even got a call back. Something happened in those six months where she grew up or just became, you know, more of the character or developed her craft. But instantly seeing her the second time, we were drawn to her. Gemma Brooke Allen, who plays Beverly Moody, was terrific from the first time I saw her. What really clinched it for her was when I actually got to work with her and do chemistry reads. I felt like she was so responsive to directions. Even her mom said she saw her do things with me, she hadn't seen her do before in auditions. It felt like we had such a strong connection that lasted all through production. She was such a wonderful partner in making this movie.
MF: Could talk a bit about the songs that appear both on the mixtape, and also you chose to set the mood for 1999?
Weiss: The music is obviously such a huge part of this. So many of the songs were scripted like "Teacher's Pet" by The Quick, "Getting Nowhere Fast" by Girls At Our Best!, and "Linda, Linda" by The Blue Hearts. I think we had to swipe out a handful, but not that many. "The Wrong Song" was an original song that Amy Wadge wrote for the movie, and it's just perfect. It really tells Beverly's story arc. How when you feel like you're a mistake, or unwanted, or you're not finding the connection you want you find out, but really you were actually everything somebody wanted. It was such a beautiful part of the process to have that song be an original song for the film.
We also had a couple other songs written for us by Joel P West. He wrote both of the songs that Wes Kelly (Jackson Rathbone) sings in the club. It was a really fun experience to think about the script and say, what does the song need to do? Like, what storytelling place does it need to function as a part of and then have them write something up and then communicate directly with an artist and give notes. That experience to be able to like direct singer-songwriters was incredible.
And then the rest of the music, we had such a palette. It was really important for us to have the movie be cool. That it wasn't something that thought it catered to little girls, but was just inherently cool music that didn't talk down to anybody or underestimate the maturity of an audience. We had a great music supervisor and the whole music team at Netflix. Our producer, Gil Netter, has probably like 50,000 records in his home. So it's just this long process of being unbelievably picky. It was fun because the tape had to be from a certain era, because when the parents were alive, they had to be from like 1986 or before. But what was great with the rest of the soundcheck, we knew it all had to be before 99, but it allowed us to play in various time periods and really get that 90s nostalgia going
MF: I really liked the line, "A mixtape is a message from the maker to the listener." Do you think Spotify playlists have the same power as classic mixtapes?
Weiss: I think the power is inherent in any kind of mix and that they are relevant always, because people are always looking for messages and clues and a deeper understanding, and connection. I think this movie is such a great opportunity to let a younger generation know that playlists are a way to communicate. Everybody now puts everything on shuffle, but I think even in a playlist you can create an order and have to stick to it. I think this is going to open a lot of people's eyes, and we're going to see a new birth of digital mixed tapes.
MF: Can you talk a bit about setting the film around Y2K?
Weiss: Y2K was such an important symbolic event for the movie and for Gail (Julie Bowen) because losing a child is one of the most horrible experiences a human can go through. So for Gail it was so unpredictable and out of nowhere, then Y2K was an opportunity to try to find a way to control the uncontrollable for her. It let her say this is not going to happen again to me. I'm going to be prepared. I'm going to get batteries. I'm going to listen to the news. I'm going to hoard Spam. This horrible thing had happened once, and it's not going to happen again. It also shows the direct correlation to how she's raising Beverly, which is mostly meeting her basic needs. You've got clothes, she's fed, she's driven to school, she makes sure she does her homework. She does the laundry and looks at her lovingly in bed at night. But what Beverly really needs and what Gail's unable to do until the end, is really see her, hear her, see the light in her.
I have two daughters, one is ten and one is thirteen, and this is exactly when they really need a mother or a parent figure - somebody who gets them and knows what it's like to be this age and need friends and be insecure about whether you have friends. Someone who you feel safe to talk to. Gail is just so busy, Bev doesn't want to burden her. It's the idea of whether you can actually fix something that seems too big; it's like, how do you eat an elephant? Bite by bite. Once you start making the small steps to fix the problem or make that connection, suddenly, it's not so overwhelming. I feel like Y2K is a big symbol for that. Then at the end, the release of the fireworks and party and celebration and Gail dancing with Beverly really shows that she's learned something, and has experienced this much needed catharsis that finally healed her.
MF: Could you recommend another film directed by a woman that readers should seek out?
Weiss: The one that popped into my head is, it's pretty obscure. I hadn't thought about it in a while, but I love it. It's a movie called 'Italian for Beginners' by Lone Scherfig. It's a movie about loneliness and connection. It's funny and quirky, but grounded and about real humans that weren't fancy. They weren't exceptional in any way. They were just people in an Italian class who wanted to change their lives. But in trying to do it in a small way, they really had a huge impact on each other. So I just loved the intimacy of it and the lack of pretension. It clearly resonated with me because it's what popped in my mind when you're asked that question, and I haven't seen it in 20 years.
---
'Italian For Beginners' - written and directed by Lone Scherfig
Danish filmmaker Lone Scherfig worked in advertising before graduating from the National Film School of Denmark in 1984. She then began working in television, directing a TV film called 'Margrethes elsker'. She followed this up with the 1990 comedy 'Kaj's fødselsdag (The Birthday Trip)' about a Danish hotdog vendor's misadventures with his friends as they celebrate his 40th birthday in Poland. Joining up with the Dogme 95 movement, her comedy 'Italian For Beginners' won dozens of awards and skyrocketed Scherfig into the international film scene. Her 2009 coming-of-age film 'An Education' starring Carey Mulligan and Peter Sarsgaard was nominated for three Academy Awards, including Best Picture, Best Adapted Screenplay for screenwriter Nick Hornby, and Best Actress for Mulligan.
Adapted from the novel 'Evening Class' by Maeve Binchy, 'Italian For Beginners' is shot in the low-fi Dogme 95 style, using handheld video cameras, natural lighting, and no post-production sound. The goal of Dogme 95 was to emphasize character and plot over style and filmmaking craft. The result is a high-spirited comedy about a group of lonely people in a small Danish suburb whose lives change in both minor and major ways after they begin taking Italian class. With a charming ensemble of oddball characters, 'Italian For Beginners' is filled with the warmth of a crackling fire on a cold winter night. The film went on to win the Jury Grand Prix Silver Bear at the Berlin Film Festival.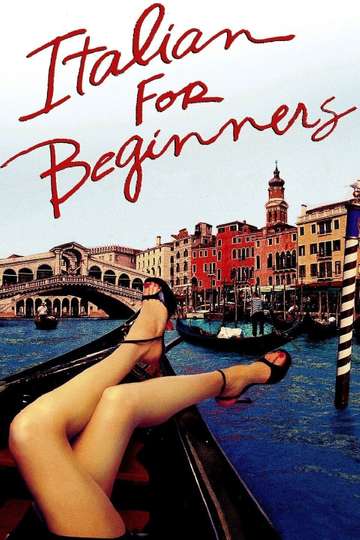 "Attendance optional. Passion required."
1 hr 35 min
Dec 20th, 2000