Ethan Hawke electrifies in the 'Tesla' trailer
Ethan Hawke continues to impress as an actor, and has garnered acclaim in the last couple of years for performances in 'The Truth,' 'First Reformed,' and 'Juliet, Naked' (just to name a few).
And if the 'Tesla' trailer is any indication, his upcoming appearance as famed inventor Nikola Tesla is going to be something special.
The official synopsis shows us a powerhouse supporting cast, as well as a hint of some daring filmmaking choices:
Brilliant, visionary Nikola Tesla (Ethan Hawke) fights an uphill battle to bring his revolutionary electrical system to fruition, then faces thornier challenges with his new system for worldwide wireless energy. The film tracks Tesla's uneasy interactions with his fellow inventor Thomas Edison (Kyle MacLachlan) and his patron George Westinghouse (Jim Gaffigan). Another thread traces Tesla's sidewinding courtship of financial titan J.P. Morgan (Donnie Keshawarz), whose daughter Anne (Eve Hewson) takes a more than casual interest in the inventor. Anne analyzes and presents the story as it unfolds, offering a distinctly modern voice to this scientific period drama which, like its subject, defies convention.
'Tesla' was written and directed by Michael Almereyda ('Marjorie Prime' & 'Experimenter') and the film will be released in theaters and on demand on August 21.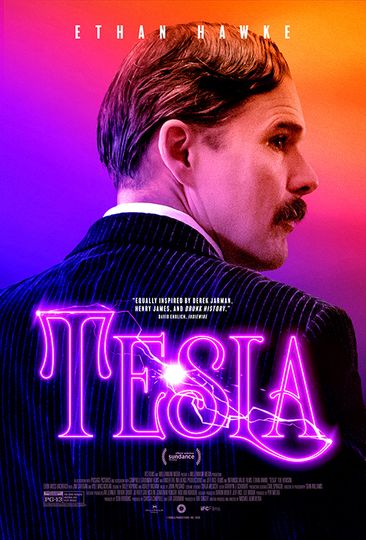 1 hr 42 min
Aug 21st, 2020
The story of the Promethean struggles of Nikola Tesla, as he attempts to transcend entrenched technology—including his own previous work—by pioneering a system... Read the Plot