Every Illumination Movie, Ranked
Illumination is small but mighty. The animation studio, which was started in 2008 by Chris Meledandri, the former head of 20th Century Fox Animation and Blue Sky Studios, makes animated features that routinely over-perform ("Minions" made more than $1 billion worldwide). What makes this even more impressive is how cheaply Illumination produces their movies; they cost a fraction of what similar movies at Disney or Pixar do. Their latest film, "The Secret Life of Pets 2," opens this weekend (we didn't get to screen it before publishing this post), which is set to continue their string of box office smashes. And in honor of this accomplishment, we're ranking all of their previous films.
9. 'Hop' (2011)
"Hop" is many things: loud, annoying, and only partially animated. It stars Russell Brand as the son of the Easter Bunny, who wants to follow his dreams of being a professional drummer, leaving all of his holiday-related duties by the wayside. Snooze. What makes this even more bizarre is that Illumination didn't even provide the animation, with the visual effects work instead provided by the now defunct Rhythm & Hues. This discrepancy is even weirder considering that the Easter chicks were a clear attempt to replicate that minions magic. Illumination's first attempt at a holiday classic was more like an exaggerated face plant.
8. 'Minions' (2015)
No.
7. 'Despicable Me 2' (2013)
"Despicable Me" was a mostly delightful surprise, so it was quickly turned into a franchise and much of that initial magic (along with the surprise) disappeared just as quickly. Beset by production woes, including the last-minute exit of Al Pacino, who had already voiced most of his lines as the villain but left due to unforeseen "creative differences." (Benjamin Bratt, who replaced him, had to sync up his recordings to the animation that had already been done for Pacino's line-readings), "Despicable Me 2 " comes off as limp and uninspired.
6. 'Dr. Seuss' The Grinch' (2019)
Illumination returned to the world of Theodor Geisel for this mystifying retread of "How the Grinch Stole Christmas" (simplified as just "The Grinch"). There are a number of head-scratching decisions that went into "The Grinch," most notably hiring Benedict Cumberbatch but having him do a stiff American accent instead of his velvety British purr. (Also by saddling him with a motivational backstory that mostly involves him being hungry.) Other baffling choices include having Pharrell deliver awkward narration and having wiseacre rapper Tyler the Creator cover the iconic theme song. It might not be as painfully bad as the live action Jim Carrey version (the extremely Danny Elfman-y score by Danny Elfman helps) but it's close.
5. 'Despicable Me 3' (2017)
While not a total reinvention of the wheel, this is a serviceable sequel that benefits from its weird obsession with 1980s pop culture and a genuinely deranged performance by "South Park" mastermind Trey Parker as a former whiz kid turned super-villain. But other than that, it's same old, same old in the "Despicable Me" product factory, with a bunch of minions running around and some semi-inspired set pieces. "Despicable Me 3" gets points for trying to up the scale in a meaningful, sophisticated way but doesn't quite understand that bigger isn't necessarily better.
4. 'The Lorax' (2012)
One of the more underrated Illumination entries (and one of the least successful), the company's very first Dr. Seuss adaptation is one of their best. Adding a fair amount of dimensionality (as well as up-to-the-minute environmental commentary), "The Lorax" features a bunch of winning performances (most notably Danny DeVito as The Lorax) and some faithful, Seussian design work, and packages it in a way that doesn't feel cloying or confrontational. Instead, it's a peaceful fable about the dangers of mistreating the earth, packaged and produced for maximum enjoyment.
3. 'The Secret Life of Pets' (2016)
The first "Secret Life of Pets" is a cute, funny, charming movie that becomes somewhat lessened when you realize that the plot (cooked up by a bunch of Illumination regulars) so closely resembles the first "Toy Story" that Pixar should have sued. Somewhat tarnished by its lead vocal performance (by a since-replaced Louis CK), the movie is certainly energetic and somehow overcomes its own stylistic limitations (Illumination productions occasionally look as cheap as they are). Major points should be added for Kevin Hart's portrayal of a tiny white rabbit.
2. 'Despicable Me' (2010)
This is it. The movie that started it all. (Illumination didn't even own the animation studio yet.) A mixture of Charles Addams-style black humor and gags straight out of a 007 film, "Despicable Me" introduced the world to vaguely Eastern European bad guy Gru (Steve Carell) and, much to society's detriment, his gaggle of yellow, androgynous underlings the minions. Sadly, the imagination and heart that made the original film such an unexpected treat would wear thin in subsequent installments, but with the right creative team it could potentially be restored. Just, please, enough with the minions.
1. 'Sing' (2016)
Unequivocally the greatest Illumination accomplishment, this low-key classic features a bunch of anthropomorphic animals as they audition for a big time talent show. (The fact that they are animals has almost no bearing on the story but the animators occasionally have fun with the conceit.) Illumination productions often default to juvenile gags (like the Grinch always wearing tight white underwear) or saccharine sentimentality (something that even threatened the original "Despicable Me"), but "Sing" is carefully modulated, offering humor that never feels too childish and genuine, relatable emotions (Reese Witherspoon is an overworked pig mom, Taron Egerton is a gorilla with daddy issues, etc). Part of what makes "Sing" such a blast is that it comes from a singular point-of-view, writer-director Garth Jennings, one half of the brilliant music video directing team Hammer & Tongs, who understands both how to handle the characters and the accompanying visual flourishes. For once, knowing that an Illumination sequel (again handled by Jennings) is on the way is something to be met with excitement, not dread.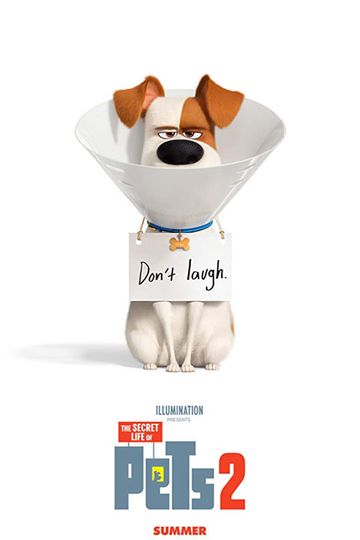 "They still have their secrets."
Max the terrier must cope with some major life changes when his owner gets married and has a baby. When the family takes a trip to the countryside, nervous Max has... Read the Plot