'Fantastic Beasts' Starts Filming: New Details on Harry Potter Spinoff
And so it begins! Principal photography has started on "Fantastic Beasts and Where to Find Them," starring Oscar winner Eddie Redmayne, directed by "Harry Potter" veteran David Yates, and set in the wizarding world of J.K. Rowling. It's exciting news, and by "exciting" we're directly quoting the Harry Potter author herself, who just tweeted about the start of filming:
Exciting. https://t.co/r95qEXKDss

— J.K. Rowling (@jk_rowling) August 17, 2015

That "exciting" probably could've used more oomph, but who are we to question the queen? That tweet link led to a press release from Warner Bros. Pictures with more details on the movie. Here's a portion of the release, which includes more casting news:
Filming started today, August 17, at Warner Bros. Studios, Leavesden, under the direction of David Yates, who helmed the last four "Harry Potter" feature films.

Academy Award winner Eddie Redmayne ("The Theory of Everything") stars as Newt Scamander, the wizarding world's preeminent magizoologist, who stops in New York following his travels to find and document magical creatures.

"Fantastic Beasts and Where to Find Them" also stars Katherine Waterston ("Inherent Vice") as Tina; Alison Sudol ("Dig," "Transparent") as Tina's sister, Queenie; Tony Award winner Dan Fogler ("The 25th Annual Putnam County Spelling Bee") as Jacob; Ezra Miller ("Trainwreck") as Credence; two-time Oscar nominee Samantha Morton ("In America," "Sweet and Lowdown") as Mary Lou; Jenn Murray ("Brooklyn") as Chastity; young newcomer Faith Wood-Blagrove as Modesty; and Colin Farrell ("True Detective") as Graves.

Marking the screenwriting debut of J.K. Rowling, the script was inspired by her character Newt Scamander's Hogwarts textbook, Fantastic Beasts and Where to Find Them.

The film is being produced by David Heyman, producer of all eight of the blockbuster "Harry Potter" features; J.K. Rowling; Steve Kloves; and Lionel Wigram.

Warner Bros. Pictures has slated "Fantastic Beasts and Where to Find Them" for worldwide release in 3D and IMAX on November 18, 2016."
J.K. Rowling had only just revealed, on August 15, the last names of two of those characters:
Well, I think it's widely known that that characters of (Porpen)tina and Queenie are sisters, but not that their surname is Goldstein.

— J.K. Rowling (@jk_rowling) August 15, 2015
Yes (but distant). https://t.co/EtpXLRwCFf

— J.K. Rowling (@jk_rowling) August 15, 2015

Now that filming has started, we'll have to keep our eyes peeled for set photos, first footage, and other sneak peeks. Or perhaps we can just say "Accio updates!" and have it all arrive at our doorsteps.
Want more stuff like this? Like us on Facebook.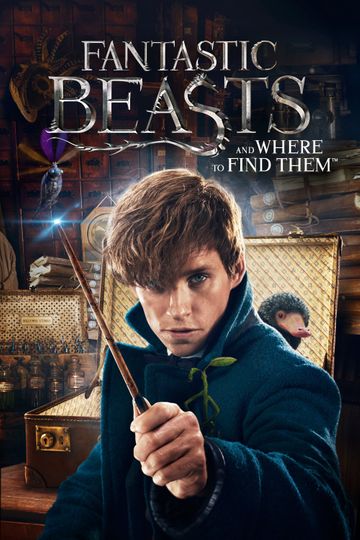 "From J.K. Rowling's wizarding world."
2 hr 12 min
Nov 18th, 2016
In 1926, Newt Scamander arrives at the Magical Congress of the United States of America with a magically expanded briefcase, which houses a number of dangerous creatures... Read the Plot