Steven Spielberg Goes Semi-Autobiographical for 'The Fabelmans' First Trailer
The story of young Sammy Fabelman, growing up loving movies in Arizona, stars Paul Dano, Michelle Williams, Judd Hirsch, Seth Rogen and more.
Steven Spielberg is, by any definition, among the masters of modern moviemaking. Able to switch between popular blockbusters and Oscar-winning dramas the way other people change shoes, he's been responsible for some of the most famous and beloved films in the last few decades.
And now he's back with a movie that aims to (partly) explore how he himself fell in love with films and filmmaking. The semi-autobiographical new drama 'The Fabelmans' had its world premiere at the Toronto International Film Festival this weekend, and the first trailer is now online.
Co-written by the director and regular collaborator Tony Kushner (who earned Oscar nominations for 'Lincoln' and 'Munich'), the basic story for this one is as follows: "Growing up in post-World War II era Arizona, a young man named Sammy Fabelman discovers a shattering family secret and explores how the power of films can help him see the truth." Of course, there's a lot more to it than that – there's tension between his artistic mother Mitzi (Michelle Williams) and his more straightlaced, scientific father Burt (Paul Dano). Mitzi encourages her son's creative side, while Burt wishes he'd keep his eye on more practical matters.
Gabriel LaBelle, seen in movies such as 'The Predator', plays Sammy, who is essentially Spielberg's stand-in here (though that "semi" in "semi-autobiographical" gives the director plenty of wiggle room).
The cast also includes Seth Rogen as Bennie Loewy, Burt's best friend and honorary "uncle" to the Fabelman children, and Judd Hirsch as Mitzi's Uncle Boris, Julia Butters as Sammy's sister Reggie, Robin Bartlett as Sammy's maternal grandmother Tina Schildkraut, and Keeley Karsten as Sammy's sister Natalie. There's also a cameo from fellow director David Lynch.
"When COVID hit, we had a lot of time and we had a lot of fear," Spielberg said at the premiere. "I don't think anyone knew in March or April of 2020 what was going to be the state of art or the state of life even a year from then. As things got worse and worse, I felt that if I was going to leave anything behind, what was the thing that I need to resolve and unpack about my mom, my dad and my sisters?"
As well as that solid cast, Spielberg recruited a typically solid line-up of collaborators for this one, including John Williams on score duty, Janusz Kaminski bringing his painterly style to the visuals, and costume design by Rick Carter.
"It was very spooky. It was terrifying," LaBelle said at the premiere. "You get on set and you're surrounded by masters. Writing, directing, acting, producing, cinematography, costumes, props, music, editing, everything. Just masters of this art. And there's me. I'm that kid with the good audition."
'The Fabelmans' will be in select theaters from November 11th before opening wide on November 23rd. So if you need something to distract your family on Thanksgiving this year, why not spend time with a version of Spielberg's?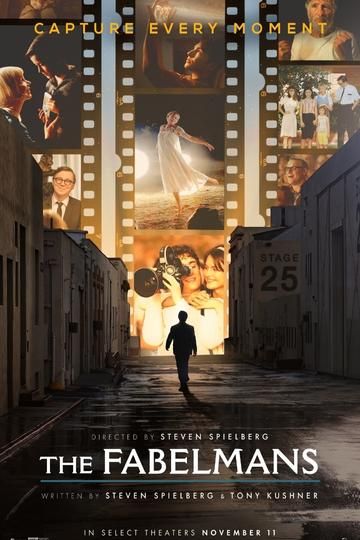 "Capture every moment."
2 hr 31 min
Nov 23rd, 2022
A coming-of-age story about a young man's discovery of a shattering family secret and an exploration of the power of movies to help us see the truth about each... Read the Plot