Dave Grohl, Pat Smear and Chris Shiflett Talk 'Studio 666'
The lead vocalist and the guitarists from the Rock and Roll Hall of Fame inducted Foo Fighters discuss their new supernatural horror comedy movie.
Opening in theaters on February 25th is the new supernatural horror comedy 'Studio 666,' which stars the Grammy Award winning rock band the Foo Fighters.
Directed by B.J. McDonnell ('Hatchett III'), the film features Foo Fighters band members Dave Grohl, Taylor Hawkins, Pat Smear, Chris Shiflett, Nate Mendel, and Rami Jaffee as themselves, who move into a haunted house to record their new album and must fight a demon.
In addition to the Foo Fighters, the cast also includes Whitney Cummings ('2 Broke Girls'), Will Forte ('Nebraska), Jeff Garlin ('Curb Your Enthusiasm), Leslie Grossman ('American Horror Story'), and Slayer guitarist Kerry King.
Moviefone recently had the pleasure of speaking with Dave Grohl and members of Foo Fighters, including Pat Smear and Chris Shiflett, about their work on 'Studio 666.'
Grohl, Smear, and Shiflett discussed the new movie, how it came together, Grohl's original idea for the story, Shiflett's acting lessons, what it was like for Smear to play an exaggerated version of himself, and the truth behind the "Pearl Jam high five."
You can read the full transcript of our interview with Dave Grohl, Pat Smear and Chris Shiflett below, or watch a video of the interview in the player above.
Moviefone: To begin with, Dave can you talk about how this project came together? Was it always the intent to make a horror movie with members of the band playing themselves?
Dave Grohl: It really started about three years ago. I have a friend that went to have a meeting with some movie studio. He came out of the meeting and texted me and said, "I just got out of this meeting with these people that want to make a horror film with the Foo Fighters." I texted back, "That's the stupidest thing I've ever heard in my life. We will never do that. That's too ridiculous. No way. I don't think any of us are even huge horror fans."
Then we moved into this house, the house in the film. We moved in there to make our new record, 'Medicine at Midnight.' While we were in there writing, I thought, oh, well, wait. We have a creepy house, and we could just do it really quickly. Once we're finished with the record, we'll just film some ridiculous thing.
Then I just came up with this stupid idea that was, okay, we move into a house and the house is haunted and I become possessed and stuff goes wrong. Then I kill everybody. We actually talked about a bunch of different ideas for the band members.
It was really fun, just riffing. Then we got screenwriters to come in and really write it, then we had a table read, and then added special effects. That was when we started to realize, "Oh my God, hold on a sec, this isn't a long form music video. This is a full-length feature film!" It just ballooned and snowballed from there, to where we're like, "Oh my God, we made a movie. What?"
MF: Chris and Pat, how did you both feel about acting in the film and playing exaggerated versions of yourselves?
Chris Shiflett: It was nerve wracking going into it. I don't know if we've talked about this, but I took some acting lessons. You got to understand when somebody puts a camera in your face, you get weird and twitchy, and your face does weird stuff. This was pre-pandemic, bro. A friend of mine, who's a director connected me with a great acting coach and I went to her with the script.
It was fucking amazing because she sat there and read, line by line, and l got into, like what's the motivation? It was amazing. It really, really helped. It made me so much more comfortable. And, I want to go on the record, because it is like these heightened versions of ourselves, but I have never made fun of Dave's barbecue skills. Not one time. That is fiction!
Pat Smear: I'm just going to dispute your claim that this is an exaggerated version of ourselves. Clearly, it's not. There's nothing there that I wouldn't do normally. So, what can I say? I don't know. It's awkward. It's easy, but it's awkward.
MF: Finally, the movie shows the band repeatedly participating in the "Pearl Jam high five," which is a reference to that band's first album, 'Ten.' Is that something the band does in real life, or was that just added for the movie?
DG: That was an improv moment in the boardroom scene, where someone said, "Okay, let's do it." I went "Pearl Jam high five up top." No, it's not something we've ever done before.
PS: In fact, didn't we do like five different high fives? Every time we had to do that scene over, we did a different dumb thing, I think. Then, that's just the one they picked.
DG: I didn't really think anyone would notice. I mean, of course I'm referring to the cover of their debut album, 'Ten.' Where they're all high fiving. So, we did it once in that boardroom scene, and then, later on we filmed another scene in the driveway of the house, where I did it again. It's in the movie twice. But the first one was great. It was a "Pearl Jam high five," and we did that, and I go, "'Jeremy' has fucking spoken." Then we high five in the driveway, and then I go, "Break. We're still 'Alive.'"
PS: Wow. See, I got to see this movie.
DG: Pat hasn't even watched the movie yet, God damn it! He's like Johnny Depp, he won't watch his own movies.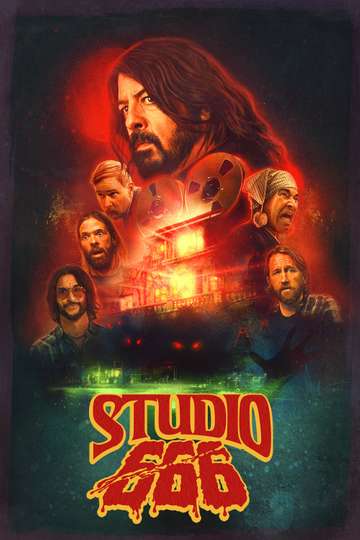 "He gives new meaning to a killer track."
1 hr 46 min
Feb 25th, 2022