Foo Fighters new horror comedy 'Studio 666' is a scary good time!
Musician Dave Grohl and his bandmates play exaggerated versions of themselves in this entertaining genre film, that fans of horror, comedy, and the Foo Fighters, will all love.
Opening in theaters on February 13th is the new horror comedy from the rock band the Foo Fighters called 'Studio 666.' The movie follows the band as they move into a haunted house to record their new album, and stars frontman Dave Grohl, drummer Taylor Hawkins, guitarist Pat Smear, guitarist Chris Shiflett, bassist Nate Mendel, and keyboardist Rami Jaffee as themselves.
The cast also includes Whitney Cummings ('2 Broke Girls'), Will Forte ('Nebraska), Jeff Garlin ('Curb Your Enthusiasm), Leslie Grossman ('American Horror Story'), and Slayer guitarist Kerry King. The result is a purposely cheesy horror comedy that is super entertaining to watch for both fans of the genre as well as fans of the Foo Fighters, and features fun performances from Grohl and the rest of the band.
Directed by B. J. McDonnell, 'Studio 666' begins with a flashback to decades ago, and introduces us to a haunted house in Los Angeles, where a band is completing their new album. But, when the lead singer is possessed by a demon, he kills all his bandmates in a brutal murder. Years later, Rock and Roll Hall of Fame inducted band Foo Fighters are discussing where they will record their new album and Dave Grohl suggests a mansion in Encino, which just happens to be the same house from the prologue.
However, once the band moves in, they soon learn about the mansion's unusual history when Grohl becomes possessed by a demon. The musician becomes obsessed with finishing the 45-minute-long song that the previous band which occupied that house was unable to complete. As Grohl's behavior becomes more and more uncontrollable, the band begin to suspect something is wrong and investigate. But, will they discover the truth too late to save their friend … and their own lives?
To begin with, you really can't take 'Studio 666' too seriously. While it's not exactly great filmmaking, it is a really well made and funny little horror comedy. On the surface, combining the Foo Fighters with the horror comedy genre may seem like an idea out of left field, but if you've ever watched one of their music videos, you'd know that this is actually right up their alley. Foo Fighters have always been a fun band, full of personality, and this movie was a perfect vehicle for them as the horror/comedy situation is wonderfully suited to their sensibilities as performers.
While the band plays themselves, it's certainly an exaggerated version of themselves. Grohl, Smear and Hawkins are arguably the best-known members of the group, so their characters were pretty close to what you'd expect (until Grohl becomes possessed). Since Chris Shiflett, Nate Mendel, and Rami Jaffee are the least public members of the band, it allowed the script to have more fun with their characters. Shiflett plays his role as an instigator and a tough guy, while Jaffee is depicted as a sexed-up stoner, and Mendel as a quiet genius. Smear and Hawkins continue their public personas, with Smear as the group's elder statesman and Hawkins as the surfer-styled "cool guy" in the band.
But what comes across is that all of the Foo Fighters were willing to commit to the project and have fun. Grohl has the hardest role in the film, playing himself, and then playing himself possessed by a demon. He's at his best when he is just playing himself, but there is something fun about watching the drummer from Nirvana acting like a demon has possessed him. Grohl and the entire band give really fun performances that work in the context of the movie.
The film is really about the Foo Fighters, so the other members of the cast are not all that important, but I did think Leslie Grossman gave a strong performance as the band's real-estate agent. Whitney Cummings has nice chemistry in her scenes with Jaffee, while Will Forte adds comedic flair in his sequence with Grohl. However, Jeff Garlin is too over-the-top, even for this movie, as the band's record producer. The comedian seems to be pushing too hard in his scenes, and even indicates his character's true intentions too early in the film.
Director B. J. McDonnell does a good job with the material, never taking it too seriously, and letting the band be the real star of the film. I'm not really a fan of horror, but I do like horror comedies like 'Evil Dead II' and 'Army of Darkness,' and 'Studio 666' is definitely in that wheelhouse. But I'm a huge fan of the Foo Fighters, and for me, they were really the winning ingredient in this project.
There is a long tradition of rock bands starring in their own movies, both good and bad. For every 'A Hard Day's Night,' there is a 'Kiss Meets the Phantom of the Park,' and I'd like to say that 'Studio 666' falls somewhere in between. In the end, 'Studio 666' is what it was meant to be, which is a fun, genre-blend starring the Foo Fighters, one of the greatest rock bands of all time. That is exactly what it is, no more, no less.
'Studio 666' receives 4 out of 5 stars.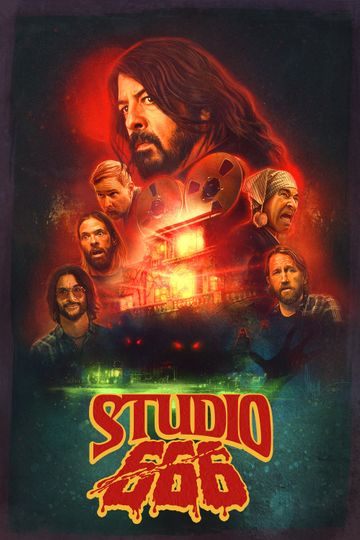 "He gives new meaning to a killer track."
1 hr 46 min
Feb 25th, 2022