Four New 'Downton Abbey' Movie Posters Are an Upstairs and Downstairs Treat
We've been expecting you!
The "Downton Abbey" movie rolled out four new posters welcoming fans back to the elegance, opulence, and grace fans got in the six seasons of the Masterpiece series.
As we learned from the teaser trailer, the movie brings back all the stars of the show, including Maggie Smith, Hugh Bonneville, Michelle Dockery, Joanne Froggatt, Laura Carmichael, Allen Leech, and Elizabeth McGovern. The movie opens September 20.
Very little is known about the plot. Executive producer Gareth Neame told Entertainment Weekly, "We had to do everything that all the fans wanted, but we had to do something that was fresh and original. We wanted a kind of storyline and sense of scale and production value that exceeded even the very high production values the TV show was remembered for. On the big screen, it just had to look a little bit more lavish and a little bit bigger and better."
The posters reflect the upstairs/downstairs split: Two of them show Dockery's Lady Mary putting on a gorgeous jeweled earring and Carmichael's Lady Edith (now Lady Hexham) sporting a stunning beaded necklace.
The two posters show a male servant, possibly Rob James-Collier's Thomas Barrow polishing a crystal glass and holding a silver fork: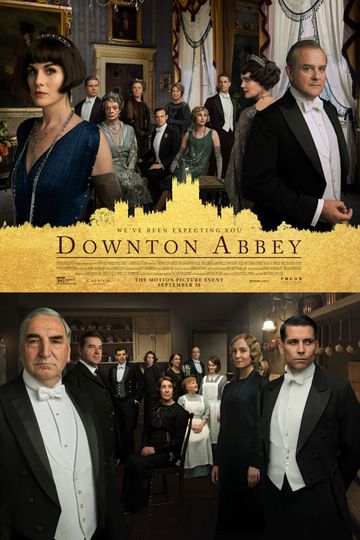 "We've been expecting you"
The beloved Crawleys and their intrepid staff prepare for the most important moment of their lives. A royal visit from the King and Queen of England will unleash... Read the Plot