'Good Boys' Stars Are Too Young for The Movie's Raunchy Red Band Trailer
Universal Pictures has dropped the red band trailer for "Good Boys," and it's too raunchy for the comedy's middle school-aged stars, Jacob Tremblay, Keith L. Williams, and Brady Noon. It's a funny and ironic dilemma, and producer Seth Rogen makes a cameo at the beginning of the R-rated preview to point it out.
"It's just too messed up for kids your age," Rogen tells the boys. "There's drugs, there's violence, there's swearing, and although we've decided it's okay for you these things in the movie, you can't watch yourselves do them in the trailer."
That gives just a taste of what you can expect. The preview teases the boys' terrible, horrible, no good, very bad day. When Max (Tremblay) is invited to a kissing party, he goes to his friends for some pointers. They try to spy on a neighbor using Max's dad's drone, but then it gets destroyed and everything spirals from there.
Watch below -- and yes, it's very NSFW.
"Good Boys" hits theaters Aug. 16.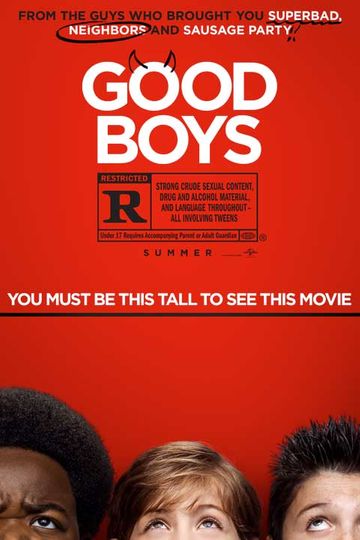 "You Must Be This Tall to See This Movie"
1 hr 29 min
Aug 16th, 2019
A group of young boys on the cusp of becoming teenagers embark on an epic quest to fix their broken drone before their parents get home. Read the Plot