14 Things You Never Knew About 'I Know What You Did Last Summer'
It's time to get hooked again. This week marks the 20th anniversary of "I Know What You Did Last Summer," released October 17, 1997.
The seaside slasher film rode the wave of teen horror launched the previous winter by "Scream" and became a hit that made TV stars Jennifer Love Hewitt and Sarah Michelle Gellar into big-screen scream queens. It also handed early career boosts to Ryan Phillippe and Freddie Prinze Jr., and gave rise to two sequels and one celebrity marriage.
As many times as you may have watched the horror staple, there are still some secrets beneath the movie's murder-y rain slicker. Read on for the details... "what are you waiting for?" 1. "Scream" and "I Know What You Did Last Summer" shared more than just well-scrubbed teen stars stalked by slashers. Both movies were written by Dawson's Creek." In fact, Williamson wrote the "IKWYDLS" script before "Scream," but couldn't get it made until "Scream" put him on the map.
2. Aside from some coastal shots filmed in Sonoma County, California, most of "IKWYDLS" was filmed on location in the town where the story takes place: Southport, North Carolina. 3. Prinze recalled recently that he auditioned for "Scream," for the role that ultimately went to Skeet Ulrich, and that Williamson reassured him that he'd be cast in "IKWYDLS," whether he auditioned for the film or not. Which irked the actor, since he'd been asked to audition or the role of Ray Bronson five times and assumed he'd lose the part to Jeremy Sisto, "who was way better than me back then" and who had earlier beaten Prinze for a role in "Clueless."
4. Prinze claims he was the oldest of the four leads and the first to turn 21, so he remembers being the one who always had to buy beer for the others. 5. Hewitt says the idea for her most famous scene, where she spins around in the street and shouts, "What are you waiting for?", came from an anonymous young horror fan who was on the set that day. Hewitt thought she'd look silly, but the scene worked. "People don't know that that was just like some kid who loved horror movies," she said in 2015. "I'm glad I got to do that for him."
6. The actress also said that shooting scenes in which she was chased by the slasher villain felt so real that it kept her awake at night. "There were definitely days where I went home and was like, 'I'm supposed to be asleep now. I don't think that that's going to happen.'" 7. The film cost a reported $17 million to make. It earned back $72 million in North America and another $53 million overseas.
8. One person who wasn't a fan of "IKWYDLS" was Lois Duncan, who wrote the 1973 novel the movie was based on. Duncan updated her book in the 1990s to include more current cultural references, but the film still bore little resemblance to either version of Duncan's novel. 9. The main, glaring difference: In the book, there is no hook-wielding slasher fisherman who seemingly returns from the dead to hunt down the four teens in the car that hit him. In the book, the foursome's car strikes a boy on a bicycle, and the he's definitely dead. The character in the book who turns out to be the vengeful stalker behind the anonymous notes doesn't even exist in the movie. "I had expected it to be my story, and it wasn't. It was my characters and my plot gimmick, but then it went in all directions," Duncan complained. Of the filmmakers, she said, "They kept me as far away as possible. I think they were afraid of how I might react if I realized what my little masterpiece was going to turn into."
10. Producer Neal Moritz would reteam with Gellar and Phillippe a year later on the successful teen drama, "Cruel Intentions." 11. Though Gellar and Prinze met and became friends on the set, they didn't start dating until three years later. They have been married since 2002.
12. In 2014, news broke that Moritz was planning to remake "IKWYDLS," with a script written by Mike Flanagan and Jeff Howard, the duo behind "Oculus" and Netflix's new adaptation of Stephen King's "Gerald's Game." This past June, Flanagan said the screenplay was in Moritz's hands, and that he hoped the project was still going forward. 13. Promoting his recent horror movie "Wish Upon" this past July, Phillippe reflected on the making of "IKWYDLS" 20 years ago. He recalled how exciting it was for himself and his fellow cast members to be young, on the cusp of fame, and occasionally foolish. "I had the great idea to take my rental car on the beach in North Carolina, with Sarah Michelle, and got it stuck in a sand dune and had to get it towed out before production realized," he said. "But you do a lot of dumb stuff when you're young."
14. In a creepy life-imitates-art incident, Phillippe said he also received a Twitter DM on July 4th from "IKWYDLS" killer Muse Watson. "I think he wrote something creepy like, 'Hello, old friend,' or something." Phillippe said. "He was definitely playing ... he was in character. He was definitely tweeting in character."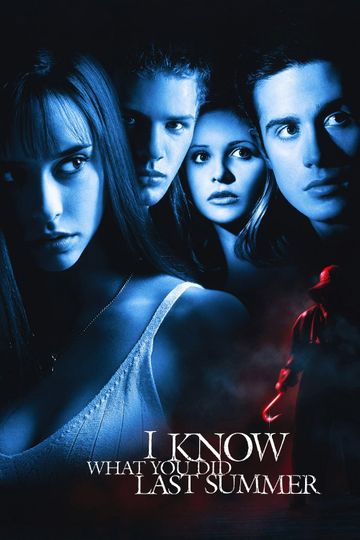 "If you're going to bury the truth, make sure it stays buried."
1 hr 41 min
Oct 17th, 1997
After four high school friends are involved in a hit-and-run road accident, they dispose of the body and vow to keep the incident a secret. A year later, they each... Read the Plot