Jennifer Love Hewitt and Freddie Prinze Jr. Returning for 'I Know What You Did Last Summer' Sequel
Jennifer Love Hewitt and Freddie Prinze Jr. will be the latest actors to receive career revitalization from appearing in a legacy horror sequel.
In horror movies, famously, almost no one is ever really dead. And in our current, not-yet-crested wave of pop cultural nostalgia, no old entertainment property is deemed unworthy of an excavation or potential reboot.
These two separate truths meet in a hearty high-five with today's news, according to Deadline, that a "legacy-quel" is in the works for the 1997 teen slasher flick 'I Know What You Did Last Summer,' with original stars Jennifer Love Hewitt and Freddie Prinze Jr. already in talks to return.
Looking to renew their IP control, Sony Pictures, which produced the first film, recently took a meeting with director Jennifer Kaytin Robinson and actress-turned-screenwriter Leah McKendrick ('Deviant Love,' 'M.F.A.'), and liked what they heard enough to give a green light to their pitch. Original series producer Neal H. Moritz is also potentially rejoining the project.
The news comes, of course, after Paramount successfully rebooted the 'Scream' franchise last year, to the tune of $140 million in theatrical receipts, with a movie that blended old, familiar franchise faces and new characters.
It also follows a previous stab at franchise rejuvenation which stalled out. A little over eight years ago, coming on the heels of the buzzy, well-regarded low-budget horror movie 'Oculus,' Sony committed to a 'Summer' reboot from writer-director Mike Flanagan, who would go on to make 'Before I Wake' and 'Doctor Sleep.' It was put on their release calendar for 2016, but never started shooting, and was eventually cancelled.
Based on the bestselling, red herring-heavy 1973 young adult suspense novel by Lois Duncan, the original movie centered around four young friends, bound together by a tragic accident and its cover-up, who are reunited when they receive a threatening note and subsequently find themselves being stalked by hook-wielding maniac who is also heavily into Gorton's Fisherman cosplay. A $125 million box office hit, the 1997 movie helped launch the big screen careers of Hewitt, Prinze, Sarah Michelle Gellar, and Ryan Phillippe.
With last year's 'Scream' already having taken a bit of the steam out of legacy sequels, in addition to having some fun at the expense of so-called elevated horror, it remains to be seen what form and direction a new 'I Know What You Did Last Summer' will take.
While 1996's 'Scream' and the original 'I Know What You Did Last Summer' shared a screenwriter in Kevin Williamson, the former leaned into a post-modern, self-referential tone, while the latter embraced much more conventional genre plotting.
The original 'Summer' was followed by two sequels, 1998's 'I Still Know What You Did Last Summer,' which also featured Hewitt and Prinze, and 2006's more supernaturally-oriented 'I'll Always Know What You Did Last Summer,' which featured an entirely new cast.
Presumably the new movie will not feature a plot which extensively drills down into a strenuous and grammatically exacting unpacking of just which summer's events are actually now known, and thus subject to deadly score-settling, but tiresome pedants everywhere would surely celebrate such a plot. Rather, one can expect a somewhat more streamlined tale of unearthed secrets and murderous revenge, leaning into the adage that the past is never really dead.
A co-screenwriter on 'Thor: Love and Thunder' and consulting producer on 'Hawkeye,' Robinson made her feature directorial debut with 2019's romantic comedy 'Someone Great,' and additionally drew positive notices for 'Do Revenge,' a high school-set black comedy loosely inspired by Alfred Hitchcock's 'Strangers on a Train.' Her latest effort, it seems, could involve a bit more blood.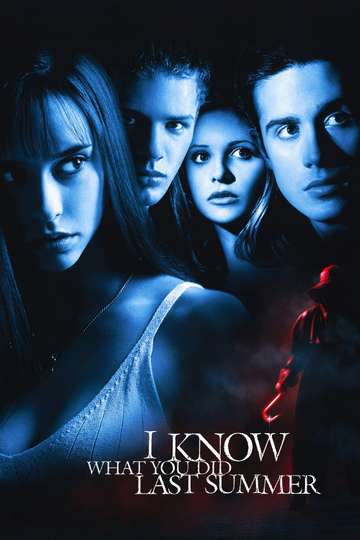 "If you're going to bury the truth, make sure it stays buried."
1 hr 41 min
Oct 17th, 1997