Female Filmmakers in Focus: Julia Ducournau Discusses 'Titane,' Winner of the Palme d'Or at This Year's Cannes Film Festival
This week Julia Ducournau discusses her Palme d'Or-winning body horror film Titane. This film has an extraordinary, unique nature, but it's not for the squeamish. You might want to bring a barf bag.
After attending film school at La Fémis with a concentration in screenwriting, Julia Ducournau's first short film 'Junior,' about a girl who contracts a stomach bug that causes her skin to shed like that of a snake, played the 2011 Cannes Film Festival. Her next project, the telefilm 'Mange,' centered on a recovering bulimic who is seeking revenge on her college tormentor. Her debut feature film 'Raw' played the 2016 Cannes Film Festival as part of the International Critics' Week section, where it won the FIPRESCI Prize. The coming-of-age film with a cannibal twist cemented Ducournau as a master of body horror. She attributes her fascination with flesh and the unflinching style in which she films to the way her doctor parents talked about death and bodies. Her most recent film 'Titane' had its world premiere at the 2021 Cannes Film Festival, where she became only the second female director ever to win the festival's top prize: the Palme d'Or.
'Titane' stars Agathe Rousselle as Alexia, a steely showgirl/serial killer at a motor show with a titanium plate in her head from a childhood car accident. Despite the injury, Alexia has an erotic fascination with automobiles, a relationship that climaxes in the strangest unplanned pregnancy in cinematic history. Alexia hides from the cops by posing as Adrien, the long-lost son of a soulful fire chief (Vincent Lindon). Park your expectations at the door and just let the vibes of this emotionally-charged body horror masterpiece transform you.
'Titane' is now playing in cinemas nationwide.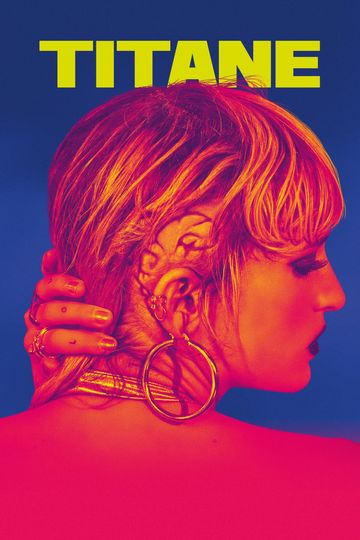 ---
Writer-director Julia Ducournau spoke with Moviefone after the film's presentation at the New York Film Festival.
Moviefone: You used body horror in your first film 'Raw' as a way to discuss sexual coming-of-age, and in this film you employ it again to explore pregnancy.
Julia Ducournau: You're right about pregnancy, but I think it's a bit wider than that as well. I don't think the transformation only covers that specific aspect of my character. But talking about the pregnancy is also talking about this parallel that I do between motherhood and fatherhood in the film. I have a male character who is craving so much to be a father again, who is so unable to be something else than that, that he is able to create this fantasy of his in order to be a father again at all costs. On the other side, you have a woman who does not want to become a mother, but who has to go through that pregnancy, which obviously on top of it is not your usual pregnancy.
Through this body horror pregnancy, I wanted also to portray the fact that this specific moment of a woman's life has been in many projections shaped by social construct. Meaning that it is always supposed to be a very, let's say, meaningful, happy, joyful time of your life completely. Not considering the fact that this can also be a very traumatic time because your body changes in so many ways. It is okay to see it like this. It doesn't have to be something that you endure with a smile on your face, necessarily. I mean, if you do, that is great and that can be happy as well, but what I'm trying to say is it doesn't have to be. It can also be a moment that is obviously an incredible, pivotal moment for a woman, not only as a mother, but also as a woman. Your body is constantly here to remind you of that transformation, remind you of that pivot somehow, in ways that can be also very painful and quite scary. So as far as pregnancy is concerned, I wanted to see as an option that it doesn't have to be bliss necessarily.
As far as motherhood and fatherhood is concerned, again, it was kind of a way to reverse the gender stereotypes that are linked to parenthood in general. Knowing that, in most cases, women are supposed to be natural-born mothers, and fathers are supposed to be someone that will be external to the whole process without an instinct for it. I don't believe in that. I do believe that it always depends on the individual. It always depends on your own life. This instinct that we're talking about, I don't know if it's true, you know, I don't know if it exists.
MF: You wrote the role of Vincent with Vincent Lindon in mind. How did you know you wanted to write a film for him and that this role was the best way to use his skills as an actor?
Ducournau: The character Vincent is the bearer of the emotional aspect of the film. Obviously, because Alexia's character on the other half isn't incapable of expressing hers throughout, and not even feeling them at the start of the film. That's even throughout. She's very silent constantly, and she's someone whose trajectory goes to this final je t'aime, which was very important for her. This the furthest she can go in terms of being in touch with her humanity and her emotions.
Vincent on the other hand is way more relatable, even though I really insist on the fact that I've never seen this character as a white knight in shining armor, ever. I do think that he's incredibly neurotic. Like the way he wants to shape her into his own fantasies is very intrusive, invasive, violent, overbearing, and scary at the start. However, Vincent has a trajectory that we can all understand. The impossibility to mourn a child. The impossibility to mourn fatherhood is something that we can all understand. It is closer to us than what Alexia is going through.
So for that reason, I really needed an actor like Vincent, who I think is one of the best in terms of delivering emotion without overdoing it, and yet he has this kind of sensitivity that is already on the surface of who he is. It's always present in him, this vulnerability, this sensitivity, this hypersensitivity, I want to say. I think that's what makes him an amazing actor. That's the reason why I thought of him in the first place. But also because I've known him for 11 years now, I knew also that somehow it was time for him to be in a film whose codes, like the codes of my cinema, he did not quite control. I knew that he wanted a bit of adventure, of danger because he has done so many great parts. So I think he was eager to discover another part of himself as an actor through my film, and indeed he didn't know any of my codes. On set, I never allow actors to go watch the monitor and no one watches the rushes. I don't even watch the rushes. I'm in constant movement forward, and I never go back to the images we've shot. So that was risky for him, but I knew that it was time for him to do that, and he did it very like him happily and willingly, and that's how both our wills met over this film.
MF: Did you have anyone in mind when you were casting the Alexa/Adrien character?
Ducournau: No, I had a figure in mind, but no one is specific. I wanted to work with a non-professional person so that the audience would not project anything else other than the characters onto her. I wanted a fresh new face completely, because I was afraid that if I had taken a famous actress or famous actor for that part, then people would have just projected their gender, the gender of the actors and actress into it, thinking about all the films that they have seen them in. That would have made the transformation of Alexia/Adrien way more difficult to accept by the audience. It was very crucial that it was someone who was androgynous first thing. I think it was mandatory for that part. Someone who was completely blank of any types of projections for the audience.
MF: The film has a dynamic soundtrack, how did you choose the songs for it?
Ducournau: That was tricky, because all of these songs were actually written in the script. So I had thought of them and chose them very carefully ahead. They are part of the script. Each one of these songs I chose because I love the melody and I love the feelings that get out of the songs, but more importantly I chose them because of the lyrics. We can actually tell us something about the characters at that moment. The Caterina Caselli song, for example, goes "Nessuno mi può giudicare, nemmeno tu" which means in Italian, "no one can judge me and even less you". During that scene for Alexia, it was extremely important that we are with her in that scene. That we have empathy for her in that scene, through her fatigue, through her being fed up with all these people coming, and the comedy that goes with. There is really this thing like, if you have empathy with me at that moment, then you can't judge me. It's like she's talking to the audience through the lyrics. This was the same for many other songs. The tricky part was that once I had written them in the script and how important they were for the film, finding the rights was the whole other difficulty that we had to face afterwards.