Keanu Reeves Horses Around in New 'John Wick 3' Photo
Animals are thinkin' they're back too. We first met Keanu Reeves' John Wick as he was getting revenge for his dog, and now apparently there's a whole menagerie in play -- including at least one horse.
Director Chad Stahelski told Empire that "John Wick 3: Parabellum" includes..
"...horses, dogs, cats, a raven, a bunch of pigeons, a motorcycle chase, car chase, Halle Berry, Laurence Fishburne, Ian McShane, Lance Reddick, shotguns, and ninjas."
Fantastic. Robert Downey Jr.'s Doctor Dolittle movie was just delayed, but it sounds like John Wick is picking up that baton for Spring 2019.
"John Wick 3" has been filming for a while, and set videos already showed Reeves riding a horse through the dark streets of New York City. He even shoots a gun from the horse while being chased by someone on a motorcycle.
But those were unofficial set shots. Now Empire has an official photo:
Lookin' good, man. Director Chad Stahelski already mentioned some of the human stars of the film, and official photos have been shared of returning stars Laurence Fishburne and Ian McShane, plus Halle Berry in the new role of Sofia.
"John Wick 3" picks up directly from "John Wick 2," which left John in quite the pickle. Here's the new movie's synopsis:
"John Wick (Keanu Reeves) is on the run for two reasons... he's being hunted for a global $14 million dollar open contract on his life, and for breaking a central rule: taking a life on Continental Hotel grounds. The victim was a member of the High Table who ordered the open contract. John should have already been executed, except the Continental's manager, Winston, has given him a one-hour grace period before he's 'Excommunicado' – membership revoked, banned from all services and cut off from other members. John uses the service industry to stay alive as he fights and kills his way out of New York City."
"John Wick 3: Parabellum" is scheduled for release in theaters on May 17th, 2019. More details will be in this week's edition of Empire.
Want more stuff like this? Like us on Facebook.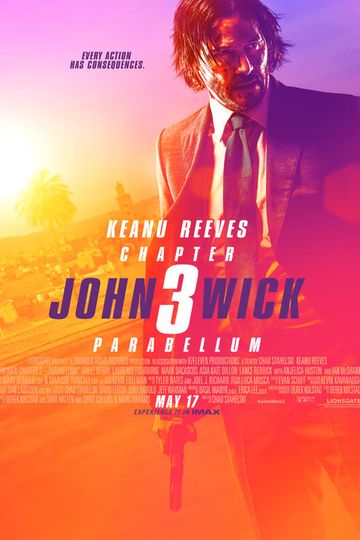 "Every action has consequences."
2 hr 10 min
May 17th, 2019
Super-assassin John Wick returns with a $14 million price tag on his head and an army of bounty-hunting killers on his trail. After killing a member of the shadowy... Read the Plot