'Antlers' Star Keri Russell And Writer/Director Scott Cooper Talk About Their New Horror Film
Cooper talks about collaborating with producer Guillermo del Toro, and joins Russell in singing the praises of young actor Jeremy T. Thomas.
'Antlers' tells the story of Julia (Keri Russell), a small-town teacher who becomes worried that one of her students, Lucas, is a victim of abuse at home. Written and directed by Scott Cooper and produced by Guillermo del Toro, it may not be surprising to find out that Julia's story takes a very creepy turn. Russell and Cooper recently spoke to Moviefone about their new horror movie.
Moviefone: Keri, could you describe your character, Julia, and what attracted you to playing her?
Keri Russell: Well, I love Scott's movies. I loved 'Crazy Heart' and I wanted to work with him, and I thought the idea of his version of a horror film, especially in connection with Guillermo, was like ideal. And I play Julia, a school teacher who gets sort of obsessed with one of her students who's harboring some secrets, and she tries in some way to help and save him and then in turn saves herself, or was trying to save herself.
MF: In a way, this could be a companion piece to 'Out of the Furnace' in regard to how the location feeds the story. But I have to ask, what was it like collaborating with Guillermo del Toro on this?
Scott Cooper: Well, it's funny that you mentioned Guillermo because Guillermo del Toro said to me, he said, "Scott, this could play on a double bill with 'Out of the Furnace, 'which might be tough in one evening." But Guillermo approached me about writing and directing this. He said, "Scott, your last three films have been horror films and nobody knows it. Would you consider directing a horror movie?" And I said yes, because some of my earliest remembrances and fondest remembrances of film were in horror movies with my older brother, who was taking me at too young of an age to see things I shouldn't see. So it really felt like an opportunity to continue my exploration in going from different genres and never making the same film twice.
MF: I have to ask you both about Jeremy T. Thomas, because he's amazing in this. He's got such a gravitas. What was it like working with him?
Russell: He's such a unique person. Visually, he's so unique. Everything about him is so unlike kids his age. Just the energy of him is so just unique to him, and I mean his faith. He just wears that idea of, I don't know, having known too much too soon, and I thought he was wonderful. And he is the movie. He's so excellent in it.
Cooper: Yeah. I couldn't think about making the film now without Jeremy. I searched really kind of the world over, the English-speaking world, and I think we auditioned about 900 young kids.
And he had that quality that I was looking for, that you don't quite know what it is until you see it. And you know that he isn't a trained actor, you know that he doesn't come camera ready, he can't cry on cue, but one of the qualities that he has that's, I think, a hallmark of great screen acting, is the same thing that Keri has, or Jesse Plemons, or other actors that I've worked with. He's a great listener, and he is a very rich, emotional, inner life. And it allows the audience to place so much on him without really having to say anything. I try to whittle my dialogue to the core so that it's more about behavior and inner life, as opposed to my writing as a screenwriter. Jeremy does that beautifully, and he's just such a wonderful young boy, and I'm so happy for him, and I hope this just leads to other work for him.
'Antlers' is now in theaters.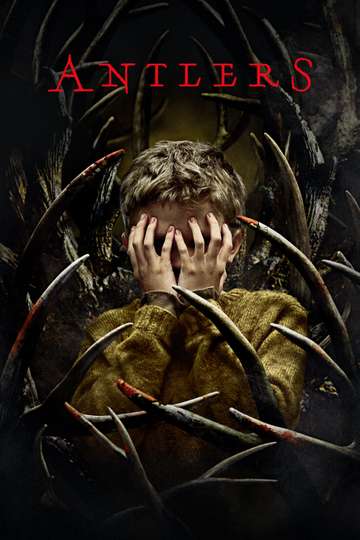 "Pray it desires not you."
1 hr 39 min
Oct 11th, 2021