Kevin Smith Begins 'Jay and Silent Bob Reboot' Filming on Heart Attack Anniversary
Exactly one year ago, writer-director Kevin Smith suffered a massive heart attack that nearly claimed his life. The significance of that event continues to weigh heavily on the star, and on the first anniversary of his brush with death, Smith is celebrating his second shot at life -- and the beginning of a new project.
In a post on Instagram, the filmmaker revealed that February 25 marked one year since his heart attack, and he specifically chose that date as the first day of filming on "Jay and Silent Bob Reboot," the sequel/reboot/remake hybrid to 2001's "Jay and Silent Bob Strike Back" that pokes fun at all three of those categories. Smith shared a selfie of himself in character as Silent Bob, along with costars Jason Mewes (Jay) and Jason Lee (Brodie), as well as some words of gratitude for both the chance to reprise his role, and continue living his life.
According to Smith, the trio easily slipped back into their onscreen alter egos, and "partied like it was 1995," the year they collaborated on "Mallrats." The director continued:
'The Oscars were on in the background during our practice and I couldn't help but feel relief when the "In Memoriam" montage ended and I wasn't in it. We picked 2/25 as the Reboot start date *intentionally*, to celebrate the fact that I did not become Silent Bob forever 365 days ago. But after a blissful couple hours of making pretend with my friends on the set of my 14th film, I'm starting to think I *did* die in that operating room after all. Because what could be more Heavenly than this?'
Amen, Kev.
Here's the film's official logline:
"In 'Jay & Silent Bob Reboot,' our herbal heroes find out Hollywood is making a reboot of the old movie that was based on them, so they journey out to Hollywood to stop it again."
We can't wait to hear more from Smith as production continues. Stay tuned.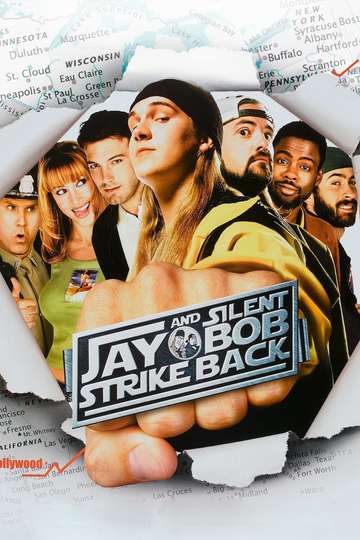 "Hollywood had it coming"
1 hr 44 min
Aug 24th, 2001
When Jay and Silent Bob learn that their comic-book alter egos, Bluntman and Chronic, have been sold to Hollywood as part of a big-screen movie that leaves them... Read the Plot