Get to Know the Anti-Heroes of 'The Suicide Squad'
Meet the new and returning characters of James Gunn's 'The Suicide Squad'
James Gunn (of Guardians of the Galaxy fame) brings his high-stakes DC epic, 'The Suicide Squad,' to the big screen. Although we'll see a handful of characters return from the 2016 'Suicide Squad,' there are quite a few new faces. Don't worry if you don't know every new character that Gunn is bringing in, where here to introduce them all to you.
---
Harley Quinn
Real Name:
Harleen Quinzel
Played By:
Margot Robbie
First Appearance:
Batman the Animated Series
One of the returning characters from the original film, Harley Quinn (psychologist Doctor Harleen Quinzel) was once the Joker's girl, helping him to break out of prison and become his clown partner of crime. But Harley grew to realize the Joker's love wasn't love, but abuse, and ran away to become her own anti-hero, more recently getting her own film as well. Harley uses a multitude of weapons but is well-known for her mallet and use of multiple firearms. Her outfit in the film seems to be taking inspiration from the Batman Arkham games, a nice callback.
---
Bloodsport
Real Name:
Robert DuBois
Played By:
Idris Elba
First Appearance:
Superman Vol. 2 #4
This is not Bloodsport's first live-action appearance, that honor goes to 'Supergirl' on The CW. In the comics, DuBois was an ex-soldier who, after seeing his brother come home mortally wounded, took up contract killing to fight against those he claimed 'had freedom' when they didn't. TIt doesn't look like the film is using all of that backstory, but if the trailer is anything to go by, it is using the story where he had gone toe-to-toe with Superman (and has even gotten the upper hand!) The big question is, since he's worked for Lex Luthor in the past, will that be mentioned?
---
Rick Flag
Real Name:
Anthony Miller.
Played By:
Joel Kinnaman
First Appearance:
The Brave and the Bold #25
Another returning character (and actor!) from the original film, Rick Flag is as "government agent" as a character can get. Brought in by Amanda Waller to lead tThe Suicide Squad, he's the team's field commander and accompanies them on every mission, to make sure they stay in line. In the comics, he comes from a long line of military men, and maybe with the film diving deeper into comic book territory, we may see this come up? While he has no superpowers, his military history and firearms expertise makes him a very well-trained member of the team.
---
Peacemaker
Real Name:
Christopher Smith
Played By:
John Cena
First Appearance:
Fightin' 5 #40
One of the oldest characters on this list, Peacemaker originated in the 60s. A diplomat willing to get peace
no matter what
, Smith is willing to take down as many lives as possible to do so. Though it's doubtful the film will use the 'is haunted by the spirit of his father' plotline, it seems to be taking the 'peace at all cost' very close to heart. Peacemaker is also the only character getting his own HBO Max show down the line.
---
Amanda Waller
Real Name:
Amanda Blake
Played By:
Viola Davis
First Appearance:
Legends #1
Another returning character from 'Suicide Squad,' Amanda Waller is most likely the most well-traveled as well. Appearing in TV shows, games and other films, she is the head of the Suicide Squad, and chooses whether they live or die at the touch of a button. In the comics storylines, she's been given the nickname of "The Wall" in reference to how steadfast she is. She revived the Suicide Squad from files found she came across while working, and if she has a "super power," it's that she holds the lives of the squad in her hands.
---
King Shark
Real Name:
Nanaue
Played By:
Sylvester Stallone
First Appearance:
Superboy #0
One of two animal members of this Suicide Squad, but this isn't his first on-screen appearance (he's shown up in 'The Flash' and the animated Harley Quinn series). King Shark is the son of the king of sharks and a human mother. (Ahh, comics...) And he's exactly what he sounds like; a shark. He has a history of eating people, capturing swimmers, etc. We wouldn't be surprised if Superboy, his nemesis, is mentioned in the film, as Shark plays a big role in Superboy's story.
---
Polka-Dot Man
Real Name:
Abner Krill
Played By:
David Dastmalchian
First Appearance:
Detective Comics #300
One of the more outlandish members of the Squad (and that's saying something with a team member like Weasel), Krill was a crook who, after witnessing Batman doing his crime-fighting thing, decided to just go around Gotham doing crime with polka-dots. (I swear that was it, no other reason was necessary.) His polka-dots get used for multiple purposes, and there have been hints that there is a biological component to powers of this version of the character.. Krill has never been a member of the Squad (save for an 'Injustice 2' prequel comic) so it'll be interesting to see what he did that was so terrible that brings him with everyone else.
---
Sol Soria
Real Name:
Sol Soria
Played By:
Alice Braga
First Appearance:
The Suicide Squad
Little is known about Braga's character, because she hasn't seemed to appear in any comics, and her debut is this movie. What we do know is she hails from the (fictional) country of Corto Maltese, and is the head of the country's resistance group. The country has appeared in the comics as a place where metahumans are tested on and created. It's possible she could be related to Juan Soria, a comic character who shares the same last name as Sol, a member of the Squad with cybernetic enhancements.
---
Savant
Real Name:
Brian Durlin
Played By:
Michael Rooker
First Appearance:
Birds of Prey #56
A villain turned bad, all because Batman told him he shouldn't do vigilante work, Savant is as smart as they come... but he might forget that due to his forgetfulness. Being a character that's teetered on the line of villain and vigilante, it is unknown if the film will delve into his background with the Birds of Prey, and his partner/boyfriend Creote. It appears Rooker might be playing an older version of Savant, so maybe we see Creote in a flashback, perhaps? For us, the audience, but not Savant, who wouldn't remember them in the first place!
---
T.D.K.
Real Name:
Cory Pitzner
Played By:
Nathan Fillion
First Appearance:
The Suicide Squad
Little is known about T.D.K as he is a creation specifically from the mind of James Gunn himself, so if that tells you anything... All we do know is that he's a metahuman who can detach his arms and legs, while having the ability to control them telepathically, and we've recently learned the initials T.D.K. stand for The Detachable Kid. Gunn has gone on record saying T.D.K "is from a Saturday morning cartoon," which doesn't speak highly of his abilities in the type of movie Gunn makes. Fillion himself has said his character is more annoying than a threat as well, so we can just take them for their word!
---
Captain Boomerang
Real Name:
George "Digger" Harkness
Played By:
Jai Courtney
First Appearance:
The Flash #117
The final returning character (and actor0 from the original film, Boomer started off as a Flash villain, and has appeared in both movies and the Flash TV series. Born in Australia, he grew up being very good at carving boomerangs and using them as weapons. He's the other character in the movie (next to Harley) that's been featured outside of the film universe on both TV and in video games, and the character will star alongside Harley in an upcoming Suicide Squad game.
---
Blackguard
Real Name:
Richard Hertz
Played By:
Pete Davidson
First Appearance:
Booster Gold #1
Little is known about Blackguard's comic book origins, other than he was hired by a group called 'The 1,000' and outfitted by them as well. His known powers are, interestingly, ergokinesis (the ability to manipulate energy) and use of multiple gadgets. We don't know if the film will go into his metahuman abilities, but he is one of the characters to have a major costume change. We also don't know if they will dive into his Booster Gold connection (which would mean Booster's introduction into the DCEU). But Gunn could very well add that kind of surprise.
---
Weasel
Real Name:
John Monroe
Played By:
Sean Gunn
First Appearance:
The Fury of Firestorm #35
There's a fun story about Weasel. In the movie, he looks like as an actual... weasel-like creature. But in the comic, he's an actual man! Monroe was a student in the 1960s who was nicknamed 'weasel' by his peers as they bullied him. By day, he's a college professor. By night, he's a murderer, dressing in a costume (most likely where Gunn's portrayal comes from) and calling himsef 'Weasel'. We still don't know how Gunn will justify making him an actual animal, but the DC's "metahuman" concept will probably play a part.
---
The Thinker
Real Name:
Clifford DeVoe (we think)
Played By:
Peter Capaldi
First Appearance:
All-Flash #12
Again, like Weasel, we got a fun one. While most characters have been given their comic-connected names and villainious monikers, we do not know which version of Thinker that Capaldi is playing. So for clarity's sake, I'll be going into the DeVoe version, as he has also appeared in The Flash TV show. A failed lawyer, DeVoe used his smarts to be the brains behind many small-time thugs. He was able to use his smarts as a weapon, literally, with the help of his 'thinker cap.' which clearly plays a role in the film. Now we just have to see if Gunn will use Thinker as a master manipulator, too...
---
Javelin
Real Name:
Gunter Braun
Played By:
Flula Borg
First Appearance:
Green Lantern #173
Javelin doesn't seem to have a first name in the comics, so we're using the name Gunn gives him in the film. While he's not a metahuman, Braun is a talented Olympian! A former member of the German Olympic team, he turned to a life of crime, but it's not clear why. The only 'superpower' he has? He's incredibly good with javelin-based weapons. As seen in the film's featurettes, Braun sees himself as the best-looking in the room and might be one of the most stuck-up members of the squad. Let's hope that saves him!
---
Mongal
Real Name:
Mongal
Played By:
Mayling Ng
First Appearance:
Showcase '95
The only otherworldly member of the squad seen so far, Mongal is the daughter of DC villain Mongul, born and raised on the planet Debstam IV. She's taken on Superman, and was later killed by her own brother. She has superhuman strength and resiliance, and a long history of fighting to the death. But will that be enough to keep her alive?
---
Ratcatcher (2)
Real Name:
Cleo Cazo
Played By:
Daniela Melchior
First Appearance:
The Suicide Squad
Last but not least, we have Ratcatcher. A new character to the DC canon, Cazo is the daughter of the original Ratcatcher, and like her father, controls rats using a device that puts them under her influence. Gunn has said that Cazo is the "heart of the film" and even describes her as being "completely out of her element" but goes ahead and tries to make friends with everyone around her. It should be interesting to see how she plays off everyone else, and how everyone else plays off her and her rats.
'The Suicide Squad' will be in theaters on August 6.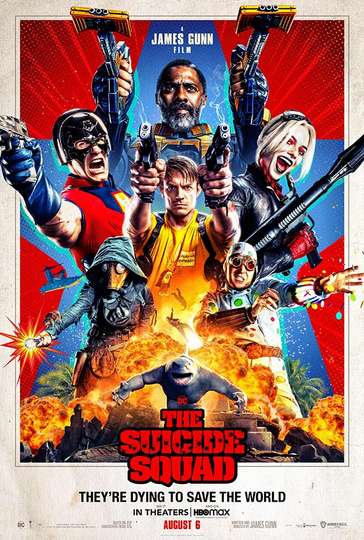 "They're dying to save the world."