The Full Trailer for Apple TV+ Movie 'Luck' Introduces a New World of Good and Bad Luck
The cast for this one includes Simon Pegg, Jane Fonda, Whoopi Goldberg, Flula Borg and Colin O'Donoghue.
John Lasseter was once the king of American animation – the genius storyteller and director who led Pixar to huge box office wins, Oscar success and massive popular acclaim with movies such as 'Toy Story' and 'Cars' and being anointed as the creative boss at both the Emeryville studio and Walt Disney Feature Animation.
He was ousted from his position, though, after revelations about toxic and misogynistic behavior. Yet that situation didn't seem to worry Skydance Animation, which hired him as its chief in 2019. And now he's one of the main producers behind new Apple TV+ 'toon movie 'Luck'.
The real driving force here, though, is director Peggy Holmes, who works from a script by Kiel Murray, Jonathan Aibel and Glenn Berger.
'Luck' is the story of Sam Greenfield (Eva Noblezada), who is convinced she's the unluckiest person on the planet. She's always late, things go wrong constantly around her and she never seems to catch a break.
Then she discovers a mysterious, mystical lucky penny, which turns everything around for her… until she flushes it down a toilet. That leads to her meeting a talking black cat named Bob (Simon Pegg) who in turn accidentally gives her access to the Land of Luck, where on top everything runs smoothly and goes right, but bad luck is banished to the bottom.
"The tiniest amount of bad luck can shut down our entire operation," cautions the CEO of Good Luck, a dragon who has the voice of Jane Fonda.
Humans are strictly not allowed, so Sam's presence of course causes all sorts of chaos. She's looking to bring some luck back to her world, but when she severs the connection between good and bad luck… bad things happen.
Now Sam and Bob must put things right, with the help of cheery leprechaun Gerry (Colin O'Donoghue), strict leprechaun leader The Captain (Whoopi Goldberg) and eccentric unicorn Jeff (Flula Borg), who has a thing for exercise routines.
The likes of Lil Rel Howery, Maurice Irvin and Adelynn Spoon (plus former Pixar good luck voice charm John Ratzenberger) also star here.
'Luck' itself has not always had the best, well, luck, as it lost the services of Emma Thompson back in 2019, who resigned from the cast in protest of Lasseter's hiring at Skydance, where the movie was in production. "It feels very odd to me that you and your company would consider hiring someone with Mr. Lasseter's pattern of misconduct given the present climate in which people with the kind of power that you have can reasonably be expected to step up to the plate," Thompson wrote in a letter published in the Los Angeles Times.
Apple will of course be hoping for some luck, though it doesn't have to worry about box office, since it'll be debuting via Apple TV+ on August 5th.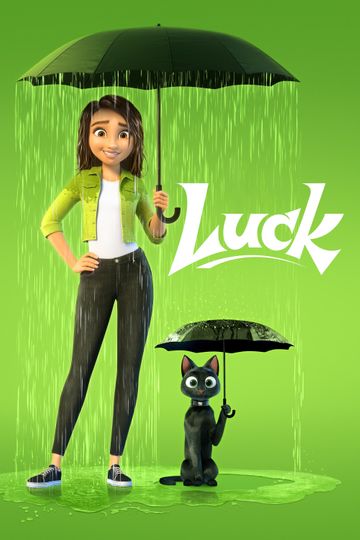 "Sometimes all you need is for everything to go wrong."