The 'Under the Volcano' Filmmakers Talk About Their Documentary on Sir George Martin's AIR Studios Montserrat
This week producer Cody Greenwood and director Gracie Otto talk about their documentary 'Under The Volcano,' about Sir George Martin's AIR studios on the Caribbean island of Montserrat, and recommend the work of fellow documentarian Jennifer Peedom.
Under the Volcano - directed & co-written by Gracie Otto, produced & co-written by Cody Greenwood
Hailing from Australia, producer and co-writer Cody Greenwood began her working in London before relocating to Los Angeles to join The Masses, a production company founded by the late Heath Ledger, where she produced music videos, short films, and developed series for clients as diverse as the Museum of Contemporary Art and MTV. In late 2016 she founded her own production company Rush Films, which has produced acclaimed features and shorts with many of Australia's most distinctive up-and-coming filmmaking voices.
Director and co-writer Gracie Otto was born into the business. Her father is Australian actor Barry Otto ('Strictly Ballroom', 'Oscar and Lucinda') and Miranda Otto ('Lord of the Rings') is her half-sister. After directing a handful of shorts, her first documentary,'The Last Impresario', about prolific British theatre impresario and film producer Michael White debuted at the BFI London Film Festival. She has since directed a dozen episodes of television and is in the early stages of pre-production on three more feature films.
Premiering at SXSW earlier this year, 'Under the Volcano' was a labor of love for producer Cody Greenwood, who grew up visiting the island of Montserrat. The documentary tells the story of Sir George Martin's recording studio AIR Montserrat, from its inception in 1979 until it was destroyed, first by a hurricane and later by the titular volcano.
Weaving together new interviews and archival footage, Greenwood along with director Otto explore an untold chapter in music history, tracing the importance of the idyllic island on the works of musical artists as diverse as The Police, the Rolling Stones, Paul McCartney, Elton John, Duran Duran, Earth Wind and Fire, and The Dire Straits. 'Under The Volcano' offers a peak at a creatively rich time we'll never see again. A true love-letter to a place and its people, it also acts as a stark reminder that nature remains wild and unpredictable.
'Under The Volcano' is available on VOD and On Demand now.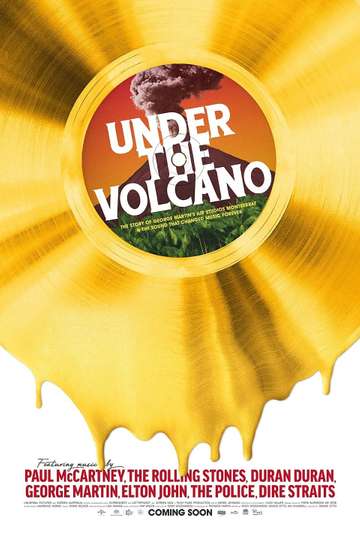 1 hr 36 min
Aug 17th, 2021
---
Cody Greenwood and Gracie Otto discussed their film with us.
Moviefone: How did you get involved in this project?
Cody Greenwood: The project came about because my mom actually lived in the Caribbean in the 1970s, before Sir George Martin opened his studio. I grew up going to the island throughout my childhood, and had a real soft spot for the island of Montserrat and the people. A few years ago I had an idea to make a film about it and then I brough Gracie on board.
MF: When you were brought on board, what excited you about the project?
Gracie Otto: I was so excited because, firstly we were putting together a mostly all-female team. I was also excited by the music from that decade, but also exploring a story that I didn't really know much about. There was also, pre-pandemic, the travel aspect of it.
MF: What was the research process like?
Greenwood: I was researching the project for about two years prior to when we started shooting. It was an intense process of talking to people who had footage, tracking down photographs. It's a ten-year period in music history and a lot of albums were made, so it was about understanding what went with the bands for each of those albums. When Gracie came on board, it was mostly about how we narrowed it down to the main stories we wanted to tell in the film: Paul McCartney, The Dire Straits, The Police, Elton John. We delved further into their stories, and at that point it was about talking to the bands themselves.
MF: Was there anyone you wanted to interview that you weren't able to?
Otto: We would have loved to have gotten Keith or Mick from The Rolling Stones, but we were able to interview Chris Kimsey, who was their producer down there at the time. It's always like the more people you interview, the more they say, "Oh, you should really interview that person. Have you talked to this person? We were lucky in the way that we structured because the main bands and storlines kind of went chronologically through the decade. I think we managed to get every band that we wanted to get in the big storylines. We did interview some people that didn't make the final cut, but they were really great for additional research.
MF: How much footage do you think you had before you went into the editing process?
Otto: Stacks. We probably interviewed like 35-40 people, and a lot of those interviews ran for about an hour. Then we went to Montserrat and shot around the volcano and the studio. Then we had all the archival footage that our archival producer Lisa Savage had been gathering at the same time. So we were editing and filming at the same time.
MF: What was the editing process like and how you crafted the pacing of the film?
Otto: We thought about the mini-story within each chapter. So Cody and I worked with our editor Karen Johnson working out where the band was at that particular time and place to explain to audiences that might not know those bands, and then what they wanted to get when they were down on the island and that experience, and then what they concluded with.
MF: I loved the story from Earth Wind and Fire that cut directly to the volcano.
Greenwood: While we were crafting out these bands' time on the island and trying to give context for whom these bands were, I think for every major artist that comes in, we thought about what elements we needed to communicate at this point of the film. With Earth Wind and Fire, we thought let's introduce the volcano, and we were just very lucky that he gave us that great soundbite.
MF: What was the archival research process like?
Greenwood: Lisa Savage is an incredible archival producer based out of Australia. At the same time, people that we interviewed would say, "Hey, I've got this footage." or "I've got this recording of Stevie Wonder singing at the bar." It was an organic process where the more people we spoke to, the more archival stuff we uncovered. But Lisa was at the helm and feeding the archive back to us. We got really fortunate with this film in that Sir Paul McCartney gave us his home video footage, and Stewart Copeland's home video footage. So even though some people aren't in the film themselves, they were involved in the archival process with us.
Otto: Even Cody's mom had some great photos of The Police out on the boat and all those kinds of candid moments. I guess because people went there to escape the press and all of that, it was difficult to find certain stuff down there. You'd hear stories, and you'd want to back it up with stories and videos, so we spent a long time going like, "Come on, you must remember who had a camera down there during Elton's time." and they'd be like, "Oh maybe there was that sound engineer who had a camera." It was a bit of a hunting process.
MF: Can you talk about how Sir George Martin's studio fit into the new MTV era of the 1980s music biz?
Greenwood: It's a really fascinating era in recording history. I think people who watch this film will quickly realize that the recording industry has changed so much since that point in time when there was excess money, private jets, and you could go to a tropical island and record a whole album. Now everything is done online. But it was such an interesting time in music history, and a time we're probably not going to see again. MTV really changed the way that video was integrated into music, and for a lot of the bands like The Police, that was what launched their careers. It was really a changing of the guard period. What we were trying to do was use the volcano for a bit of a metaphor for recording in that way. Essentially, when the volcano erupted, it was also the end of analogue recording; things were moving to digital.

MF: How did you find the people from Montserrat who were around at the time and get their stories?
Greenwood: Some of the people that we tracked down were actually old family friends of mine. So, Danny the windsurfer who taught Sting windsurfing was a close family friend. Gracie and I spent months tracking down the chef. We found him in Boston. It was the biggest coup when we eventually got him, because all these musicians spoke so highly of him. It was always, "oh he cooked the best food!" So that was a bit of a process, but when we were on Montserrat itself it was a lot easier. The island is tiny. So if we said we wanted to find Danny, people would say, "Go down the road and turn left, and you'll find him at his bar."
MF: At the end of the film, it says the studio is sort of in no man's land near the volcano.
Greenwood: Yeah, it's pretty inaccessible. The exclusion zone of the volcano actually shifts from time to time, depending on how active the volcano is. So for many years it sat in the exclusion zone, which is why it ended up becoming decrepit. Sometimes that line shifts back. It's not only in the exclusion zone, it's also a hazard. We were quite scared walking around there that we thought we were going to fall through the floorboards.
Otto: It was such a great experience to get to go there, because when we were down in the studio we could find the cement where some of the bands had put their handprints and signed things. Finding those remains was interesting, as part of that history that just sort of stays hidden there. It was quite incredible.
MF: Do you think this film will give people who didn't know Sir George Martin's work beyond The Beatles a better picture of him?
Otto: I definitely think so. I was never a Beatles superfan, but by the end of working on this film we watched a lot of Beatles docs and got really into it. One of the challenges with the edit was trying to work out how to start the film, how to introduce the island, how to introduce the studio, but also kind of give this brief history of George Martin both for people who don't know much about him, but also people who know a lot about him. Just showing a different side of all the work he did. It was a shame we didn't get to meet him, but we did get to interview his wife, Lady Judy Martin, and also his son Giles Martin, who has gone into the same industry and works with people like Elton now, but was a young kid at the time.
MF: What do you hope people take away from this film?
Greenwood: When we were making the film, and post-production was during COVID, we had such a wonderful time making it that for us, it's a celebration of the creative process. I think that had as much to do with what was going outside of making that film as it was the key message of the film. I hope that people come away from it and realize that we are better when we create together, even though it caused some of the bands to fall apart. Also, what can happen when you cut out distractions and work together can be really incredible creatively, because even though there were arguments, there was incredible music that came out of Montserrat.

MF: Can you recommend another film directed by a woman for the audience to seek out?
Greenwood: Oh gosh, so many. That's mostly what I watch. Gracie, what are you watching at the moment?
Otto: I was watching 'I Hate Suzy' [created by Lucy Prebble and Billie Piper], which is a TV show. Also, there's Australian documentary filmmakers like Jennifer Peedom, who has had a great career. She came on and helped us as script editor and came on when we were in the assembly stage and was quite a good mentor for Cody and I. She made an incredible documentary called 'Sherpa'.
Greenwood: Definitely check out Jen's documentaries. They are fantastic.
---
Sherpa, 2015 - directed by Jennifer Peedom
Also hailing from Australia, Jennifer Peedom has directed half a dozen nature documentaries including 2009's 'Solo' which she co-directed with David Michôd ('The King'), 2015's 'Sherpa', and 2017's 'Mountain.' Inspired by a rise in violent confrontations between Sherpas and Europeans during the 2013 climbing season of Mount Everest, 'Sherpa' debuted at the 2015 e Telluride Film Festival and later screened at the Toronto International Film Festival. It went on to be nominated for the Best Documentary award at the 2016 BAFTAs. Her most recent film 'River' will be released later this year. "Some Live to Climb. They Climb to Live."
1 hr 36 min
Sep 25th, 2015