Early 'Moana' Reviews Praise Disney's Newest Princess
Early reviews are beginning to trickle in for Disney's newest animated flick, "Moana," and the story of a young Polynesian princess on a quest to save her people has some critics comparing the film to other classics in the studio's celebrated canon.
Most reviews have pointed out that while many story beats of "Moana" feel familiar -- especially the self-empowerment message at the movie's heart, not to mention the obligatory presence of a wacky animal sidekick -- it continues the Mouse House's recent animation renaissance, boasting gorgeous visuals, soaring songs, and fully realized characters. Here's a breakdown of some of the most glowing reviews so far:
Variety: Critic Peter Debruge calls the film "a musical adventure that's a worthy addition alongside 'The Little Mermaid' and 'Aladdin,'" and notes that the titular character (voiced by newcomer Auli'i Cravalho) is "one of Disney's most remarkable heroines yet: Rather than waiting for her prince (or whomever) to come, Moana takes control of her own destiny." Debruge concludes, "As princess movies go, this one broadens the studio's horizons."
The Hollywood Reporter: "Moana" is "a delight," according to critic Michael Rechtshaffen, who writes, "Appealing equally to the eyes, ears, heart and funny bone, 'Moana' represents contemporary Disney at its finest — a vibrantly rendered adventure that combines state-of-the-art CG animation with traditional storytelling and colorful characters, all enlivened by a terrific voice cast." Rechtshaffen was especially impressed by the film's "infectious, soul-stirring songs by 'Hamilton' sensation Lin-Manuel Miranda along with score composer Mark Mancina and Samoan musician Opetaia Tavita Foa'i," adding that the music makes "Moana" "a tropical 'Frozen' with the potential for a similarly wide-reaching audience."
IndieWire: Critic Eric Kohn notes that Disney has taken great pains to avoid its previous missteps with cultural insensitivity, noting that "Moana"'s diverse creative team "yields a lively opus that feels at once old school and modern." The film does occasionally fall into some of Disney's well-worn story tropes, Kohn writes, but is ultimately "Visually dazzling and loaded with charm" and "an especially crisp realization of that formula, set in a rich world of bright colors, detailed expressions and buoyant songs, all of which revolve around the mission of fiercely individualistic young woman."
Entertainment Weekly: "Moana" is "a worthy successor to Disney's most beloved animated classics," writes critic Devan Coggan, who notes that the film also "pushes the genre into 2016, introducing a smart, diverse, and convincing heroine who struggles against lava monsters and self-doubt." While the flick "has a lot of the hallmarks of your classic Disney adventure — the goofy animal sidekicks, the feel-good messages," Coggan says "its heroine is something new, a smart and fiery deviation from your standard European lovestruck princesses."
"Moana" hits theaters on November 23.
[via: Variety, The Hollywood Reporter, IndieWire, Entertainment Weekly]
Photo credit: Disney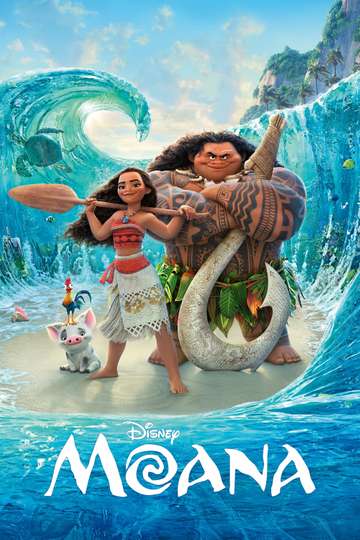 "The ocean is calling."
1 hr 47 min
Nov 14th, 2016
Showtimes & Tickets
In Ancient Polynesia, when a terrible curse incurred by Maui reaches an impetuous Chieftain's daughter's island, she answers the Ocean's call to seek out the demigod... Read the Plot