Movie Review: Guillermo del Toro's 'Nightmare Alley' is a deliciously creepy neo-noir thriller grounded by a powerhouse performance from Bradley Cooper
The master of macabre delivers another visually stunning yet disturbing movie with several superb performances and many unexpected twists and turns.
Opening in theaters on December 17th is the new neo-noir thriller from Academy Award-winning filmmaker Guillermo del Toro entitled 'Nightmare Alley,' which is based on the novel of the same name by William Lindsay Gresham. The film stars Oscar nominee Bradley Cooper ('A Star is Born') as a 1940s carnival con-man turned famous mentalist who meets his match in a psychiatrist played by Oscar winner Cate Blanchett ('Blue Jasmine').
In addition to Cooper and Blanchett, the movie also features an impressive cast that includes Academy Award nominees Rooney Mara ('The Girl with the Dragon Tattoo'), Toni Collette ('The Sixth Sense'), Willem Dafoe ('Platoon'), Richard Jenkins ('The Shape of Water'), and David Strathairn ('Good Night, and Good Luck), as well as Academy Award winner Mary Steenburgen ('Melvin and Howard'). The result is another absolute masterpiece from Guillermo del Toro, a visually stunning and extremely disturbing movie that actually gets better the more you think about it after viewing, which features Bradley Cooper in the best performance of his career thus far.
The film begins by introducing us to a mysterious drifter named Stan (Cooper), who gets a job at a carnival doing odd jobs in the early 1940s. One of his jobs includes working with Clem (Dafoe) running the "freak show." The "freak," as Clem explains, is a "fake," and is actually just a local drunk that they bribe with booze to eat live chickens in front of an audience. Eventually, Stan befriends Pete (Strathairn) and Zeena (Collette), who are "mentalists" at the carnival, but are actually just con-artists. Pete begins teaching Stan some of his tricks, but Stan wants to learn more and attempts to read Pete's book of secrets. Stan soon starts a relationship with Molly (Mara), who plays the "electric lady" in the show. When a local sheriff threatens to close down the carnival, Stan steps up and uses his new "powers" to convince the cops to let them go. Stan and Molly eventually marry and leave the carnival to start an act of their own.
The film then flashes forward several years, and we find the couple performing a successful "mentalist" act for wealthy socialites in the big city. Stan and Molly now have a very extravagant life, living in hotels and driving fancy cars, a long way from their carnival days. Molly is happy, but yearns for more attention from Stan, who is obsessed with his own fame and ambition. The trouble begins during one of their performances, when a psychiatrist named Dr. Lilith Ritter (Blanchett) challenges Stan and is skeptic of his abilities. Stan is able to "con" his way out of it but becomes captivated with Lilith and eventually becomes seduced by her to con wealthy businessman, Ezra Grindle (Jenkins). But when the con goes wrong, it will threaten not only Stan's relationship with Molly and everything he's achieved, but it will also threaten his life.
With 'Nightmare Alley,' director Guillermo del Toro is able to infuse the film with all the strange elements of the macabre he loves including societal outcasts and the supernatural, which creates a tone and a mood that is completely del Toro's own. While based on the original novel, technically it is a remake, since the source material was first adapted into the 1947 movie starring Tyrone Power. However, del Toro has made a film that stands completely on its own, and in many ways is his most very personal movie.
I have to admit, I wasn't really sure how much I enjoyed the movie while I was actually watching it, but I have not been able to stop thinking about it since I saw it, and the movie just gets better the more I relive it in my head. Del Toro has a vision that is truly unique to him, and the Oscar winning filmmaker masterfully builds the suspense and mystery throughout the film. While I did guess the twist ending before it happened, I believe del Toro spread clues throughout the movie like breadcrumbs, so the audience could play along and "solve the mystery" before the conclusion was actually revealed. This gives the entire story a "predetermined nature," in a sense saying that there was nothing Stan could do, he was always destined for this outcome, something that the character shockingly says out loud in the movie's final moments.
Del Toro filled the film with some of the best character actors working today including Richard Jenkins, Tim Blake Nelson, Clifton Collins Jr., Mary Steenburgen and, del Toro's constant collaborator, Ron Perlman. Willem Dafoe feels right at home playing the untrustworthy Clem, who is really our introduction to the carnival world. But it's Toni Collette and David Strathairn as Stan's mentalist mentors Zeena and Pete Krumbein, respectively, who really stand out. Collette gives a warm yet vulnerable performance, while you sympathize with Strathairn's down-on-his-luck character. Rooney Mara is also wonderful as Molly, the best thing that ever happened to Stan, unfortunately he doesn't know it. Mara plays her character with a sweetness and a naïveté that is in stark contrast to Stan's unbridled ambition.
Coming off of very strong performances this year in both 'The French Dispatch' and 'Don't Look Up,' Cate Blanchett gives another marvelous turn that could earn her an Oscar nomination. As Dr. Lilith Ritter, Blanchett is cold and calculating, and every bit of a match for Stan. Blanchett's role embodies the idea of a Femme Fatale, and the actress is excellent at conveying her character's motivations in the subtlest of ways. The actress is absolutely electrifying in the role and has great chemistry with Cooper. But it's Bradley Cooper's magnetic, powerhouse performances that really makes 'Nightmare Alley' worth seeing. Cooper puts on a masterclass of acting and absolutely loses himself in the role.
I absolutely loved 'A Star is Born' and thought Cooper deserved an Oscar for that role, but this is easily the best work of his career. While we all know that it has been predetermined that this is "Will Smith's year," and that he will definitely win an Oscar for 'King Richard,' I wouldn't be cleaning off the mantelpiece just yet if I was the former-Fresh Prince as Cooper could definitely give Smith a run for his money this coming award season. Cooper's performance is multi-layered, as playing Stan requires him to really portray three different types of characters at once, including a mysterious but ambitious young man, a successful socialite, and a washed up drunk. The actor excels at portraying all three aspects of the character and delivers a believable, well-rounded performance.
In the end, 'Nightmare Alley' may be based on previous source material but feels completely like it originated in the head of Guillermo del Toro. The material is synonymous with the filmmaker's sensibilities and is a haunting piece of neo-noir cinema, grounded by an outstanding performance from Bradley Cooper.

'Nightmare Alley' receives 4 out of 5 stars.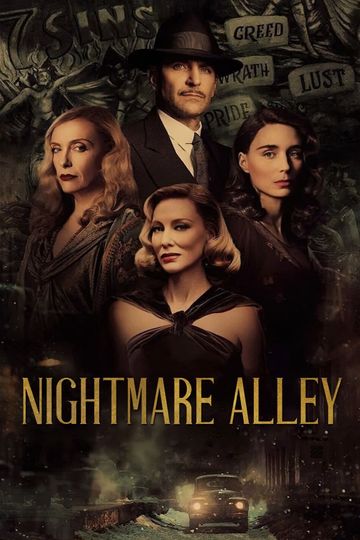 "Man or beast."
2 hr 30 min
Dec 17th, 2021