'Samaritan' Delivers a Surprisingly Compelling Original Superhero Movie
Anchored by Sylvester Stallone's strong yet vulnerable performance, director Julius Avery crafts a realistic and relatable modern-day superhero film.
'Overlord' director Julius Avery's new original superhero movie 'Samaritan,' will premiere on Prime Video beginning August 26th.
The movie stars Oscar-nominee Sylvester Stallone ('Creed') as Joe Smith, a local garbage man that keeps to himself. One of his neighbors is a young boy named Sam (Javon Walton), who lives alone with his single mother, Tiffany (Dascha Polanco).
Sam looks up to a superhero named Samaritan, who went missing decades ago after an epic battle with his archrival, Nemesis. Sam soon comes to believe that Joe is really the Samaritan.
When a gangster named Cyrus (Pilou Asbaek) starts threatening Sam, his mother, and the entire city, Sam turns to Joe for help. But is he really the Samaritan? And if so, can he take down Cyrus before it's too late?
The result is a shockingly strong and compelling original superhero movie that is set in a relatable and realistic universe and explores the complexity of what it means to be a hero.
Since the beginning of this century, superhero movies have ruled the box office going all the way back to 'X-Men' and Sam Raimi's 'Spider-Man,' and certainly since the birth of the Marvel Cinematic Universe and the DC Extended Universe. We've even seen movies based on comics from smaller publishing companies, like 'Hellboy' or 'Wanted.'
But creating a good original superhero movie is a much taller order. Movies like 'Hancock' and 'Sky High' have tried with different degrees of success, and even recently we've seen Paramount+ attempt it with 'Secret Headquarters.' The difficulty comes down to world-building, which is hard to do with only two hours to tell a story. That's why having decades of stories and characters to pull from can really help.
With 'Samaritan,' which is based on a screenplay by Bragi F. Schut, who did have his work published as a graphic novel after the screenplay was already sold, director Julius Avery accomplishes the near impossible by introducing us to a brand new, fully formed world with recognizable three-dimensional characters.
Superstar and legendary actor Sylvester Stallone gives one of his best, late-in-career performances as Joe/Samaritan. The actor perfectly portrays the haunted and ageing superhero who is contemplating his own life and actions. It's a quitter performance than we are used to from the actor, and on par with his Oscar-nominated work in 'Creed.'
It's also worth mentioning that this is not Stallone's first time playing a superhero on screen. Long before he appeared as Starhawk in 'Guardians of the Galaxy Vol. 2' or voiced King Shark in 'The Suicide Squad' (which was technically a supervillain), the actor played the title character in the first big screen adaptation of 'Judge Dredd.' A case could also be made that many of Stallone's characters have taken on a superhero persona like 'Rocky,' 'Rambo,' or even his role in 'Demolition Man.'
But while he is the title character and obviously the star of 'Samaritan,' in some ways Joe is a supporting character and Stallone's performance never overshadows the other actors and their performances. Stallone also has great chemistry with Javon Walton, and you can really feel the deepness of their connection as both friends and surrogate father and son.
In his first big screen live-action film, Walton is terrific and really holds his own with Stallone. The young actor is quite compelling as Sam, and you root for him as much as you are rooting for Joe. He also has some tender scenes with Dascha Polanco, who's character of a single mom caring for her son is again relatable to a general audience.
Actor Pilou Asbaek in some ways gives the breakout performance of the film as the villain, Cyrus. He is absolutely magnetic on screen and truly has a worthy fight scene with Stallone towards the end. But what makes his character so menacing is how convinced he is that he is really the hero of the story, and in some ways, he is. Asbaek crafts a completely believable villain, who almost convinces you he's right, and is absolutely terrifying in his scenes with Walton.
There are a few twists and turns in the story that I certainly won't give away, but they were surprising and really worked. Many times, with superhero movies, original or from Marvel or DC, you really can anticipate what is going to happen next. Sometimes it doesn't matter, and the movie is still fun to watch, but I give a lot of credit to the filmmakers for taking a big swing with this project and for the most part hitting it out of the park.
That being said the film is not without its faults. The story does seem somewhat familiar, even with its surprising moments, and it's not like we don't know that the hero will rise in the end. The movie also drags a bit in the middle, but quickly course corrects and delivers a very exciting third act.
It's also safe to say that the film had a small budget, at least compared to the projects Marvel Studios release, both in theaters and on TV. If that's the case, I am very impressed with the production value as it looks like a big theatrical film, with spacious sets  and strong use of visual effects.
In the end, 'Samaritan' may not be a perfect movie, but it is a surprisingly good one that superhero fans, and Stallone fans in general will really enjoy.
'Samaritan' receives 4 out of 5 stars.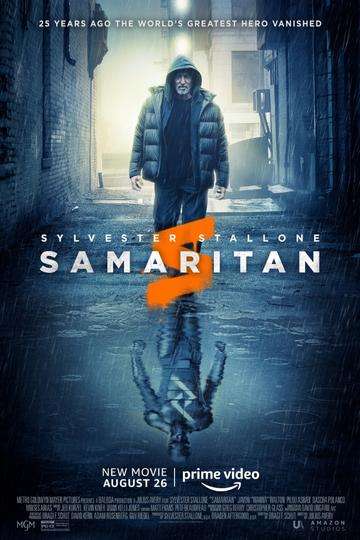 "25 years ago the world's greatest hero vanished."
1 hr 42 min
Aug 26th, 2022