'The Unbearable Weight of Massive Talent' Showcases Nicolas Cage at his Wildest, Wackiest, and Most Self-Referential
Director Tom Gormican delivers a crazy comedy drama that celebrates one of the most eccentric actors.
Nicolas Cage is one of those actors who has built a mythology around himself – or in some cases, had one thrust upon them. His career is marked by huge highs: he won an Oscar for 'Leaving Las Vegas' and has received acclaim for many of his dramatic and comedic performances. He also managed to carve out time as an action star in the likes of 'Con Air' and 'The Rock'.
More recently, though, his performances have dived into straight-to-home-entertainment territory, with madcap action movies sharing shelf space with more nuanced indies. He's still putting in solid performances (last year's 'Pig' was a quiet triumph that put him into awards consideration once more), but he's not quite scoring the higher profile parts he once did.
Which means that this latest job is a chance to show he's in on the joke.
Co-written by director Tom Gormican and Kevin Etten, 'The Unbearable Weight of Massive Talent' channels all shades of Cage in what amounts to a light satire of the man, his movies, and his quirks. This is, after all, an actor who once blew $150 million on a dinosaur skull, pygmy heads and two European castles. Who has named his children Weston (neutral, probably unlikely to cause trouble at recess and Kal-El (AKA Superman's Kryptonian name, because Cage is a Super-fan who almost played the character for Tim Burton and got to voice him in 'Teen Titans Go! To the Movies').
'Massive Talent' features Cage playing 'Nick Cage', a meta-referential (and self-parodying) version of himself. This Cage is creatively unfulfilled, facing financial ruin and worried about his degrading relationship with his daughter, Cage decides to announce his retirement. But not before accepting a $1 million offer to attend the birthday of a seeming superfan called Javi Gutierrez (Pedro Pascal). Javi's a giggly, enthusiastic Cage worshipper, who claims 'Face/Off' as his favorite movie and is ready to show the actor the time of his life.
That includes some random improv, speeding around in a jeep and diving from a dangerous cliff near Javi's palatial Mallorca compound. And he also has an extensive collection of memorabilia from Cage's movies, which initially throws off the actor, but he soon embraces it.
There's just one teeny tiny catch: Javi is also apparently a wanted arms dealer with blood on his hands. Cage is recruited by a pair of CIA operatives (Tiffany Haddish and Ike Barinholtz) and forced to spy on his new best buddy, with the hope that he'll track down the kidnapped girl sequestered within the compound, the focus of the crime lord's attempt to influence an election.
Though he initially embraces the idea of "spy stuff", Cage soon realizes he's in over his head, and his life could well be forfeit if he can't pull it off. And that's before he learns the true temperature of the hot water he's landed in.
Gormican keeps the tone fun, varying between laidback bonding sessions between Cage and Javi, and frantic action moments. He also loads the film with Cage references – a key plot point, for example, revolves around a gruesome, expensive waxwork of 'Face/Off's Castor Troy boasting two (working) golden guns, while dialogue drops and riffs factor in everything from his classics to his clunkers.
Pascal brings a nervy, boyish energy to Javi, who can't contain how excited he is to meet his idol (and pitch his script to him, of course). Elsewhere, there's Sharon Horgan as Cage's ex-wife Olivia, who wants him to step up and be a better dad to their daughter Addy (Lily Sheen, who knows a thing or two about being the daughter of actors, given that her real-life progenitors are Michael Sheen and Kate Beckinsale). Horgan finds nuance within Olivia, elevating her from the usual frustrated ex trope. While they're initially sidelined, mother and daughter do re-enter the story as it moves along, upping the stakes for our hero.
Haddish and Barinholtz have less to do, but make their scenes work, the former in particular bouncing well off of Cage and stepping up when the moment calls for it. Neil Patrick Harris, meanwhile, puts in a solid performance as Cage's agent, the superbly named Richard Fink.
And then, there's Nicky. A de-aged, 'Wild at Heart'-era Cage (also played by the actor), Nicky serves as a Greek chorus, urging Nick to rekindle and embrace his superstar status and to lean into his more manic impulses. Nicky is an inspired addition, and well-brought to life by Cage, contrasting his more mellow, if frustrated, older persona. The back and forth between the two is used judiciously so Nicky never wears out his welcome. His enthusiastic shout of their shared name is one for the ages and a meme waiting to happen.
On the downside, several of the gags are expected and a little cheap and the movie does tend to run out of steam before the finale – a few trims here and there could have tightened it up to flow a little more smoothly as it barrels towards the finish. Some of the story turns come across as fairly predictable too, meaning the entertainment factor is slightly reduced. With such a comedically talented cast, not all of the laughs land, either.
That said, 'The Unbearable Weight of Massive Talent' is largely light on its feet and very funny. It also doesn't alienate those without an encyclopedic knowledge of Cage's canon. The movie still works as the study of an actor finding himself again at a low point and an action comedy that delivers (if more on the comedy than the action front for the most part).
It's a Cage match-up that super-fans will love and in which everyone else will find something to enjoy.
'The Unbearable Weight of Massive Talent' receives 3.5 out of 5 stars.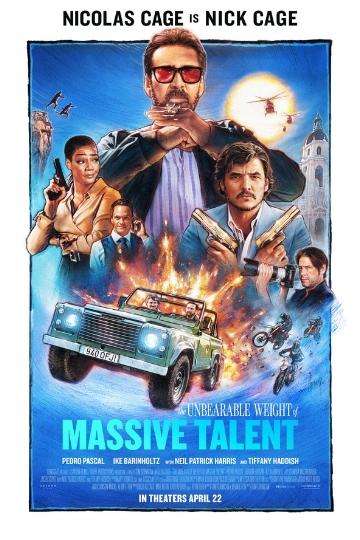 "Nicolas Cage is Nick Cage."
1 hr 47 min
Apr 22nd, 2022