Nathalie Emmanuel Talks High Tech vs. Fast Cars, 'Game of Thrones' Season 7
Whether she's part of an ever-growing army that includes fire-breathing dragons or a tight-knit team of street-racing ex-criminals, Nathalie Emmanuel is right at the epicenter of pop culture.
After turning heads with her breakout role in HBO's fervently followed fantasy series "Game of Thrones" as Missandei, the multilingual right-hand woman to the increasingly powerful Daenerys Targaryen, the British-born actress joined the globally adored "Fast and the Furious" franchise as the tech-savvy Ramsey with its seventh installment, returning as a full-fledged member of Dominic Toretto's crew in this year's blockbuster "The Fate of the Furious."
In anticipation of "Fate of the Furious's" July 11 Blu-ray debut, and the July 16th premiere of "Game of Thrones" Season 7, Emmanuel joined Moviefone to reflect on her place in two of the most popular entertainment franchises in the respective histories of film and television.
Moviefone: Having stepped into the "Fast" family in the seventh film, what was it like coming into "Fate of the Furious" as an established part of the group?
Nathalie Emmanuel: It was a lot of fun. It was like that feeling of going back to school after summer holidays and seeing all your friends, and just feeling excited to be back with them, and excited to be another adventure together. It was really cool. I really enjoyed going back and seeing everyone again. I'd seen them throughout the year, but like working together and getting to hang out all the time was fun.
You already knew what it was like to be part of something that was having phenomenal international success with "Game of Thrones," but how did being part of this franchise change things up for you? Did it open up an even bigger world?
Yeah, for sure. I guess I'm visible to people that might not have known me before. "Game of Thrones" has a huge following, but I think, for a long time at least, there was a very, sort of, specific audience. So having joined the car movies / action film genre with, like, these epic names, I think it just made me a lot more visible to people that might not have seen "Game of Thrones" or had a big interest in that kind of genre.
I definitely felt a shift when I joined that cast. Instantly, as soon as I was announced as joining the cast, the fans were just so supportive and were instantly like, "Yay, we're excited!" I just felt their presence immediately.
This franchise was one of the earlier action films to put the female characters right at the center of the action and have them be just as capable and tough as the male characters. What did it mean to you to be able to take on a role in the "Fast" films where, even though you're not necessarily behind the wheel, you're just as tough and capable as anybody else on the team?
Absolutely! The reason why I loved Ramsey was the fact that she wasn't a car girl, she wasn't a racer. She came with a very specific skill set that she was very good at. It got her into trouble, but she certainly can do some amazing things. She totally has earned her place and has proved her value to the team without having to drive a car. I love that. She's a very strong, intelligent woman who has her own agency, and certainly her own independence as well.
In your own life, are you more of a tech person, or a car person? In which area are you more proficient?
I'm probably more proficient with technology, just because I guess I use it more. I don't actually drive. I use technology more -- it doesn't mean I'm good at it!
You've had these two great platforms as an actress. What are you looking for next? Are you still of a blockbuster mind? Or do you want to do something smaller and more intimate? What's on your acting bucket list?
I've mostly been reading independent film scripts, to be honest. Definitely looking for some smaller, more intimate films. At the end of the day, any project, it has to be right. I have to feel really passionate about it. If another big action film came along, or big blockbuster film came along, and I was excited about playing the part, and I was passionate about it, then I wouldn't necessarily say no. But I'm definitely more focused at the moment on doing some more intimate stories and storytelling.
Now that you're closer to the end of "Game of Thrones" than the beginning, how do you feel about the whole phenomenon and your part in it?
I don't want to think about it, because I'm in denial about the fact that it's ending! No, obviously, it's been life-changing for me. It put me in a position that I could never have dreamed of. I was a huge fan of the show since before I've been a part of it. Such a blessing.
When I got that job, I was very out of work -- yeah, I was very much out of work! -- so it came at the perfect time. I was ready to go back to school and choose ... just do something productive, because I wasn't necessarily given the opportunity to act at that time. So it came at the perfect time, and it really gave me a platform to get back into auditioning, and people were then wanting to see me because the show had such great credibility.
For me, it's just meant working with such incredible people who are so excellent at what they do: actors, special effects, stunts, the producers, the writers -- everyone. Just witnessing such exquisite work, for me, has been amazing. What it means to the world at large, I think it's different for everybody. We've just been so invested in these characters and in this amazing story that George [R.R. Martin] has wrote. It would be sad to see it go. I think people will miss it. I think people will miss it -- because I will miss it! As a fan and as an actress.
I'll miss it as well, but I'm glad we still got plenty more to come. I don't know what you can and can't say about the new season, but can you offer us a little tease? She was in such an interesting place at the end of the season, right there at Daenerys's side, ready to go to that next level. Are you able to give a little sense of where we see her go?
I'd be very cautious in what I said, but obviously, I think it's been very clear that it's all sort of coming to a head now. The stories are all sort of colliding, and everyone's sort of coming together in ways that we have not seen before, and the stakes are much higher.
Everything that we've been working up to for the last six seasons. In terms of Missandei, like her role as advisor to Daenerys just keeps growing. She has her own things to deal with this season, too. And the reality of this impending war that's coming is very, very real for her for many reasons. So yeah, we get to sort of see that unfold too, which is cool.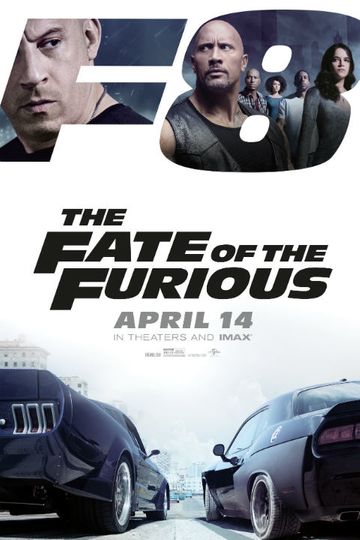 "Family no more."
2 hr 16 min
Apr 14th, 2017
When a mysterious woman seduces Dom into the world of crime and a betrayal of those closest to him, the crew face trials that will test them as never before. Read the Plot