'Till' – New Images from the Tragic True-Life Tale
A mother fights for justice and change when her son is lynched while on vacation, and new images show the cast and crew at work.
The tragic real-life murder of Emmett Till in 1955 is one that still resonates today. And United Artists' 'Till' chronicles the story of his mother's fight for justice.
'Till' stars Danielle Deadwyler as Mamie Till-Mobley, who was the mother in question.
You can find the trailer above, which features emotional narration from Deadwyler's Till-Mobley, and new images both from the film and behind the scenes are now available below.
14-year-old Till (played in the film by Jalyn Hall) travelled from Chicago to Mississippi to spend time with his cousins. Till was abducted and killed in 1955 after a white woman, Carolyn Bryant Donham, falsely accused him of whistling at her, grabbing her, and making lewd remarks toward her in a store.
Two white men, J.W. Milam and Roy Bryant, later kidnapped, tortured, and murdered Till. They were acquitted that year by an all-white, all-male jury, but later confessed to killing Till in an interview with Look magazine. And Donham later admitted that she fabricated the encounter with Till.
Till-Mobley's insistence on an open casket funeral for her battered teenage son at the hands of a white mob became a galvanizing moment that helped lead to the creation of the civil rights movement. The likes of Dr. Martin Luther King Jr. and Rosa Parks both cited Till's death as fueling their own activism.
The film is based on the extensive research of award-winning documentarian Keith Beauchamp and his relationship with Mamie Till-Mobley and Emmett Till's cousin, Simeon Wright. Latter was an eyewitness to the kidnapping of Till and served as a consultant to the project before his death in 2017.
Director Chinonye Chukwu wrote the script with Beauchamp and Michael Reilly and started shooting the film last September in Atlanta. The cast for this one also includes Frankie Faison, Haley Bennett, Whoopi Goldberg, Jayme Lawson, Tosin Cole, Kevin Carroll, Sean Patrick Thomas, John Douglas Thompson and Roger Guenveur Smith.
"I am deeply honored to be telling this story and working with such an incredible producing team," Chukwu said in a statement when the movie was first announced. "Amidst the pain and brutality that is inherent to Mamie and Emmett's story, I intend to delve deeply into their humanities, the love and joy they shared, and the activist consciousness that grows within Mamie as she seeks justice for her son."
"Today the return of open racism reminds us that the real danger is in not telling Emmett Till's story," Whoopi Goldberg, who also produces the film alongside 'Bond' veteran Barbara Broccoli, adds. "Chinonye Chukwu taking the helm as our director is an opportunity for us to step forward artfully and without fear to tell the truth. We could not be in better hands."
The movie will premiere at this year's New York Film Festival, with screenings planned for high school students in the city and across America with post-film conversations as part of an educational initiative.
'Till' will be in select theaters on October 14th, before going wide from October 28th.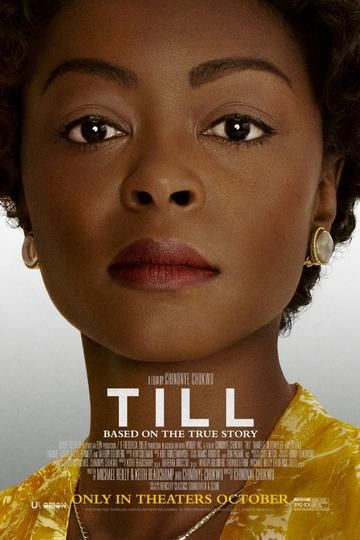 "Witness the power of a mother's love."
2 hr 10 min
Oct 28th, 2022
Showtimes & Tickets
The true story of Mamie Till Mobley's relentless pursuit of justice for her 14 year old son, Emmett Till, who, in 1955, was lynched while visiting his cousins... Read the Plot