New 'Star Wars: Episode VII' Teaser Has Ominous 'Awakening'
A new 30-second teaser for "Star Wars: Episode VII - The Force Awakens" was just dropped -- by Star Wars Korea. Does it have a ton of fresh footage? No. But it reminds us "There has been an awakening" and opens with a frightening shot of The First Order:

If you've seen the previous "Force Awakens" trailers, you've seen most of those images. However, as Entertainment Weekly noted, the shot with the stormtroopers before a stage is from a new angle:
Here we see it from the staging platform, and Gwendoline Christie's chrome stormtrooper, Captain Phasma, is one of the leaders overlooking the assembly. Beside her appears to be Domhnall Gleason's General Hux, although it's difficult to tell from this angle. He could also be the one at center stage, although it seems more likely that this might be Andy Serkis in his performance-capture role of Supreme Leader Snoke."
So at least we still have room for speculation, which is always fun. EW also made a clear connection from the arresting image of The First Order to images of the Nazis' The Third Reich.
"The Force Awakens" is set about 30 years after "Return of the Jedi" (Episode VI, but the third of the original movies) and features new lead characters alongside returning favorites like Luke Skywalker (Mark Hamill), Princess Leia (Carrie Fisher), and Han Solo (Harrison Ford). Here's everything we know about the movie so far.
"Star Wars: The Force Awakens" opens December 18.
Want more stuff like this? Like us on Facebook.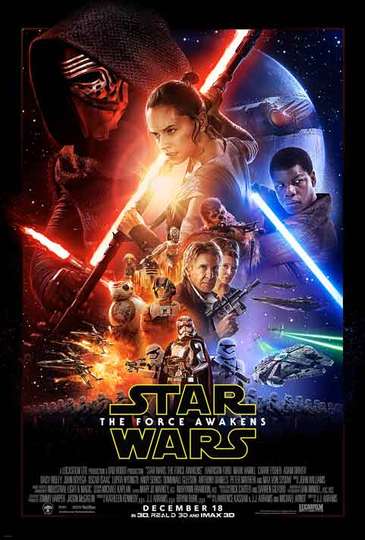 "Every generation has a story."
2 hr 16 min
Dec 14th, 2015
Showtimes & Tickets
Thirty years after defeating the Galactic Empire, Han Solo and his allies face a new threat from the evil Kylo Ren and his army of Stormtroopers. Read the Plot