Here's the Official Plot Synopsis for 'X-Men: Apocalypse'
Big "X-Men" news broke out at New York Comic Con today, where the official plot synopsis for "X-Men: Apocalypse" was finally revealed.
In an unsurprising reveal for fans who have been following rumors about the flick, Jennifer Lawrence's Mystique/Raven is playing a key central role -- which should make a nice swan song for her character should Lawrence make good on her pronouncement that she's leaving the series after "Apocalypse" bows. (Then again, she may change her mind.)
Here's the synopsis:
Since the dawn of civilization, he was worshipped as a god. Apocalypse, the first and most powerful mutant from Marvel's X-Men universe, amassed the powers of many other mutants, becoming immortal and invincible.

Upon awakening after thousands of years, he is disillusioned with the world as he finds it and recruits a team of powerful mutants, including a disheartened Magneto (Michael Fassbender), to cleanse mankind and create a new world order, over which he will reign. As the fate of the Earth hangs in the balance, Raven (Jennifer Lawrence) with the help of Professor X (James McAvoy) must lead a team of young X-Men to stop their greatest nemesis and save mankind from complete destruction.
Screen Crush notes that Lawrence seems to be taking over the Face of the Franchise role from Hugh Jackman, who won't appear in "Apocalypse." Wonder who's going to get the gig once Lawrence is done?
"X-Men: Apocalypse" is due in theaters on May 27, 2016.
[via: Screen Crush]
Photo credit: Alan Markfield/Twentieth Century Fox Film Corp.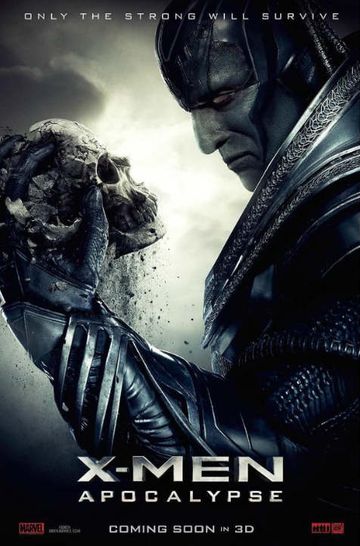 "Only the strong will survive."
2 hr 24 min
May 27th, 2016
After the re-emergence of the world's first mutant, world-destroyer Apocalypse, the X-Men must unite to defeat his extinction level plan. Read the Plot