'Orphan: First Kill' Trailer: Initial Look at the Horror Prequel
The new chiller tracks the killer past of Isabelle Fuhrman's character before the 2009 original, with Julia Stiles and Rossif Sutherland also in the cast.
If you've been craving more horror in your summer, then the 'Orphan: First Kill' trailer is here to deliver.
2009's 'Orphan' famously revealed that its titular character was – spoiler alert for anyone who hasn't seen it – not actually an orphaned girl, but a murderous, height-challenged woman who posed as a nine-year-old and was adopted by a family grieving the death of their daughter.
In that film, directed by Jaume Collet-Serra, Isabelle Fuhrman played Russian girl "Esther", who ends up causing violent, murderous problems for adoptive parents played Vera Farmiga, Peter Sarsgaard, at least until they discover the truth.
Esther (AKA Leena Klammer) suffers from Hypopituitarism, a condition where a lack of hormone generation leads to dwarfism, which in her case allowed the 33-year-old woman to pose as a child.
'Orphan: First Kill' is the prequel to that movie. Fuhrmann returns as "Esther" (though we know from the start that she's actually Klammer), for a story that takes place before the events of that movie.
Originally titled 'Esther', the movie has William Brent Bell ('The Boy', 'The Devil Inside') in the director's chair, while David Coggeshall wrote the script based on story concepts from David Leslie Johnson-McGoldrick and Alex Mace, who worked on the original 'Orphan'.
Here's your synopsis: After orchestrating a brilliant escape from an Estonian psychiatric facility, Esther travels to America by impersonating the missing daughter – who at this point has been gone for four years – of a wealthy family. Yet, an unexpected twist arises that pits her against a mother who will protect her family from the murderous "child" at any cost.
Julia Stiles plays the proactive mother of the family Tricia Albright, with Rossif Sutherland as her husband Allen, who is initially convinced that his wife is suffering from paranoia and hallucinating, and Leena sees this as an opportunity to drive a wedge between them.
Matthew Finlan, Hiro Kanagawa, Jade Michael, Samantha Walkes, Kristen Sawatzky, Andrea del Campo and Kennedy Irwin are also all in the cast.
With Fuhrmann returning, the filmmaking team had to rely on even more clever techniques to make her into a convincing child, including make-up and forced perspective (sizing tricks utilized by movies such as the 'Lord of the Rings' trilogy and 'Elf' to make actors appear different sizes.
The trailer promises plenty of creepiness, including "Esther" plotting something with rats (that can't end well), unusually skilled artwork for a youngster, warped music and chaos when the truth is discovered. And while the prequel story means that Leena survives to kill again, don't expect everyone to survive this initial encounter…
There was also some CG deployed alongside child doubles (including Irwin, who also plays Lena at a younger age.
'Orphan: First Kill' will be making its way into theaters, digital and streaming via Paramount+ on August 19th.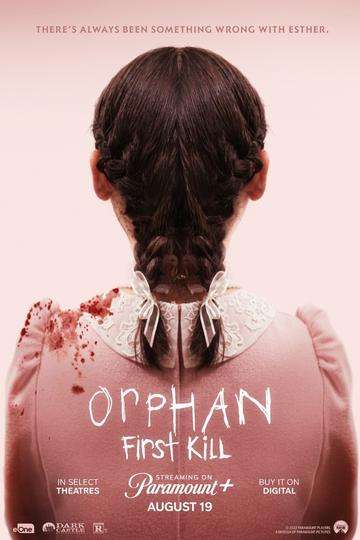 "There's always been something wrong with Esther."
1 hr 39 min
Aug 19th, 2022