Renée Zellweger Reveals Her All-Time Favorite 'Bridget Jones' Moment
Renée Zellweger is back as Bridget Jones in "Bridget Jones's Baby," and this time she's juggling baby daddies, rapping to "Jump Around," and having a grand time in one of the funniest movies of the year.
The actress chatted with Moviefone by phone from London about revisiting the role, reuniting with Colin Firth, and whether or not you'll ever see her on "Lip Sync Battle."
Moviefone: How did you feel about revisiting Bridget Jones again?
Renée Zellweger: This is fun. This is a lot of fun. From the moment that I got the script, I loved being back in her world with her parents and her friends. It just reminded me how much affection I have for these characters. And that I love Bridget Jones.
Why do you think people love Bridget so much?
Her humanity, her vulnerability. I love that she triumphs despite her imperfections. She makes being human okay for everybody else, I think.
How is a woman supposed to choose between a handsome millionaire [Patrick Dempsey] and Mr. Darcy?
[Laughs] I don't know! The fun part of playing Bridget Jones is I didn't have to.
What was it like reuniting with Colin Firth?
A lot of fun. Really easy, fun, comfortable rapport. Even the most awkward things are comfortable because we've been through awkward together so many times.
Did you have any funny mishaps on set?
Oh boy. The scenes are written as funny mishaps! They had to carry me around with that enormous prosthetic baby bump for days. Listening to them groan about having to keep going and do it again and again. They're hilarious. They are so funny, those guys. It's very hard to keep a straight face on that bridge.
How did Emma Thompson [who plays Bridget's doctor] come on as a writer and co-star?
I don't know. I know we had conversations about female writers. I just know she's brilliant. She is electric in a room. You never know what she's going to do. It's a pretty great day playing opposite her.
Were you sad that Hugh Grant wasn't part of this?
Oh, for selfish reasons, sure. He's my friend and I always have fun when he's around.
Do you think there'll be another Bridget Jones film or is this it?
I don't know. That's probably a Helen Fielding question.
But you would be up for it?
I think so. Given the fun experience that we just had, I don't see why not. I think watching her improvise her way through motherhood could be pretty entertaining.
I love the opening scene. Did you already know all the words to House of Pain's "Jump Around"?
I have to say that no, I didn't. I think I knew about as much of that song as anybody else in America. I think it's the chorus that you walk away with. The lyrics are pretty exceptional when you get down to it. I got those after work one night. The schedule got switched around a bit and we decided on that song that night for the next morning. So that was an interesting night in my living room.
So maybe we might see you on "Lip Sync Battle" now?
Ha ha! I don't know. I don't know if anybody could top Anne Hathaway on that one. She takes the all-time trophy in my book. [Anne lip synced Miley Cyrus's "Wrecking Ball," complete with wrecking ball!] I was so impressed. She brought it.
So would be better at "Lip Sync Battle": Patrick Dempsey or Colin Firth?
Oh, that's a good one. [Laughs]. I'm sorry, I just had a great laugh at Colin's expense, because I can just imagine his horror at having been invited to participate in that. I would love to know his answer. I'm going to ask him tomorrow.
Bridget always seems to be falling down and landing in puddles of mud. Is that fun? Or tough?
It's my favorite kind of comedy. I enjoy it. I love physical comedy. I think it's just an extension of human awkwardness and I love it.
What's your favorite part of the Bridget Jones series when you look back over all three films? Do you have a favorite moment?
Oh boy, that's hard. I like watching the guys fight. [In "Bridget Jones's Diary"] they fight like, I guess men really would fight. There's not a lot of Steve McQueen or John Wayne in the mix. Mostly slaps and scratches and biting. And running away!
I was hoping for another girly-man throwdown in this movie, but everyone was so polite!
Yes, it's a different kind of more sophisticated rivalry.
When fans come up to you, do they usually mention one particular film from the Bridget Jones films?
Mostly, they tell me their Bridget Jones stories. They come in and say, "Oh, you have no idea. I am Bridget Jones. I always say the wrong thing. I always fall on my face. I always mess things up." It's nice. It always makes me smile.
What was your favorite part of making this movie?
The reunion. Definitely the reunion. Coming back to London, seeing all my friends that have been involved in the project for a long time and then new friend Patrick Dempsey, who's fantastic. Lovely person.
Have you considered doing sequels to any of your other films like "Nurse Betty"?
[Laughs] No, I never did think about that. What fun! Did she win her Daytime Emmy? Maybe.
Or maybe Dorothy from "Jerry Maguire"?
Interesting. I know that her son is 25! Isn't that crazy?
Do you still stay in touch with Jonathan Lipnicki?
I have not spoken to Jonathan Lipnicki in a very long time. I know that he did karate for a while and I know that he plays in a band and that I know he's a very handsome young man.
What about "Empire Records"? Where would Gina be?
Out of a job, apparently! Because there aren't any more record stores. I think just Amoeba is left.
"Bridget Jones's Baby" hits theaters everywhere September 16th.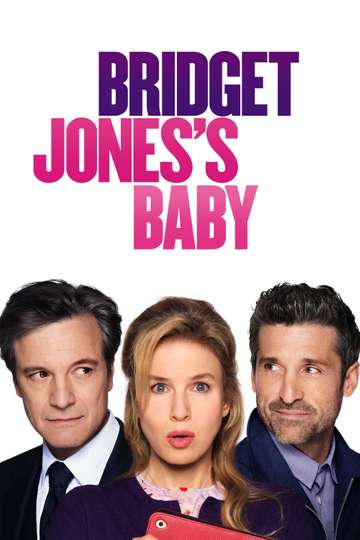 "Relationship status: beyond complicated"
After breaking up with Mark Darcy, Bridget Jones's 'happily ever after' hasn't quite gone according to plan. Fortysomething and single again, she decides to focus... Read the Plot